Clergy — Prepare Spiritually, Emotionally & Physically for the Post-Election Season
By Leah D. Schade and Leah Robberts-Mosser
The results of the 2020 election will take time, causing stress and anxiety for many. Clergy should prepare now for ministry in the post-election season.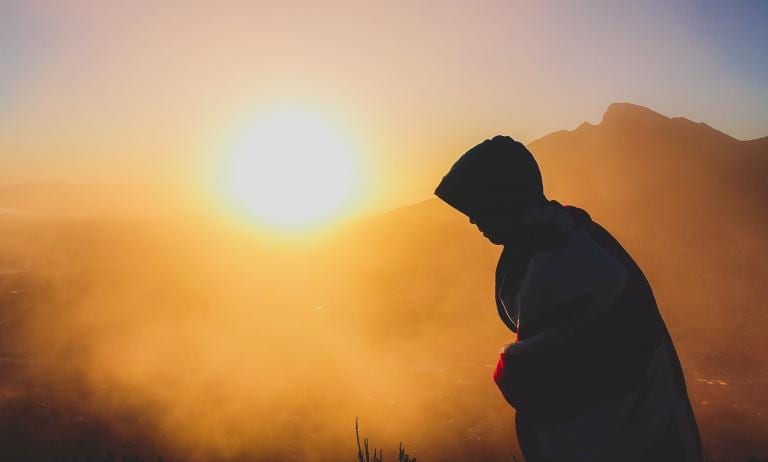 Because of the lengthy process needed to count all the ballots in the 2020 election, it's unlikely that the nation will know the results on the night of November 3rd. Or the next day. Or even the next weeks.
This prolonged post-election season will ratchet up anxiety and stress, especially for clergy.
Pastors are already dealing with multiple stressors as they are trying to hold congregations together in the midst of the Covid-19 pandemic. Social unrest amid a civil rights crisis will only exacerbate that stress. All the while, we are navigating the wide range of responses from our congregants on both sides of the political aisle, along with our own thoughts and emotions. All of this could lead to a very unhealthy mix for clergy. Here is some guidance for how to prepare for the post-election season spiritually, emotionally, mentally, and physically.
Clergy Prepare: Spiritually
We ground ourselves in the Spirit and the moment.
This is a Kairos moment. In Greek, Kairos means "opportune time." Chronos is human time, profane, linear time. But Kairos is sacred time, when God's time and human time intersect. If we believe in Kairos, we must lean into the idea that we were born for such a time as this. No one is coming to lead our people through this — we are here to do that leading. Trust what the angels say: Don't be afraid. Be of good courage – you are equipped to lead.
This means maintaining a regular discipline of the spiritual practices that ground you. Maybe it's reading through the Psalms. Or meditation. Maybe it's a daily poetry habit – reading, writing, or both. Or activities such as walking, yoga, bike-riding. Perhaps dancing is your spiritual practice. Trauma takes up residence in our bodies — you have to move to get it out of there!
Also know that what worked for you before may not work for you now, and that's okay. Don't heap guilt upon yourself if you barely have time to do more than breathe a hurried prayer. Remember that your sermon preparation, time spent with congregants, and acts of protest, are prayers in and of themselves.
The most important thing is to breathe, because the Holy is as close as our breath, always.
Deep cleansing breaths will give you presence of mind, body, and spirit. Try it now: take a long, slow breath in through the nose. Hold the breath in gratitude for just a few seconds. Then release it through your mouth, breathing out slowly, like blowing up a balloon. Pause here before breathing in again. Try this slow, deep breathing for just 3-5 cycles and notice the changes in your heart rate, blood pressure, anxiety level, and ability to concentrate. God's ruah, spirit, wind, breath is as close as the air around you.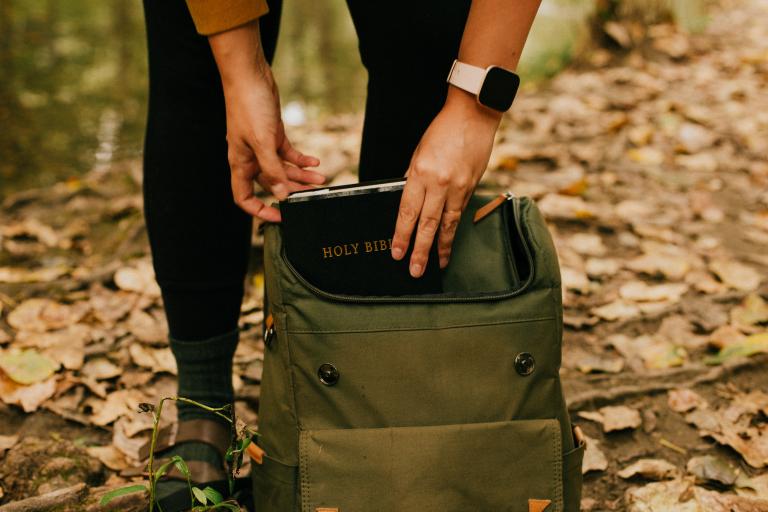 Clergy Prepare: Emotionally and Mentally
We identify and shore up our inner circle.
If chaos erupts in your town, who can you call who won't feed the chaos, but will remind you who and Whose you are? Who are the people that have your back? Who will lift you up, listen, ask you discerning questions, and tell you the hard things when you need to hear them?
Consider finding a therapist, counselor, or spiritual director. These professionals can help us identify healthy self-care practices and guide us away from unhealthy coping mechanisms. If you already have one, be sure you have appointments set.
Be aware of what you consume and mindful of your consumption. Set boundaries around consumption of the news, food, and substances. If you live with addiction, call your sponsor and get to a meeting.
Check your denominational resources.
What support, guidance, and leadership are your local and national staffs providing, or not providing, for you and your congregation?
Don't let the "what ifs" take over. Stay grounded in the moment. One moment at a time, one day at a time — this is how we get through the post-election season.
Look for signs of hope every day. Hope is a discipline we must practice in this arduous time. And hope is not something for which we must wait passively. We can create hope with our actions and interactions with others.
Tip: Listen to this podcast from Brene' Brown about the book Burnout: the Secret to Unlocking the Stress Cycle. This could be a sanity-saver! https://brenebrown.com/podcast/brene-with-emily-and-amelia-nagoski-on-burnout-and-how-to-complete-the-stress-cycle/
Clergy Prepare: Physically
We prepare for disruptions.
The combination of Covid-19 and the threat of political violence could disrupt supply chains for essential goods. Now is the time to ask yourself: Do you have food and essentials such as medical supplies to get you through two weeks if services are disrupted? Is your church's food pantry well-stocked to help those in need? Do you know your neighbors? Is your congregation connected in a way that enables mutual aid?
If public demonstrations are needed and you plan to attend in person, be sure to prepare.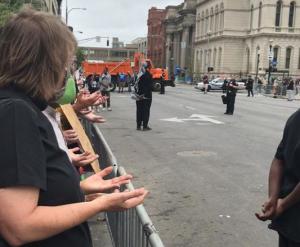 Attend one of the many online trainings for protests being offered these days. While there, listen carefully to and follow the instructions of the leaders. At the demonstration, identify yourself clearly as clergy. Ask organizers if you can be useful in your role as clergy. Carry a small first aid kit, water, a snack, your ID, and cash. (Phone? There are differing opinions on that.) Here are two sites with packing lists: What to Bring to a Protest; How to Protest Safely: Gear Tips.
Write the number of your emergency contact on your arm in permanent marker. Wear a helmet (like a bike helmet). Go with a colleague and stay together. Know what your limits are and what you are willing to do before you go. Are you willing to be arrested? Do you have someone lined up to post bail?
Also, it's important to spiritually ground yourself prior to and as you march. Have a mantra and repeat it over and over.
With your physical needs in place, you'll be better able to help others. Remember the mantra on the airplane before take-off: put the oxygen mask on yourself first so that you are able help someone else.
Clergy Prepare: Reread your ordination vows
We live by covenant.
While each denomination has different wording for ordination vows, they all ask clergy to commit to preach and teach in accordance with the holy scriptures, lead by example, and give faithful witness in the world through word and deed. Now would be a good time to reread those vows to remind yourself of your call. We may think we did not sign up for this stressful, exhausting, and overwhelming time. But, in fact, we did.
Yet, we are not alone.
Connect with your clergy colleagues for support.** Pray for each other silently and aloud. Encourage one another. Be in quiet meditation with each other. Commiserate. Contemplate. Listen to each other. Hold space for whatever arises during this post-election season. Remind each other of God's presence in the midst of the chaos.
Surrender to love
We are held in a Love that will NOT let us go.
Readying ourselves to lead congregations through whatever will happen next in our country is really about surrender. Are we surrendering ourselves to the Love of God? Or are we white knuckling it, holding on with anxiety and trepidation, as if we can determine the election's outcome through our force of will? Honestly, we don't have that much power. No matter what happens, our job is to show up, over and over again, and keep pointing people to the foundational values of our faith.
Looking for sermon ideas for the post-election season? Check out this resource by Rev. Nathan Empsall at Faith in Public Life: Election Season Sermon Notes for Christian Lectionary Preachers
---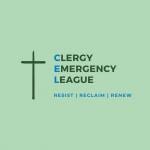 **Several ministers have found the Clergy Emergency League Facebook group to be a helpful resource for dealing with stress, connecting, and supporting each other. This private group is available to those with a clergy-level leadership role within their congregations, including seminarians, deacons, and retired pastors. If you're a clergy person and would like to join our private FB Group, click here to request membership. If you request to join, be sure to answer the entrance questions.
Our public Facebook Page is open to anyone who would like to follow the work of the Clergy Emergency League. Click here to be directed to our Facebook Page. Be sure to click the 'Like' button!
Read also:
Election Resources for Faith Leaders: Defend Democracy and Resist Tyranny
Ideas for Clergy Dealing with Pre-Election Stress
Haunted by Goodness: Mister Rogers and the Love that Won't Let Go
What to Do When Parishioners Leave – Because of Politics
---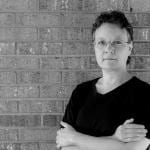 Leah D. Schade
Leah is Assistant Professor of Preaching and Worship at Lexington Theological Seminary in Kentucky and ordained in the ELCA. Dr. Schade does not speak for LTS or the ELCA; her opinions are her own. She is the author of Preaching in the Purple Zone: Ministry in the Red-Blue Divide (Rowman & Littlefield, 2019) and Creation-Crisis Preaching: Ecology, Theology, and the Pulpit (Chalice Press, 2015). She is the co-editor of Rooted and Rising: Voices of Courage in a Time of Climate Crisis (Rowman & Littlefield, 2019). Her latest book, co-written with Jerry Sumney is Apocalypse When?: A Guide to Interpreting and Preaching Apocalyptic Texts (Wipf & Stock, 2020).
Leah is also co-founder of the Clergy Emergency League, a grassroots network of clergy that provides support, accountability, resources, and networking for clergy to prophetically minister in their congregations and the public square in this time of political upheaval, social unrest, and partisan division.
Twitter: @LeahSchade
Facebook: https://www.facebook.com/LeahDSchade/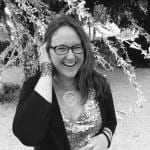 Leah Robberts-Mosser
Leah has served as Pastor and Teacher of Community United Church of Christ, Champaign-Urbana, Illinois, home of Jubilee Café CUCC, since 2009. Rev. Robberts-Mosser has been published in The Christian Century, Sacred Habits: The Rise of the Creative Clergy edited by Chad Abbot (The Davies Group, 2016), and was included in Sojourners' online collection of 100 sermons on domestic and sexual violence ( https://sojo.net/100sermons ). She is a frequent lecturer and retreat leader, guiding clergy through cultivating creativity and offering her workshop "Biblical Self-Defense for LGBTQ+ folx and Allies," across the country. Leah is a graduate of The Chicago Theological Seminary and Hanover College. She is married to the Rev. David Robberts-Mosser and they have two daughters.
Twitter and Instagram: @revlkrm
Facebook: https://www.facebook.com/leah.robbertsmosser
Website: www.community-ucc.org