Rev. Stephen M. Fearing is the pastor of Beaumont Presbyterian Church in Lexington, Kentucky. He and I co-founded the Clergy Emergency League, a network of nearly 2,400 faith leaders who provide support, accountability, resources, and networking for clergy to prophetically minister in their congregations and the public square in this time of political upheaval, social unrest, and partisan division. He shared with me a draft of his sermon for Jan. 10, "Truth or Trump: Christians Must Decide," four days after an attempted coup by Trump and his supporters. I offered some suggestions for the sermon and asked if I could share his important words on my blog. He graciously agreed.
The following is the Rev. Stephen Fearing's sermon, "Truth or Trump: Christians Must Decide." [Also visit his website http://www.stephenmfearing.com/, which features his original liturgy and hymns.]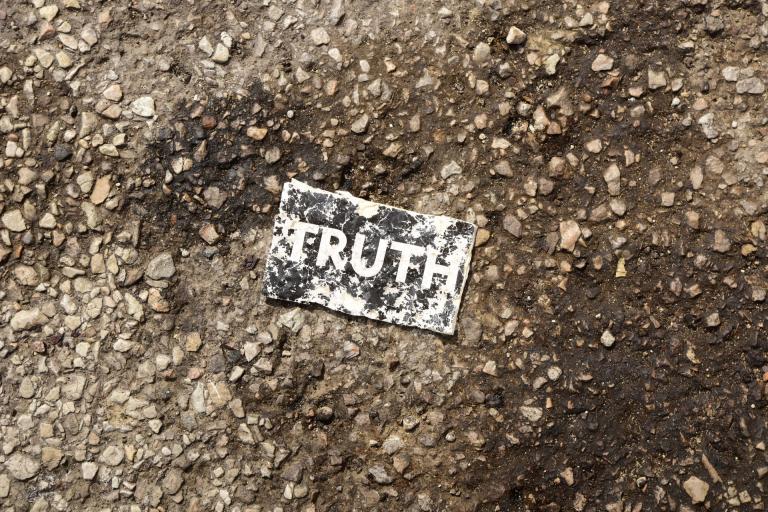 Truth or Trump: Christians Must Decide
When I was studying to become a pastor, I never would have guessed that there would be a day that I'd find myself in the pulpit a few days after a violent mob forced their way into the U.S. Capitol building after being encouraged by none other than the President of the United States. And yet, here I am and here we are and the truth must be told.
So for this sermon, we'll begin with four verses – two from the Hebrew Scriptures and two from the New Testament – that show God's intention for us to be doers and tellers of truth.
"You shall not bear false witness against your neighbor." – Exodus 20:16
"You shall not lie to one another." – Leviticus 19:11
"So then, putting away falsehood, let all of us speak the truth to our neighbors, for we are members of one another." – Ephesians 4:25
"You will know the truth, and the truth will set you free." – John 8:32
The Truth Matters
Nearly four years ago, on a snowy day in my home on Shelter Island, New York, I sat in my office reading the New York Times. It just so happened to be the week of Donald Trump's inauguration as the 45th President of the United States. As I flipped through the pages, this flyer fell out and I picked it up and read it. This is what it says, in part:
The truth matters. The truth is worth defending. The truth requires taking a stand. The truth is more important now than ever.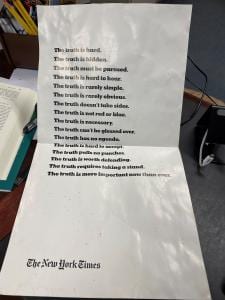 On that day four years ago, I took this flyer and hung it up on my refrigerator. It's been there every day since.
I have brought it with me today because it has, well, a truth we need to hear. This afternoon when I return to my home, I'll put it back on the fridge and I'll keep it on its perch close to the floor because I want my seven-month-old daughter to see those words even if she can't read them yet. One day she will, and my wife and I will teach her that the truth matters. It matters because this is what scripture teaches us: "you shall not bear false witness" (Exodus 20:16). Bearing false witness means lying, not telling the truth.
And what we saw this week is that the distance between the commandment against lying and the commandment not to take life is no further than our mouth is from our hands.
On Wednesday, January 6th, my wife and I watched horrified as a violent mob of Trump supporters attacked law enforcement officials to break into the United States Capitol building. This frenzied riot, overwhelmingly made up of white people, stormed the capitol and violated our nation's sacred space. By the end of the day, five people were dead and dozens more injured. These insurgents, encouraged by none other the President of the United States, attempted to disrupt our democracy; and for a few violent hours, they did just that.
That violent mob did this because they had been told a lie.
They attempted a coup because they believed as truth that which the rest of us know is demonstrably untrue: that this election was somehow "rigged" and "stolen" from them due to non-existent widespread voter fraud. But we must not only call out that lie. We must also analyze the resentment that fueled it.
What we saw on Wednesday should surprise none of us; it was the inevitable culmination of five years of sowing distrust of and resentment toward the free press, the very foundation of our democracy.
The role of the press in a democracy is to discern and report on the truth. If you can convince people to distrust the press and only trust you, you can then get them to do or believe anything you want. You can use lies to alter their perception of reality and then manipulate them to do your bidding. You can make them believe that a free and fair election was actually rigged and then all you have to do is sit back and light the match. And that's exactly what happened on Wednesday.
I'm convinced that these horrible events would never have happened if there hadn't been such a coordinated and relentless attack on truth these past five years.
Truth is something holy, it's something that must be protected. Truth is something that matters. It mattered enough that God commanded it. Truth mattered enough that the prophets and Jesus insisted on it. It needs to matter enough to us, as Christians to act on it.
We are longing for reconciliation. But in order for there to be reconciliation, there must first be truth-telling. We cannot move forward and heal as a nation unless we acknowledge some uncomfortable truths. (And here, I'm talking especially to my fellow white siblings!)
We have to, once and for all, acknowledge that white supremacy is real and is deeply embedded in the foundation of our government and society.
This was the case long before Donald Trump ever announced his run for the presidency. Further, we must acknowledge that white supremacy is, and always has been, the very foundation of Trumpism. As one of my seminary professors, Raj Nadella wrote a few days ago:
It appears that the insurrection was driven not just by a sense of blind loyalty to Donald Trump but also by an irrational fear of the changing political landscape in the U.S. that has seen many people of color headed for prominent positions. The insurrection occurred as a Black-Indian woman is about to occupy the nation's second highest office and the most diverse cabinet in American history is about to be sworn in. It occurred on the day a Black American and Jewish American won historic Senate victories in Georgia. Within this political context, the attack in D.C. was a grotesque display of power by White supremacists aimed at maintaining the status quo at any cost.
Another truth we must wrestle with is this: although Trump's presidency is coming to a predictably bloody and chaotic end, Trumpism remains.
Even though he lost the popular vote and the electoral college, more than 10 million more people voted for Trump this time around as did in 2016. Trump's twitter may have been permanently suspended and his presidency may only have a few days left, but the white supremacy that got him elected is not going to magically disappear at noon next Wednesday when Joe Biden and Kamala Harris take their oaths of office.
A third truth we must wrestle with is that without USAmerican Christianity, Trump would never have been elected.
One of the most alarming, though certainly not surprising, things we witnessed on Wednesday's attempted coup was the presence of Christian flags and symbols that we saw among the mob. According to the Associated Press, 81% of white evangelical Christians voted for Trump this time around. 57% of white Catholic Christians voted for Trump.
But here's the truly sobering statistic: 58% of white mainline Christians voted for Trump. That's US, folks, our denomination. These past years have shown us that an alarmingly large portion of USAmerican Christians have supported, and continue to support, Trump and Trumpism.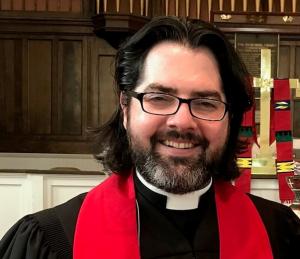 Finally, those of us who are people of faith must once and for all, with no uncertainty or ambiguity, denounce Donald Trump and those who continue to support him.
Those of us who represent the Church must draw a clear line in the sand between the Gospel of Jesus Christ and the heresy of Trumpism and choose this day which god we will serve.
My dear friends, as Paul writes in his letter to the Ephesians, it's time to put away falsehood. It is time for this nation to put away the falsehood of Trumpism and the lies of President Trump. We must call out the lies that have brought us to this point as a nation.
The truth is this: racism, sexism, homophobia, xenophobia and white supremacy are all lies; lies that tell us that someone's worth is based on the color of their skin, or their gender identity or sexual orientation, or where they come from.
The truth is this: Trumpism is the lie that peddles falsehoods and misinformation that brings out the worst in ourselves and makes us un-neighborly towards those who are oppressed and marginalized.
The truth is this: Trumpism is incompatible with the Gospel of Jesus Christ. It always has been and always will be. So we Christians have a choice: we can choose the lie that is Donald Trump or the truth that is Jesus Christ.
So, what is a Christian response to these times in which we find ourselves?
Today is Baptism of the Lord Sunday. So let's allow our liturgy of baptism to guide our response to the violence we saw this week. In order to be baptized in the Presbyterian Church, three questions must be answered either by the person being baptized or, if they are an infant, their parents on their behalf.
The baptismal liturgy begins with these words.
"Through the Sacrament of Baptism we enter the covenant God established in Jesus Christ. Within this covenant God gives us new life, strengthens us to resist evil, and nurtures us in love. Through this covenant, we choose whom we will serve, by turning from evil and turning to Jesus Christ."
The first question is this: Trusting in the gracious mercy of God, do you turn from the ways of sin and renounce evil and its power in the world?
Friends, we must renounce evil.
"To renounce" means to cast away, to throw away, to spit out, to distance ourselves as far as we can from something. We must renounce Trumpism, all it represents, and the systemic ills that replicate it and regenerate it.
The second question is this: Who is your Lord and Savior? Your Lord and Savior is someone in whom you place your entire trust. Many people have chosen Donald Trump to fulfill that role. The Bible warns us against placing our total trust in such figures.
Let us not forget the words of Psalm 146: "do not put your trust in princes, in mortals, in whom there is no help. When their breath departs, they return to the earth; on that very day their plans perish." Who is our Lord and Savior? We must respond to that question unequivocally with Jesus Christ as our answer – the One who was himself killed because of lies, because of a mob that stormed Jerusalem and demanded his death.
The third and final baptismal question is this: "Will you be Christ's faithful disciple, obeying his word and showing his love?"
We can choose to pursue the truth we have in the love of Jesus Christ, a truth that compels us not to build walls but to welcome our neighbor with open arms.
A truth that inspires us to place the needs of the community ahead of our own. A truth that respects women and girls, a truth that proclaims that Black Lives Matter. A truth that isn't self-serving or nationalistic or angry and violent, but a truth that brings peace and reconciliation.
Despite the events of the past week, I do not believe that we are a nation beyond redemption. I believe that goodness is stronger than evil and that goodness will prevail.
I believe democracy, despite its shortcomings and failures, is still the best way for us to care for one another and pursue justice for all. We must acknowledge the lies and renounce the evil that we have witnessed, the evil we have perpetuated, the evil which the Christian church has either ignored or made excuses for in an effort of appeasement. We cannot overlook or dismiss that evil any longer, the evil in which we have been complicit.
Here is the good news that Jesus told his followers: the truth can, and will, set us free. It's a holy truth that cannot be contained by any tomb in which we try to hide it.
There's a reason I've held onto this flyer these past four years. Truth matters. Truth is worth defending. Truth requires taking a stand. Truth is more important now than ever.
And the God we worship is a God of truth.
Following Christ means telling the truth, no matter how hard it is to do, no matter how risky, no matter what the cost may be. This, as Dietrich Bonhoeffer reminded us, is the cost of discipleship. But we know just as sure as the stone was rolled away on that Easter morning that the truth is worth it. Christ is worth it.
Christ matters. Christ is worth defending. Christ requires taking a stand. Christ is more important now than ever.
This sermon was preached by the Rev. Stephen M. Fearing on Jan. 10, 2021. For more about Stephen's work in liturgy and hymn-writing, visit: http://www.stephenmfearing.com/.
Read also:
Attempted Coup in Washington: Clergy Emergency League Responds
Announcing: Clergy Emergency League! Resist, Reclaim, Renew
---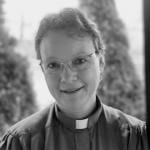 The Rev. Dr. Leah D. Schade is the Assistant Professor of Preaching and Worship at Lexington Theological Seminary in Kentucky and ordained in the ELCA. Dr. Schade does not speak for LTS or the ELCA; her opinions are her own. She is the author of Preaching in the Purple Zone: Ministry in the Red-Blue Divide (Rowman & Littlefield, 2019) and Creation-Crisis Preaching: Ecology, Theology, and the Pulpit (Chalice Press, 2015). She is the co-editor of Rooted and Rising: Voices of Courage in a Time of Climate Crisis (Rowman & Littlefield, 2019). Her latest book, co-written with Jerry Sumney is Apocalypse When?: A Guide to Interpreting and Preaching Apocalyptic Texts (Wipf & Stock, 2020).
Twitter: @LeahSchade
Facebook: https://www.facebook.com/LeahDSchade/