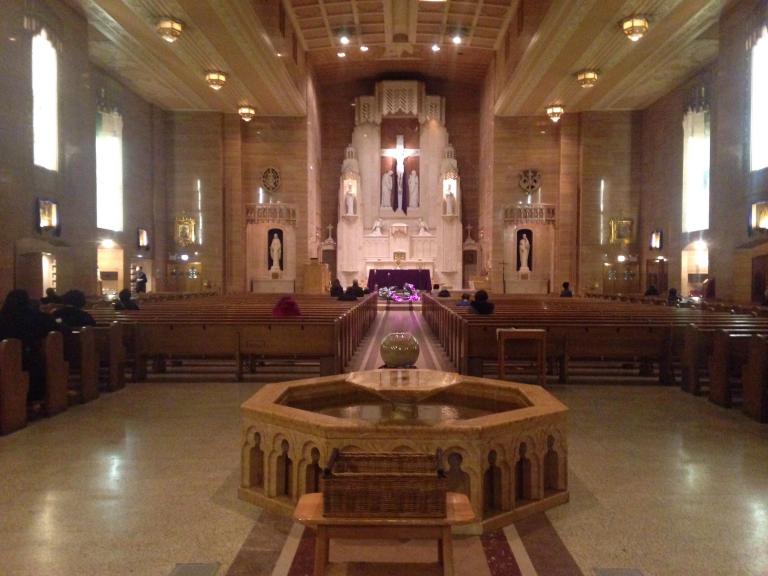 Whenever I play hooky from my home Kyivan Church and hang out with the Latins in Chicago, I always hear about their Archdiocesan plan, 'Renew My Church.' From what I can tell, it's a riff on the words of the Lord to Holy Francis of Assisi, rebuild my church, as he prayed before the cross in the church of San Damiano. Francis took the instructions literally, physically attempting to rebuild the church brick by brick. Later he learned that there was a deeper spiritual meaning; in the original constitutional document he wrote to found his mendicant order, we find that he had mulled over the prayer of Jesus for unity among his people as the Father and the Son are one and sought to realize the Lord's vision of mystical unity through the work of his little brothers.
The Archdiocese of Chicago seems to be doing the same thing, treating this plan as a means to build community by aligning their parishes into networks. What it also seems to mean is that they need money. I suppose this is where I obligatorily point out that the St Nicholas Ukrainian Catholic Eparchy of Chicago also could use some of this cash, preferably with no strings attached from the Latins. There is some material interest for us in trying to fully conscientize our sister church about her sisterly status with us Kyivans, as opposed to a maternal relation, as they mistakenly think they are. But we have to get our act together too: I heard from a dear friend who tried to donate to our eparchy that once upon a time, they didn't even have a system to cash in the donations. We in the Kyivan Church in Chicago have some rebuilding to do too.
Today was a day I tried to play hooky. I am meeting with a friend in the Loop tonight, which means that I have to make the trek from Evanston up north downtown. Around the early afternoon, I decided that the writing (as in, not just the blogging, but the booking and articling) would be facilitated with a beer. That mean that I lugged all my stuff down from Evanston to set up camp in a pub till my friend arrives.
En route to the pub, I walked past a church. It was a Latin parish in the Loop called St Peter's. The Franciscans run it. As I dropped in, I saw that the Blessed Sacrament was exposed up front. I am usually not sure what to do in these situations. The custom, at least within Eastern Catholicism, is to put a consecrated host (usually leavened, and soaked in warm wine) in our mouths. I am never quite sure what I am looking at when I see it in a monstrance. Of course, then I told that to my Eastern Catholic friends, and they told me to not be such a troll because the folks at St Peter's are basically our people. The Schola Cantorum of St Peter's was founded there by a guy called J. Michael Thompson. He was one of the primary music editors of the Anthology for Divine Liturgy that we use in the Kyivan Church. In fact, the sing-along version of the anthology was produced by the Schola. From this, I learned that you can never run from us Eastern Catholics. We are everywhere, even when you are playing hooky.
I ended up prostrating. As Charles Ryder would say, it seemed like good manners. And then I started praying. It's what everyone else was doing, so I thought it would be a good idea too, just to get a break from the writing.
As I prayed, I began thinking about the fragmentation of my life and the lives of many of my friends. A number of people – Catholic and Protestant, Western and Eastern, religious and secular – have been telling me recently that they've been searching for 'community' and have been having trouble finding it. I get it. I am an academic, and our writing for a living can get lonely too, not to mention the many other applications, administrative tasks, and grading that comes with teaching. Over this Great Fast, I've also been reflecting on how communities that I've been a part of have shattered as well. There was no San Damiano cross in the sanctuary, but there was in the bookstore below, and it reminded me that bringing restoration after the shattering is a big part of the Lord's call to Francis to rebuild his church. Isolation is not what we are made for. Communion is ontologically necessary for the human person to be alive.
As I sat down in a pub and began to write, it reminded me of a night many years ago when I was an evangelical and therefore only drank caffeinated drinks. I was in a coffee shop, and I was sipping a tea aptly named 'Franciscan Monk,' and I opened a book with the early documents of St Francis. And there, in the first document, was his prayer before the crucifix of San Damiano, the same one I saw in the bookstore, and it encapsulated my prayer in St Peter's:
Most high
Holy God
Enlighten the darkness of my heart
And give me true faith
Certain hope
Perfect charity
Sense and knowledge, Lord
That I may carry out
Your holy and true command.