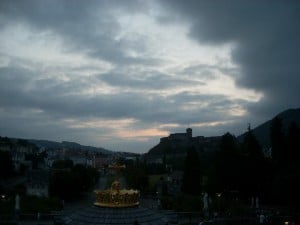 "There was everything hostile to my peace—an incalculable crowd, an oppressive heat, dust, noise, weariness; there was the disappointment of the churches and the image; there was the sour unfamiliarity of the place and the experience; and yet I was neither troubled nor depressed nor irritated nor disappointed. . . . To leave Lourdes at the end was like leaving home."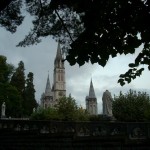 Msgr Robert Hugh Benson, a convert from Anglicanism, wrote these words in his memoir of a visit to Lourdes in 1908. I could have written them two weeks ago, and I don't think I'm alone of our group. Lourdes may be what it resembles so eerily, the Disneyland of faith, but it is also undeniably and unaccountably one of the happiest places on earth. Being there is like living in the topsy-turvy world of grace the Beatitudes sketch out—but with souvenir stands.
Pilgrimage 2012, Day 9: Lourdes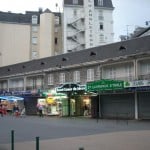 As befits a shrine associated with life-changing miracles, Lourdes turned us around. It took our expectations and scattered them to the wind off the Pyrenees. It made us think again (the literally meaning of repent), and ask anew. It threw challenges at us: heights and heat and crowds and overload both sensory and spiritual. Whether it was our first visit to the place the late Andy Williams celebrated in song or we were old pilgrimage hands like Fr Jan Schmidt (who refers to the neon-lit expanse of souvenir vendors, each outdoing the next in names drawn from patronal litanies, as "the Vegas strip of the saints"), Lourdes caught us off guard, as it has been doing to believers and doubters alike since Bernadette the shepherdess heard a noise like a gust of wind and saw a Lady in a grotto.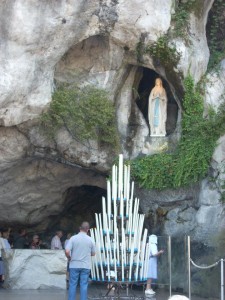 Our pilgrim band dissolved, at Lourdes, into small groups and individuals, driven by personal need. After 7 am (pre-dawn, this time of year in that latitude) Mass in the Basilica, some did the walking tour of sites associated with Bernadette and the apparitions. Many sought out Reconciliation in the chapel where confessors fluent in various languages welcomed penitents to sliding-door cubicles like doctors' exam rooms, and the only prayer aids available were in Dutch and Portuguese. Some sought healing immersion in the piscines, or baths, or presented themselves for the Eucharistic blessing of the sick. Many lined up to light candles at the Grotto and to fill containers with Lourdes water. A particularly hardy band hiked the Stations of the Cross up the vertical hillsides. And many hit the Las Vegas strip, in the age-old souvenir collecting gesture of pilgrims—securing mementos that ranged from the sublime (gilded icons, crystal rosaries, paper cones full of the violet-infused chocolate confections of Lourdes) to the blissfully ridiculous (Lourdes water bottles in the shape of the Madonna with heads that unscrew for filling, a Nativity scene in which Mary holds the Child in one hand and a baby bottle in the other). Both evenings, most of our group participated in the Candlelight Procession: you can get a taste of it from Fr Rob Waller's video.
I didn't do most of the things I expected to do at Lourdes. The pain in my knees, the weight of body and soul crippled me so crabbily that I barely made it—huffing, sobbing, sweating—up the not terribly difficult incline to the Basilica for Mass. I'd have given up if it weren't for the patience of fellow pilgrims and the Boston-accented voice of my mother in my head yelling, "You're at LAUDS for Chrissake! You didn't come heah to give up! 'Can't' means 'won't,' Lady Jane, so get your reah into that church this minute!" Mom, God rest her, eased up once I made it into the last pew, and when we sang her favorite Marian hymn ("Mother dear, O pray for me, whilst far from heaven and thee / I wander in a fragile bark o'er life's tempestuous sea . . .") I could see her kneeling beside me, and beyond her my father with the well-thumbed prayer book she gave him as an engagement gift. Another miracle of Lourdes.
I did visit the Sanctuary in the afternoon's pitiless sun. I filled two plastic travel bottles with water (loving the fact that the miraculous spring is now accessed from push-button spigots marked Presto); one for me, one for my daughter-in-law's devout mother. Ahead of me in the short line, a woman who appeared to be homeless filled a Coke bottle and took a long, thirsty swig; healing comes in all kinds of ways. Like Msgr Benson a century ago, I found the Grotto a little underwhelming—smaller than I pictured it, dwarfed now by the Basilica with its Sleeping Beauty's castle pinnacles riding atop it like a ship—and the statue of the Lady placed there uninspiring. But the holiness in the air is undeniable. I joined as diverse a crowd as I'd ever seen to sit on the sunbaked benches before the Grotto and pray the rosary as the procession of pilgrims and malades in wheelchairs passed slowly and endlessly by, placing their candles and their petitions at the Lady's feet. Ave, Ave, Ave Maria.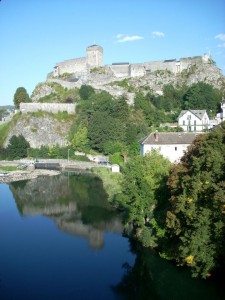 Then I joined a number of our group for impromptu Theology on Tap—dissecting the Book of Revelation, over wine and beer—on the terrace of our wonderful hotel. Overlooking the River Gave, in the shadow of the fortress where a Moorish chieftain once had a vision that drove him to turn over his life to the Queen of the Sky, become baptized, and take the Christian name Lorus (Lourdes), I realized that Bernadette's words to doubting her doubting clerical interrogators are the only real blog entry any pilgrim can make about this place: "I was not sent to make you believe anything. I am only here to tell you what I saw and heard."
I hate to fall back on the old cliche, but when it comes to Lourdes, you really had to be there. I expected to like Lourdes best, and Fatima least, and in many ways it was the reverse, but that's as God willed it. I'll let Msgr Benson have that last words, because for me they are true of the whole pilgrimage, and how it has transformed and deepened my relationship with the Mother of God:
Mary, then, has appeared to me in a new light since I visited Lourdes. I shall in future not only hate to offend her, but fear it also. It is a fearful thing to fall into the hands of that Mother who allows the broken sufferer to crawl across France to her feet—and then to crawl back again. She is one of the Maries of Chartres that reveals herself here, dark, mighty, dominant, and all but inexorable; not the Mary of an ecclesiastical shop, who dwells in tinsel and tuberoses. She is Sedes Sapientia, Turris Eburnea, Virgo Paritura, strong and tall and glorious, pierced by seven swords, yet serene as she looks to her Son. Yet, at the same time, the tenderness of her great heart shows itself at Lourdes almost beyond bearing. She is so great and so loving! It affects those to whom one speaks: the quiet doctors; the strong brancardiers, who carry their quivering burdens with such infinite care; the very sick themselves, coming back from the piscines in agony, yet with the faces of those who come down from the altar after Holy Communion. The whole place is alive with Mary and the love of God . . . . God has chosen this place—He alone knows why—to show His power; and therefore He has sent His Mother there, that we may look through her to Him.
_____
If you want to experience Lourdes from home, I highly recommend visiting the official website, where you can find this year's thematic pilgrimage guide. The reflection questions alone are rich food for thought.
_____
NEXT: We'll Always Have Paris: The Last Day