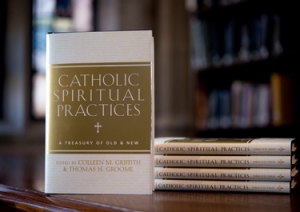 Catholic Spiritual Practices: A Treasury of Old & New
Edited by Colleen M. Griffith & Thomas H. Groome
Paraclete Press, 2012
This time of year, our thoughts often turn to the good things that come in small packages, the gifts that have the power to surprise us, to contain more than they might promise at first glance. Catholic Spiritual Practices, a slim volume published by Paraclete Press for Boston College's Church in the 21st Century Center, is just such surprise package.
At first glance, the book's gold and white cover design evokes (quite probably intentionally) the dust jackets of Blessed John Paul II's writings. Catholics of a traditional bent seeking papal wisdom will, however, get their first surprise on scanning the list of authors whose brief reflections on spiritual practices old and new editors Griffith and Groome have collected. Danger, Will Robinson! With a few exceptions, this could be the speaker's roster for an LCWR annual meeting, with names like Elizabeth Johnson, CSJ, Sandra Schneiders, IHM, and Joan Chittister, OSB—nuns not only on, but driving, the post-Christian bus—sure to raise red flags for orthodox readers. Editor Tom Groome himself was, in an earlier priestly incarnation, even more responsible for the US Church's notorious 40 Years of Wandering in the Catechetical Wilderness than I was, and tended to look down his praxis-and-paradigm-shift nose, in the past, at efforts by people like me to include traditional Catholic spiritual practices and devotions in religion programs.
So here's the second big surprise, not only for trads but for the progressive-if-elderly cohort of the authors, who might have been expecting DIY rituals based on generic Native American creation myths with a side of Wicca. These really are Catholic spiritual practices, presented for the most part quite traditionally and with a deep note of respect that's been missing since many of the babies of tradition got thrown out with the Vatican II baptismal water. Divided into three sections—Practices of Prayer, Practices of Care, and Practices of Spiritual Growth—Catholic Spiritual Practices contains short essays on everything from the Rosary to Eucharistic Adoration (this essay from Brian Daley, SJ, is an eloquent tribute to the revival of this practice among young Catholics, which so impressed me on my reversion), with stops along the way for the Ignatian Examen, Retreats, Spiritual Direction, Stations of the Cross, Fasting, and Praying with Images, along with many more.
In addition to particular prayers and devotions, Catholic Spiritual Practices does a fine job of addressing the attitudes of Catholic spirituality. The marvelous Wendy M. Wright writes about family life as spirituality, rooted in the Incarnation:
Family life is not only busy but it is an intensely embodied life. Bodies jostling for places at the dinner table, bodies intermingling to create new bodies, which then inhabit one and then are held, carried, nursed, tended, bathed, and fed; bodies kissed for "boo-boos"; bodies patiently accommodated as they age and fail; bodies whose proximity one longs for and whose absence inflicts pain; bodies that keep one awake by crowding into bed on a stormy childhood winter night or keep one awake long past curfew in a sultry adolescent summer; bodies that arrive unannounced for a fortnight's stay; bodies whose presence is required at holiday functions; bodies lithe and limber; bodies stiff and aching—the sacred realized in intense engagement with other bodies. . . . To put it in the language of Christian theology, the mystery of the incarnation itself—God becoming human—pushes us toward the insight that to encounter the infinite one must go through the finite . . . not by passing or eliminating the finite but going through it, in all its unique, unrepeatable particularity. (pp. 86-87)
I think my sister bloggers Calah Alexander and Elizabeth Duffy, and all who occasionally struggle (as who doesn't?) with that "intensely embodied life" of families, might find comfort in this reminder that they are practicing spirituality all along.
Ana Maria Pineda, RSM, unpacks the practice of Christian hospitality by describing the Latino custom of Las Posadas, the reenactment of Mary and Joseph's search for shelter in Bethlehem. "When the ritual takes place in the Mission District of San Francisco," she writes,
. . . many of the participants—once refugees themselves—remember their own experience as strangers. Through the ritual, the community affirms the goodness of taking people in, and those who once needed posada are reminded to offer it to others. This is a lesson that is needed in other communities as well. The need for shelter, for posada, is a fundamental human need. None of us ever knows for sure when we might be uprooted and cast on the mercy of others. (p. 71)
For me, this year, uprooted through my own fault and cast on the mercy of others, and having by God's and my family's grace found posada in the Ciudad de Los Angeles, this essay was particularly moving.
As Kathy Schiffer has noted in her review, Catholic Spiritual Practices truly does offer a little something for everyone. You can dip and sample, but be prepared to look at everything in a new light. If you think Elizabeth Johnson is too radical in her insistence that praying with the saints is intended to move us to "the making of a just society and a compassionate world here and now" (p. 20), remember that Mary's Magnificat is just as radical in just the same way. If you think Tom Groome betrays his liberal street cred by confessing that he still follows the traditional format for making a thanksgiving after Communion that he learned 60 years ago from his second grade teacher (p. 144), consider that a ritual 6 decades old might have stuck around because it works, because it was literally "learned by heart."
Catholic Spiritual Practices might make a good stocking stuffer for a new convert or a revert drawn by Catholics Come Home ads (although Leah Libresco and Kathy Schiffer are correct in noting that it's just a start, and Kathy generously suggests some further resources), but I think it would make an even better gift for those—like me, like the authors—who once loved, then repudiated, these traditional practices and need to know it's OK to embrace them again. And it would be a superb nudge to those who think it's possible to be "spiritual, but not religious." In one of this little book's biggest surprises, co-editor Colleen Griffith uses her Introduction to slay that myth, once and for all:
A spirituality that is disconnected from religious tradition is bereft of both community and history; it has no recourse to the benefits of a larger body of discourse and practice, and it lacks accountability. Such spirituality quickly becomes privatized and rootless, something directly opposite to the Christian understanding of "life in the Spirit." (p. 3)
Wham! Bam! Who'da thunk it? When it comes to Catholic spirituality, it seems, Peter Allen was right: Everything old is new again.
_____
Visit the Patheos Book Club to learn more about Catholic Spiritual Practices and its editors, and to join the discussion.