The election is about Trump, the Democratic Nominee is a Choice Between Two Options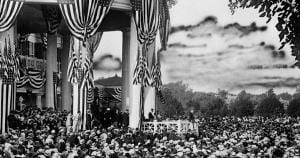 An advantage of being a Lincoln-Roosevelt-Reagan Republican is that I can always look at the battle for the Democratic nomination fairly objectively. This next election will center around the incumbent. The economy is good and at peace (relative to the last twenty years).
An aggregate of polls shows that Trump is within reach of the poll numbers he needs to win, but he has (generally) stayed just below what he will need to win. My own calculus has been that Trump must move his disapproval numbers in polling aggregates (which eliminate polling bias) to under 52% to win.
Why?
Trump has never been well liked. He was the least liked person to ever run for President, yet four percent or so of those who did not like him voted for him. 48% of the vote would do it for the President. He is close, though short now, but he has no opponent to attack yet.
That will change. . .everything for that candidate and not in a good way. The President is the best counter-puncher in recent history.
Does it matter whom the Democrats nominate?
Only to a limited extent, because any Democrat will get (roughly) forty-seven percent of the vote against President Trump. That will not, quite do it, so which way to go?
The choice is: motivate the youngling base (left) or the core constituency (less white, more moderate, still liberal). Biden is not beloved of this group. Is anti-Trump animus enough to motivate needed volunteer work and turnout? On the other hand, the huge percentage of the Democratic base that is more moderate (particularly in the African-American community) may not turnout for an Elizabeth Warren.
Who is most immune to demonization? Who can counter-punch? Any Democratic candidate can win, but who is most likely to win.
The Two Best Candidates
The best candidate in the electoral calculus, and to turn out the more moderate part of the coalition, is Joe Biden. Sadly, he is a horrible campaigner already running a "Rose Garden" campaign without the Rose Garden. The more plausible Klobuchar has no traction and if she does not finish top three in Iowa, she will be out. As for Pete Buttigieg. He is a snare and a delusion. He has never polled particularly well nationally and does not motivate either broad coalition. He is (almost) purely a media creation and a product of cagey fund raising.
There are two serious left of center candidates: Bernie Sanders and Elizabeth Warren. Sanders is sincere, likable, and far too left of center in normal circumstances. 
Anybody can beat Trump, so this is Sander's best chance.
Warren, on the other hand, is whip smart, but a bad campaigner. She has all Sander's policy disadvantages with none of his advantages. Warren would be the easiest for Trump to beat: Clinton with a weaker resume.
Here is betting that the race comes down to Biden and Sanders.
Unless.
No pundit likes to say it, but Mike Bloomberg is a left of center, self-funding powerhouse. He is already at Buttigieg's national numbers. If Biden cannot close the deal fast, Bloomberg is a plausible dark horse alternative. This would infuriate the most progressive part of the party, a billionaire buying the nomination, but maybe he can endure.
Nobody can knock him out early.
Bottom Line: Biden 
Joe Biden is probably the best nominee in a stunningly weak field, given the chances of winning and the original choices. Much of the younger talent never got traction, so the Democratic Party faces what it faces. Biden (a sure one term President?) can add some pizzaz with his Vice-Presidential pick (Stacey Abrams? Kamala Harris? Klobuchar?) or at least some relative youth.
Biden is not good at running for office generally, but he is probably immune to being "re-packaged" by the President. He is old. People know that and he is still leading. He is fuzzy. People know that and he is still leading. He can bumble along in debates: we know he will. The bar will be very low. Coherence will be eloquence.
If Biden is the nominee, the Sanders' base will show up in lower numbers, but Pennsylvania's electoral voters are (probably?) locked up. Much will depend on whether former President Obama can help his loyal wingman and increase African-American turnout.
We will see. I have had the President as a very mild favorite for re-election and that remains. Really, the election remains about the incumbent and his record.