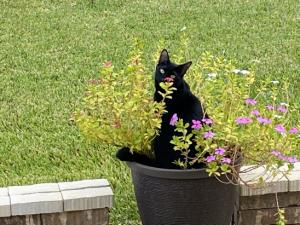 My brother's cat Lucy is elegance questing for loveliness.
She has an unerring instinct for beauty. Lucy will find the right place, with the proper light, and pose. The pictures are delightful. She is particularly good at making beauty, yet from Solomon to our own Athena, our cats always found beauty and added their own cattishness. Purple flowers are lovely, posies with posed black cat are spectacular.
Like Dorothy in Wizard of Oz, one can look for beauty only to discover wonder at home. If we know Lucy, have some purple flowers, and green grass, then beauty is there. We do not need to travel, because we can start with a cagey black cat and see one beautiful animal. We think about this clever kitty and realize that all (or at least most!) of our cats were similar. This leads us to recollect happy cat memories of beauty.
I recall hearing pool balls bouncing around the table late at night. When any one of us went downstairs to see what was happening: nothing. There was Solomon sitting demurely, beautifully, in a chair. One night Mom caught her, took a quick Kodak (film!), and we saw our lithesome pool-cat bouncing the balls over the table. This still makes me smile. From Lucy to Solomon, I realize there is CAT. Each kitten was an example and so I learned to love cats.
A moment's reflection and I smile at our cats who opened doors, who snuck up on Dad to attack him, and the personalities they had. The external beauty is marvelous, but the soul of a cat is greater still. Then I realize that Dan, my best brother and lifelong pal, is the man who made a beautiful lawn, a happy home (with Mom and Dad!), and saved Lucy from destruction. Daniel made beauty possible. Lovely brother!
I see his good soul and am happy. How does such beauty flourish?
So tonight, here in Texas, I thought of the laws, culture, and customs, that made this happy, beautiful home possible. Some days one must see the flaws, but tonight was a moment to reflect on the system that saved Lucy for Daniel. The jobs that made Saint Edmund's (his home) and Saint Anne's (our home) possible. Just laws are piercingly beautiful. Cousin Jay and other brave souls that defend those laws are blessed.
Then, prodded by Plato and Ezra, I see "the great sea of beauty." This state is part of a beautiful nation: God bless America. Yet there is so much more beauty in the world God created: glorious Ethiopia, divine Greece mother of philosophy, holy Mother of Russia, brilliant India, all united by beauty incarnated in billions of ways. The cosmos is full of such beauty. The great telescopes peer to the edge of time and space and we find beauty. We go to the bottom of the ocean and find weird beauty. From the microscopic world to the macroscopic world: beauty is overwhelming.
And so I look to Beauty as Beauty: the Good God.
This is not an argument, more an experience, the same route the sublime Plato took. The experience of Ezra as he looked to the Law of God was similar. Begin with something wonderful like the cat Lucy and you might find God too.
---
Reflections inspired by reading Ezra, The Republic, and The Symposium before class at The College at Saint Constantine.