Wonder

Early blue evening.

Lights ain't come on yet.

Looky yonder!

They come on now!*
Oh.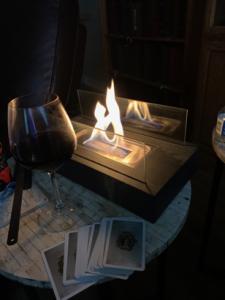 This is short.
We can read the words again. Surely there is time to read this poem again.
The lights went out in Houston during an ice storm last week. The American City of the Twenty-First Century, a global energy center, went dark.
This was unnaturally natural. Houston lights are creations. God made man and man made Houston. That sums up the fullness of man and the goodness of God impressed in man's nature. When the lights went out, we saw the stars, but the stars alone.
That was good, because the fire God made continued. This was promise that the fire His creatures made could be restored.
Maybe.
I know some of the people who worked, continuously, without complaint, to bring back the lights. These image bearers did their duty. Did someone make a mistake? Who can know right now. We can know that many other someones labored hard to get things going again.
Looky yonder!
They come on now!
We tried to do our bit.
Against the dark inside, Hope (aptly named as always) and I lit our own little light, drank some wine, played cards with a deck purchased in Saint Petersburg during the White Nights. We were betting on Houston, those workers, and tomorrow. As usual, this was good bet. The lights are on, water is being restored, and the city glows from Galveston to Saint Constantine.
My Nana once told me she wanted to die under (or near?) a street light: all that light pouring down for free. She knew, as we were reminded, how costly and hard light is to make. She saw the goodness of city lights and having known the country chose the city. I understand that choice. She loved the stars, but also the littler lights that people make. Naturally, light pollution exists: we can make brilliant in excess, but brilliance is still amazing. Who doesn't glory in fireworks or a lit Christmas tree or sparkle of Disneyland at night? These are lesser goods, but when they are snuffed out by error or accident, we pause.
The lesser light is a good thing. . .an icon pointing to a greater thing. The True Light that the darkness cannot put out is best, but there are times for thinking about the good that is not best. We sat sheltering next to our fire hoping soon to see the city lights off yonder come on now.
They did.
Thank you power workers.
Thank you Nana.
Thank you Langston Hughes.
Thank you good God.
—————-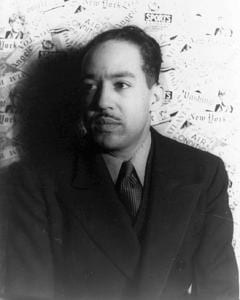 *Hughes, Langston. Selected Poems of Langston Hughes (Vintage Classics) (p. 229). Knopf Doubleday Publishing Group. Kindle Edition.
Langston Hughes is my favorite American poet . . . since fifth grade! (This was one of the few things to come from that no-good year.) He always is worth reading.