David Russell Mosley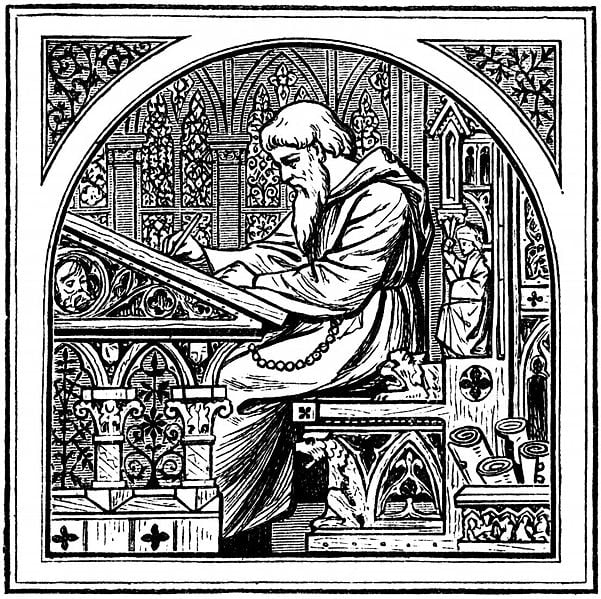 Ordinary Time
3 November 2016
The Edge of Elfland
Hudson, New Hampshire
Dear Readers,
I have to admit that I feel somewhat uncomfortable sharing this news with you. I don't entirely know why. Perhaps it is because many of heroes in writing were not outspoken in such a public manner about the new works they were undertaking. Of course, many of them had groups to which they belonged or friends to whom they frequently wrote and these topics would frequently come up. Maybe in a "digital age" this is not an inappropriate medium for me, a now published author (boy does those words still feel strange), to share my news.
Between getting a paper together for the PMR conference, and my various teaching responsibilities, I have not, until recently, had much time to think about new writing projects. I must admit that even my own academic inferiority complex would often settle in and remind me that I am, after all, no good and ought not to be writing anything. Thankfully, I don't listen to that voice for too long. The urge to write is simply too strong (for good or for ill). So, now that things have settled down, I'm finally ready to begin new writing projects and I thought I would share them with you. These projects are at their most nascent forms now. Both consist mostly of mental or written news and a few lines hurriedly typed or scribbled down before I forgot them. I have no idea how long either will take me and I hope to put out at least one journal article and possibly begin work on another book as well. But, all that said, these are the two projects taking up much of my creative space at the moment.
THE END OF LOGRES
For a long time now I have wanted to do something Arthurian. For those who have read my book,
On the Edges of Elfland
, you will know that there is an Arthurian turn in it, but it is just that, a turn. It does not occupy the whole book. In truth, what I have wanted to do, and have now begun, is to retell the life and death of Arthur. I decided to actually begin work on this because I had the idea to re-contextualize Gawain and Lancelot. Gawain in
Sir Gawain and the Green Knight
is well known for his devotion to Mary. I wanted to contrast Gawain as a kind of courtly lover of Mary with Lancelot who actually exceeds the ideal of courtly love (which is meant to be chaste) in his adulterous relationship with Guinevere. As I sat down to outline that, I found myself outlining the entire
Morte
and so have decided to expand my original idea to encompass the whole of Arthur. Part of my hope is to fill in some gaps, particularly between some of my favorite side stories, like Sir Launfal or
Sir Gawain and the Green Knight
, and the
Morte
as such. What more may happen, no one can tell, not even I.
SLAYING DRAGONS
This book has been gestating for some time now. Ever since my wife and I began writing about our experiences with our son Edwyn and his cancer treatment, have I considered putting something more than a serious of occasional blog posts together for public consumption. This book will be part fairy-tale and part spiritual journey/memoir. While the basic focus will be on my sons' birth and the subsequent cancer treatment for one them, this book will also focus on how I changed as a theologian, a father, a husband, and a Christian. I can never emphasize enough how having a son have cancer and all the things that followed on from that made real to me so many things I had long believed. This book will include descriptions of what our lives were like during that time, how we were helped by the Christian community we had formed in Nottingham and Beeston, and also the visions and other spiritual realities that were made present to me during this time.
As someone with one work of fiction out and a book of theology forthcoming, I now have the vanity to think that perhaps both these ideas are not only worth pursuing, but that they are worth publishing and, what is more outrageous, that I have the talent and the grace from God to actually write them. So if you are a publisher or know of one who might be interested in either of these books feel free to let me know. In the meantime, I will just keep working on them, sharing them with friends and family, possibly sharing parts of them here. All I can do right now is write. Speaking of which, I should probably be working on them while I have the time to do so. So, I will bid you all adieu.
Sincerely,
David