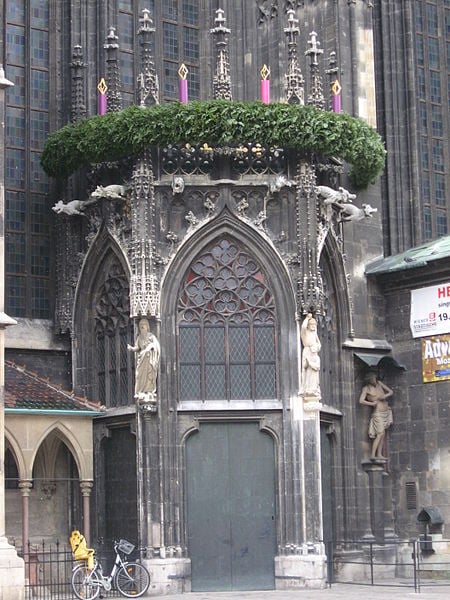 Advent
2 December 2018
The Edge of Elfland
Concord, NH
Dearest Readers,
Last night my family went to the vigil mass for the first Sunday in Advent. We don't normally go to the Saturday vigil mass, but we've made a vow (OK, I made the vow and got my wife to agree to it) to go to mass every Sunday together as a family. For those with small children, you know how difficult it can be to go to mass with your whole family. With twin four-year-olds, who are naturally rambunctious and occasionally disobedient, it can be like trying to take a gaggle of moderately behaved geese to church. Sure, they might just sit there for a minute, but as soon as anything ticks them off they become a mass of feathers and fury. Still, we had made a vow and the weather Sunday morning was supposed (and in fact was) bad, so to the vigil mass we went.
My kids were the four-year-old twins version of good. They wiggled and whispered and occasionally dropped their stuffed animals in the pew in front of us, but they weren't shouting, "No more Jesus!" at the top of their lungs. So I take that for a win.
Toward the end of mass, somewhere just before the consecration, one of my sons, sitting with my wife, asked her if Jesus was behind the golden door. She said yes. Then this exchange followed:
Edwyn, "Can I see Jesus?"

Lauren, "Yes, you'll get to meet him someday."

Edwyn, "Can I give Jesus a kiss?"

David melts into a pool of tears.
Not every mass goes like this. They have shouted, "No more Jesus!" They've cried, screamed, hit other parishioners with things, drawn on themselves, on me, run away, and more. But here, on the first Sunday of Advent, while far from perfect, my kids are desiring a real relationship with Jesus. Little things like this remind me that it's worth it to endure to the hard masses, the frequent trips to the bathroom which are really just an attempt to do anything other than sit still for another minute. It is worth it to endure these masses because the other ones happen too. For a moment they aren't complaining about being bored but are caught up in the drama of what is happening all around them. I am a far from perfect father. In fact, while writing this, I had to take a break in order to deal with multiple meltdowns from both kids. But still, as imperfectly as I parent, I am incredibly grateful that the grace of God does so much with my little.
I get a feeling we won't be so lucky the next three Sundays, but right now, distant from those moments, I don't care. I'll likely regret many decisions between now Christmas. I'll get angry, frustrated, sad, and more. But one of the best gifts I can give my kids this Advent and this Christmas is the chance to experience the liturgy as often as possible.
Sincerely,
David