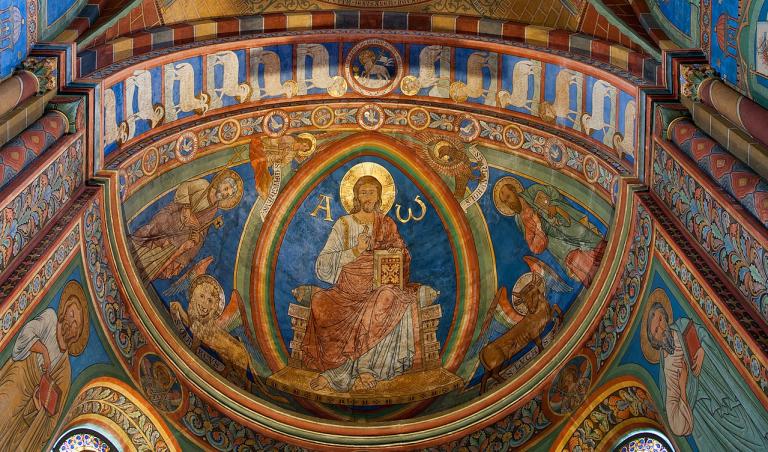 Ordinary Time
26 November 2018
The Edge of Elfland
Concord, NH
Dearest Readers,
I arrived early to the evening mass at my parish for the solemnity of Christ the King of the Universe. I stopped by our Lady's altar to light a candle and then found a pew in which to read quietly. I brought Blessed Julian of Norwich's Showings with me. There was still a hint of incense in the air. Before more of the lights were turned on, I could just see my book, just smell the incense, just hear the choir practicing, and I felt as though I were on the verge of something.
It seemed to me that my mind was transported back to a time that was quieter and yet louder; darker and yet all the more brilliant. Such a time, of course, has never really existed. Arthur's Britain, Benedict's monasteries, Melchizedek's table have all been moments of this unfolding time. Eternity breaks through, if but for a moment. The Kingdom of God is revealed in the radiant Light that is the Glory. Yet like the light of the Transfiguration, it eventually fades and we forget that we have seen a glimpse of God. We go on to deny Christ before the crowds as they, as we, prepare to crucify him.
We cannot endure Bliss, Joy, and Endless Delight, not in our current state. We must be thickened up, made more real. The Cosmos over which Christ is King, may be bound up in us, but the Cosmos is no bigger than a hazel nut, is no thing in comparison to the Creator. This is why Moses could not see God's face and live. He did not have the benefit of the incarnation, but it was the incarnation that likely made his vision possible at all. And yet he would not survive that vision. We might survive longer, but it would kill us in the end. We are dust, however cosmos, and this dust must be made new before it can be ready to dwell in eternity.
I sat there still as the lights came on and people poured in. The spell was broken, the enchantment lifted. I heard not so hushed conversations, the voices of children, kneelers knocking against the floor. Life has intruded itself back upon Eternity, and so it always must until they are fully one and the same. I do not blame or begrudge the people for breaking in on my silence, on my contemplation. Rather I rejoice to belong to such a community, to such a family. Life, time, is not an enemy to Eternity, to Love.
Sincerely,
David Russell Mosley