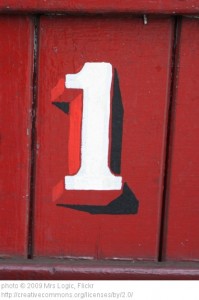 A few weeks ago, a blogger friend sent me a link to something he wrote, saying he thinks it's the best think he's ever written. That got me thinking. I too have a "best thing," a blog post that practically wrote itself and that I am particularly proud of. (Long-time readers probably know which post I'm referring to, and I'm sorry guys, but you're going to have to read it one more time.) I figure most bloggers probably have a "best thing," and might be looking for an excuse to share it, once again, with the world.
So bloggers, I'm inviting you to participate in a My Best Thing Blog Hop. Here's how it works, and how you can participate:
1. If you would like to participate, let me know by commenting on this post or e-mailing me at 5dollars [at] comcast [dot] net. Make sure to provide me with an e-mail address and the URL of your blog (when you include this info in the identification area of the comment form, I'm the only one who sees it).
2. The date for the Blog Hop is Monday, April 9, which is Easter Monday. Why this date? Mostly because my best thing happens to be an Easter post. But I also figured that, since so many of my blogging friends and colleagues are Christian types, this gives participants an easy blog post for the day after our high holiday. That doesn't mean that I only want Christian bloggers to participate however. I'd love to have a variety of bloggers and genres represented, including writers of different faiths and those who blog about topics that have nothing to do with faith. Humor is also welcome. (Really. We need at least one participant to keep the rest of us from taking ourselves too seriously.)
3. On April 9,
post your "best thing"
on your blog. If possible, post the full text of your piece in that day's blog post, to minimize the amount of clicking around that readers have to do. But if your best thing was published elsewhere and you must link to an external site to share it, then by all means, do that.
4. Along with your best thing, please provide a brief explanation of the Best Thing Blog Hop and  include a link back to my post for that day. There, readers will be able to peruse a running list of participating bloggers, with links.
5. If possible, send me the precise link to your "best thing" ahead of time, so I can have as much of the list up, with working links, first thing that morning. But if you're not able to do this, that's OK. I'll visit everyone's blog that morning to snag the links.
5. Encourage your readers to visit my blog to see the full list of participants, and to read at least one "best thing" post by a blogger with whom they are not familiar. I hope that each participant can gain a new fan or two.
6. Note that this is my party and I make the rules. I reserve the right to refuse participation to any blogger for any reason. I will refuse participation to any blogger whose "best thing" is offensive, mean-spirited, or commercial; whose tone and/or content runs counter to the spirit of this event as well as my goals as a writer and blogger; who is not very nice; or who is advocating a cause that I find abhorrent. I welcome participation from bloggers whose opinions I disagree with (who are nice about it), but not from bloggers who are spewing hatred, bigotry, violence, name-calling, meanness, or other unpleasantness.
So what do you say, blogging friends? What's you're best thing? Think about it and please join me and other colleagues on April 9!