Hartford  Courant columnist Rick Green featured me and my book, No Easy Choice: A Story of Disability, Parenthood, and Faith in an Age of Advanced Reproduction, in a column in today's paper. He and I had a long and far-ranging conversation last week; I am grateful for his time and attention, and the way he brought in larger questions about the increasingly difficult choices that parents-to-be face as prenatal testing grows.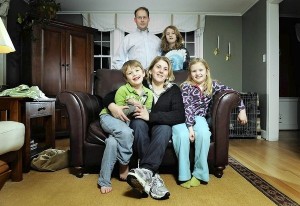 In the hope that some Courant readers will find their way to my blog this week, looking for more information on me and my book, here are a few links especially for new readers:
For more information about me and my story, read my "About" page here or visit my web site.
For more information about No Easy Choice (including ordering info, endorsements, and reader reviews),
visit its
Amazon page
. For links to additional reviews and other things I have written, visit the
"Publications" page
of my web site.
For information on upcoming events where I will be speaking and/or reading from the book, visit the "Events" page of my web site. And please keep in mind that I am always looking for more speaking opportunities—book groups, parent groups, church groups, libraries, classes focused on topics such as ethics and contemporary issues, etc.
Finally, Rick asked me many questions that didn't make it into his column, including two that I fleshed out in a couple of blog posts last week:
Who should read my book? And why?
Why did I write a "wishy-washy" book? "Wishy-washy" is my word, and I'm using it tongue in cheek. The question is why I wrote a book focused on raising lots of questions and encouraging conversation around reproductive technology, rather than writing a book that states clearly whether I think use of such technology is good or bad, and why. The answer to this question says a lot about me, my story, my book, and my goals as a writer.