I woke up yesterday feeling surrounded. Put upon. Up to my eyeballs in shhh…tuff. In a right good muddle.
The muddle consists of money worries and health worries and work worries. And the continually shifting weight of the professional writer's emotional life, as I am pulled every which way by excitement and self-pity and confidence and envy, one after the other, sometimes all at once. There are taxes to file, e-mails to answer, guest posts to write, groceries to buy, laundry to wash, dinner to be made, Easter baskets to be filled. Two runny-nosed, draggy kids who stayed home from school and another who announced, when I picked her up after school choir practice, that she thought she had a fever (she did).
I started the day yesterday keenly aware of all that needs doing and flummoxed about where and how to get started. Those feelings—of being overwhelmed and flummoxed—clung to me all day.
After a morning of laundry, cooking, and errands, I sat down with my "Divine Hours" prayer book to eat something and decide where to start trying to to make sense of the muddle. I read this line from Psalm 123:
To you I lift up my eyes, to you enthroned in the heavens.
And I had one of those rare moments of clarity, when a Bible passage said something I needed to hear, and I heard it.
I've always read this psalm and its cousin, Psalm 121 ("I lift up my eyes to the hills. From where does my help come?") as being primarily about who God is, as reminders to look for God's presence, as psalms of praise. And of course, they are all of that.
But yesterday, I read that first phrase, "To you I lift up my eyes…" and stopped there. Yesterday, what I most needed was not a reminder of God as the one enthroned in the heavens or God as the one who will come to my aid. Yesterday, I most needed a reminder to lift up my eyes. To just look up.
Ensconced in my muddle, so crowded with worries major and minor, tasks pressing and tedious, I had stopped looking up.
I picture myself in a small room, stacked floor to ceiling (hoarder-style) with all those worries and tasks surrounding and pressing up against me, so that no matter what direction I look, there is something (something urgent, something annoying, something important, something upsetting) dominating (blocking?) my vision.
And when I'm doing my online, social media, author-trying-to-sell-books, blogger thing, my field of vision is cluttered by all that demands my attention, stirs my envy and competitiveness, and reminds me of all the work there is to do if I'm going to make it in this business—Facebook posts, tweets, RSS feeds, e-mails from readers, colleagues, church folks wanting to sign me up for a speaking date.
All
Most of the stuff dominating my vision is important. Some of it (particularly those e-mail requests for advice, guest blog posts, and speaking engagements) is very, very welcome.
But I need to look up. To do as the psalmist does, acknowledging and praising the God who gives me life, certainly. But for less lofty, less overtly "spiritual" reasons as well.
To see that my tiny metaphorical room cluttered with tasks and worries has a skylight, beyond which is the bright blue sky and trees whose branches, just beginning to bud, are swaying in the April wind.
To realize that, while the cyberworld I inhabit during working hours can be a vehicle for good writing and even Good News, the connections that matter are with flesh-and-blood people, some of whom I've gotten to know in cyberspace. And some of whom are right here. When I looked up from the muddle yesterday, this is what I saw: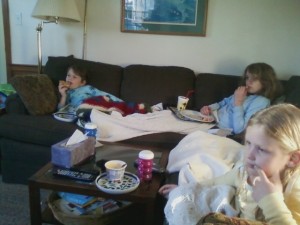 I'm tempted to wrap this post up with some lovely revelation or story about my children, about how one of them said or did something to remind me of what's really important. But the truth is that yesterday, they weren't particularly inspiring or poetic or clever. They were sniffling and feverish and tired and squabbling and leaving crumbs from their peanut butter toast in the cracks of my couch cushions. Nevertheless, I needed to look up from my muddle to see them and be reminded that my worries about work and money and health are burdensome precisely because I have so much to treasure, so much to care for, so much to lose.
The muddle isn't going anywhere. The work and worries and tasks are ever-present. And important. But to keep my focus where it should be, to keep my vision clear, and to maintain the energy I need to engage with both the muddle and the people at its center, I need to look up.