I spend several hours a day sitting on this bench in our front yard.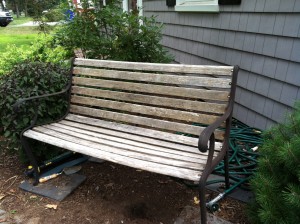 I do this to keep our puppy, Sunday, company as she roams the yard. I want to keep an eye on her to make sure she's respecting the boundaries of our electric fence. Plus our neighborhood is home to coyotes and foxes, and in the past week neighbors have reported black bear and bobcat sightings, so I'm not comfortable with the pup—such inviting prey—being outside for long stretches by herself. Also, she likes my company.
So I bring my morning coffee or lunch out here, play Words with Friends, check e-mail, read, or work. In fact, I'm writing this blog post from my bench. It can get hot when the sun is high, but then again, I'm finding that warmth relieves my arthritis joint pain quite nicely, so am willing to put up with being a little too hot for the relief it brings.
We bought this bench five summers ago, the first summer we lived here, after having dozens of trees cut down, and a new lawn, new stone walkway, and new garden beds installed. This is what the yard and house looked like when we bought it.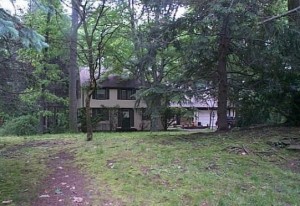 This house was darkness made tangible, so that you felt swallowed up into another, more sinister, and immeasurably sadder world the minute you stepped onto the property. The yard was shrouded in trees, the ground a hodgepodge of roots, mud, and moss. The interior was dominated by noxious dark brown carpet, while the upstairs hallway ceiling was black with mold. The house told a story, its darkness more than physical. The man who owned it had buried his wife about five years before, when she was far too young. And as far as we could tell, the life contained in that house—their life, his life—simply stopped when she died. Her clothes remained in the closet. Stains from the last days of her illness had soaked through the awful carpeting to the wood floors. When anything broke—a branch pierced the roof, bricks fell away from the chimney, the basement door was jimmied open—it simply stayed that way. That basement door, for example, simply stood open, flapping in the breeze, so that the basement filled with chipmunks and mice and the runoff from every rainstorm.
The owner finally decided to sell the house when he got remarried. And despite the mold, the mice, and the shower tiles coated with a brown film that we decided was nicotine from a chronic bathroom smoker, we saw in this house and its huge yard (three-quarters of an acre, which is gargantuan for our town, dominated as it is by quarter-acre lots) a place where we could raise our children until they left for college. Daniel peeled wallpaper from walls and ceilings (!), my mother scrubbed the knotty pine kitchen cabinets to reveal that they are actually several shades lighter than they originally appeared, my father tore up the hideous brown carpet, and I hired exterminators and masons and roofers and waterproofers and a couple of rough characters with a backhoe to hook the house up to the town sewers. The day we closed on the house, Tom—our general contractor—finished up work on our friends' family room addition and came immediately around the corner to our house, where he gutted bathrooms, replaced doors and windows, painted, shored up the back porch, and did dozens of other jobs to turn a house that was literally unfit for human habitation into our family home.
The day we moved in, we had a working toilet in one bathroom, a working sink in another, and no working shower. When we came down to the kitchen in the morning, the drawers were all pushed out where legions of mice had emerged from their hiding places in the walls to do God knows what while we slept. The dining room was still papered in dark gold floral, with all the window trim and moldings painted a matching vomit-colored gold. The kitchen and living room walls would remain naked and unpainted for months.
Nevertheless, we moved in knowing this was probably it for us—the last major move barring an unexpected change of job. This "diamond in the rough," as the real estate listing optimistically called it, would become our children's primary definition of "home."
And I felt strongly then, as I do now, that this house is more than a house, more even than a family's home. It is testament to the power of resurrection, of new life rising from death and decay. In making this dark and sad and dysfunctional house into a bright and warm and functional home over the past five years, we have been engaged not merely in an act of service to our family, but in a witness to the power of hope, light, and love to overcome despair, darkness, and grief. In offering ourselves—our hard work, our routines of meals and chores and movie nights, our highs and lows as a family—to this house, we also allowed it to tell a new story. It does not tell the HGTV-approved story of decluttered, renovated efficiency, beauty, and style. The crabgrass thrives alongside the daylilies and hydrangeas, and our kitchen remains a model of 1950s knotty pine rusticity. But it does tell a story of the boisterous, contentious, full life of a family in which children are growing into themselves. A story of new life.
Today, as I sit on my bench watching the puppy play, this is what I see: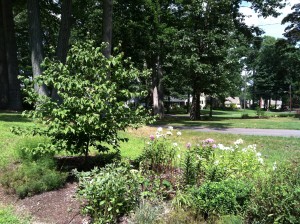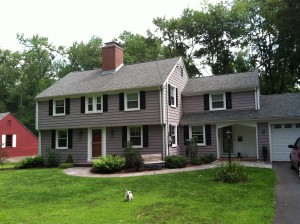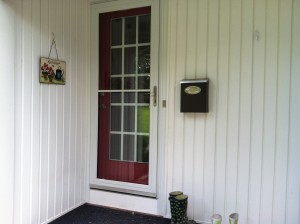 When it comes right down to it, this is why I am a Christian. I believe not only in the Resurrection—in an empty tomb in Palestine two thousand years ago and all that means for humanity—but also in everyday resurrections. Like a dead house being reborn into a lively home for a growing family. Like a friendly puppy frolicking in the same yard where we tried so hard to make a timid, anxious dog into a thriving family pet, and ultimately failed. Like the summertime itself, the season I have always disliked for its enervating heat and humidity and my childhood associations with summer surgeries, becoming a season that I can savor for its long days with time for sitting on a bench in the sun while the puppy digs and the children play, even if I will never love it.
These everyday resurrections point to the truth that I cling to when faced with darkness, whether in my own home or in the world: that light is stronger than dark, that love is stronger than death, and that "neither death nor life, neither angels nor demons, neither the present nor the future, nor any powers, neither height nor depth, nor anything else in all creation, will be able to separate us from the love of God that is in Christ Jesus our Lord." (Romans 8:38–39).