My kids are sometimes overscheduled, but not for the reason you think. (Oh, and they're happy too.)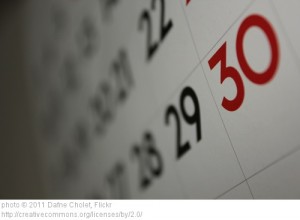 I recently marked my calendar with all of the rehearsal and performance dates for my daughters' participation in our church choir. As I inked in their music theory sessions (once a week for each daughter, at different times), their rehearsal times (once a week for one daughter, twice a week for the other), and services (every Sunday morning plus some Sunday evenings), I became weary upon realizing that church choir is just the tip of the iceberg.
When the school year starts next week, the calendar will fill up with piano lessons and 4H work days, gymnastics and Girl Scouts. Several afternoons a week, I will get in my car around 3 p.m. and spend the next three hours ferrying different children to different places. We will arrive home to a dark kitchen, where I will quickly throw together a meal while begging the kids not to fill up on snacks, so we can eat and move on to an equally hectic evening dominated by homework, piano practice, showers, and reading— and still get everyone in bed by a decent time. Some nights, some subset of the family heads back out after supper for a Girl Scout meeting or school concert.
From this description, we come across as the stereotypical family dominated by the needs of dangerously overscheduled children. This is the story the media tells: In homes like ours, kids are pressured (by parents obsessed with their kids' ultimate success; by a culture obsessed with standardized tests, wealth, and superstar athletes; by the kids' own desire to get into top-notch colleges) to take on too much. This pressure results in families in which everyone is stressed out by the activity treadmill that children climb on in kindergarten (or younger). Furthermore, children have no time to do what kids did in the good old days—wander the neighborhood, make up their own games, and interact with peers without adult interference.
That story? It's a lie. A myth—at least for me and the vast majority of my friends who are parents. While our family and most families we know are often uncomfortably busy, our children's schedules still allow for good old-fashioned, minimally supervised fun. But more important, the reasons for our full schedules have nothing to do with our (or our kids') obsession with Ivy League schools, high-paying careers, or other marks of success. There are two primary reasons for our overscheduled family life, neither of them stemming from parental anxiety over our children's success.
First, our children's schedules are full because we want our children to be healthy and happy (not highly educated or wealthy or successful). We sign our kids up for after-school activities for one reason, and one reason only: Because they ask us to. Ben and Meg's gymnastics classes, Meg and Leah's piano lessons and church choir, Meg's spring softball, Leah's 4H Club and horseback riding lessons—every single one of these activities feeds my kids' natural interests and talents. Every activity is something they want to do. And they understand that if they are no longer enjoying the activity, or it interferes too much with their schoolwork or rest, they can quit.
We want our kids to do things they enjoy, and refine natural talents and interests. We can see how each child's chosen activities contribute to his or her health and happiness, by encouraging physical activity or a love of music, for example, and teaching valuable life lessons—winning and losing gracefully, becoming better through practice, aspiring to match or surpass a role model's achievements, persevering through difficulty, and learning the hard way that life isn't always fair.
Second, our children's schedules are full because of simple math. Each of our children is usually signed up for one to three activities at a time. We have at times asked them to choose one activity out of several. We have at times steered them away from an activity that placed too onerous a financial or time burden on our family, or seemed unsuitable for some other reason.
But even with limits, multiply one or two or three activities by two or three or more kids, and bam, you've got a very full family schedule.
Then there's the limited daily time we have with our children, in which we aspire to do all those things that we know (and experts tell us) are important. Michelle Obama, letters from school, and even kids' TV commercials tell us that children need at least an hour of physical activity per day—in the fresh air if possible. Researchers extol the benefits of families sitting down to eat dinner together, as well as the nutritional benefits of home-cooked meals over fast food. School officials and child psychologists beg parents to make sure our kids get sufficient sleep. And then there's homework, which my children all started getting in kindergarten.
My kids get off their school bus at 4 p.m. For everyone's well-being and sanity, we start moving the kids toward bed by 8 p.m., allowing them time to read in bed before the lights go out (daily reading being both a school requirement and a family habit). That gives us four hours in which to:
–                Play actively for at least 30 to 60 minutes (my younger kids get 30 minutes a day of recess at school).
–                Prepare, eat, and clean up after a family dinner.
–                Practice instruments.
–                Do homework.
–                Participate in any activity scheduled for that day, such as a piano lesson, choir rehearsal, or softball game. Even if only one child has an activity, often everyone goes along for the ride.
–                Go to orthodontist, doctor, dentist, haircut, and other necessary appointments.
Some days the math just doesn't work, and it is not possible to fit everything in. On those days, my kids (and I) are certainly overscheduled. And sometimes cranky about it. But I have yet to figure out how to make four hours of after-school time last for more than four hours.
Do you know which activity causes the most stress in our family? It's not choir or gymnastics. It's homework. In the early grades, homework assignments are fairly simple, but usually require some parental help. Much homework in the younger grades is even overtly billed as enhancing the "home-school connection." In other words, there is an expectation that parents will do homework with their children. We can't send the kids off to do their homework while we clean up the dishes.
A more reasonable elementary-grade homework policy (for example, weekly practice of spelling words and math facts, plus an occasional longer-term project, rather than reams of worksheets and parent-led learning games) would do loads more to ease our family's schedule than having our kids opt out of activities they love. (My middle schoolers' homework, by the way, rarely causes stress. She has plenty, and now and then she stays up later than she should finishing because our afternoon was full of activities. But this is uncommon and is also partly due to her own…um…growing ability to manage her time well. And we are grateful that her homework is truly her homework, and not ours.)
But even with the stress of doing questionably useful homework along with their other activities, if you asked my overscheduled kids if they are happy or stressed out, most of the time they would say they are happy. And on weekends and some less-hectic weekdays, they spend hours going from yard to yard and house to house with neighborhood friends, riding bikes and scooters to the outer limits of their allowable territory, making up games with dress-up clothes and dolls, creating art just for fun, and reading for pleasure. Their full schedules are not robbing them of their childhoods.
Are there parents who fill their children's schedules to bursting because they dream of Ivy League diplomas and lucrative careers for their offspring? Are there parents who force their children into activities that the children have no interest in, because the parents see those activities as necessary for raising a successful child? I'm sure there are. Unfortunately, wisdom and having your priorities in order are not prerequisites for procreating. But I honestly don't know any parents like that, even in the relatively wealthy, well-educated, high-pressure suburb in which we live.
So the next time you see a harried mother rushing kids from one activity to another, confessing that everyone ate fast-food burgers in the car because it was the only way she could figure out how to do dinner, or pulling her minivan into the driveway at 7 p.m. to disgorge a pack of hungry, tired children, don't assume her family has fallen prey to our culture's sinister emphasis on overscheduling children to prime them for adult success.
Rather, assume that she knows her children, and is helping them grow in mind, body, and spirit by supporting them in activities that they enjoy. Assume that she is trying her best to solve the impossible math problem that our culture, with its many voices telling parents what makes for healthy, happy children, gives her to solve every day after school.