I was leafing through the New York Times last Saturday morning when, deep toward the back of the front section, I came upon this article about a gunman, armed with an assault weapon and nearly 2,000 rounds of ammunition, who shot and killed four people in Santa Monica. (The death toll has since risen to five.) I said to my husband, "Look at this. It didn't even make the front page."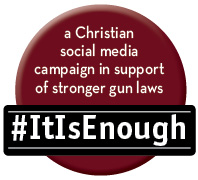 Six months after more than two dozen people, most of them 6- and 7-year-old children, were slaughtered by an armed gunman on December 14 in Newtown, Conn., not only has Congress failed to pass universal background checks, but mass shootings have become filler for the newspaper's back pages, rather than shocking reminders of our failure to enact common sense gun regulations. Six months after we said this time will be different, not all that much is different.
When Katherine Willis Pershey and I started our #ItIsEnough movement, to use social media to regularly publicize the need for stronger gun laws, we were responding to a common notion in the aftermath of Newtown—that enough is enough, that such a shocking, devastating crime would finally move us to recognize that guns, like cars and alcohol and free speech, can be both available to responsible adults and regulated to protect others from potential harms. There have a been a few bright moments, such as when my own state of Connecticut passed strict gun laws earlier this year. Studies and polls continue to show that most Americans, including local government officials and law enforcement personnel, support universal background checks. But our response to the deaths in Newtown and the thousands of Americans killed by gunfire since has most definitely not been enough.
Please join us by spreading the word that #ItIsEnough today, and on the 14th of every month. Use Twitter, Facebook, your blog, or any other social media tool to let people know that you support stronger gun laws and believe that the gun violence devastating lives every day, in Santa Monica and elsewhere, ought to be front page news until we decide to do something to lessen it.
Here are a few other articles of interest:
Toddlers Killed More Americans than Terrorists Last Year
After Newtown Shooting, Mourning Parents Enter Into the Lonely Quiet
Gun Violence in America: A Continuing Tragedy (by a gun owner who supports reform)
I blog about gun violence on the 14th of every month, the monthly anniversary of the Newtown school shootings. I do not allow comments on these posts, as I am not interested in debating the merits of gun law reform, only in gathering support for those reforms. I invite you to join the #ItIsEnough coalition by using your own social media presence to speak up in support of stronger gun laws.