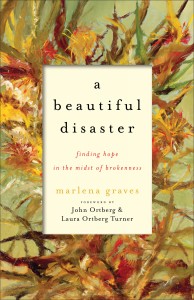 When people get all in a tizzy about how the Internet is ruining real human relationships, I get exasperated. Because thanks to Facebook and online journalism, I have a cadre of writing colleagues with whom I have almost daily contact, and whom I also consider friends. One colleague/friend is Marlena Graves, who is one of the most genuinely kind, lovely and encouraging people I know. Marlena's new book, A Beautiful Disaster: Finding Hope in the Midst of Brokenness has just been released by Brazos Press. In it, Marlena writes about times "in the wilderness," when we experience grief, isolation, or disappointment, and how God forms us through such wilderness experiences and as others love us well in our troubles.
Here is a Q&A I did with Marlena to dig a little deeper into the stories she tells in the book. To enter to win a copy of Marlena's book and several other Brazos publications, visit the blog tour page for A Beautiful Disaster.
"A Beautiful Disaster" invites us to see the many ways that suffering (or "being in the wilderness" as you describe it) can draw us closer to God and allow God to shape us. But while you clearly believe that God uses our suffering to change us for the better, you stop short of saying that God orchestrates suffering (or gives us particular trials, in order to change us for the better). Can you tell us a bit about your take on that age-old question of how to reconcile an all-powerful, good and loving God with a world where terrible things happen? How have you made that reconciliation in your own life?
This is a hard question, Ellen. I regularly struggle with the problem of evil. And I've never been able to find a satisfactory answer for it. Philosophers, theologians, clergy, and lay people have thought about it for centuries. And still—nothing satisfactory. I don't believe that God, for example, says, "I am allowing you, your child, or loved one to be sexually abused or brutalized and murdered for the sole purpose of teaching you to trust me." I don't think God is that way. But I do believe he seeks to reveal himself amid our suffering and that he can use it to transform us.
Renowned philosopher-theologian, Rabbi Abraham Joshua Heschel has some good things to say about suffering. During WWII he was deported to Poland from Germany. Half of his family died in the Holocaust. Heschel didn't blame God for the Holocaust or the death of his beloved family members. He blamed evil people. Sin. Wickedness. Moreover, he partially faulted those (including Christians and American Jews) who didn't speak up on behalf of the Jewish people and the others targeted by the Nazis.
I think he's right; evil is not intrinsic to God. Scripture tells us that in God there is no darkness at all (1 John 1:5). People, including Christians, cause much of the evil in the world. We unleash destruction in the world through the sin we allow to take root individually and systemically. I unleash evil in the world when I choose death instead of life. And we allow evil to proliferate through practical indifference when we fail to do what is within our means to stop it or reverse it. Paul tells us that we are to overcome evil with good (Rom. 12:21). Dallas Willard called overcoming evil with good "the divine conspiracy."
When I am struggling and angry with God over the problem of evil, I eventually return to his love and goodness. I recall the testimony of the great cloud of witnesses and his goodness to me. I think about all of the good, true, and beautiful things in the world—all coming from him.
I have no idea why God allows the murder, abuse, and torture of innocents. I do not know why natural disasters, other acts of nature, or illnesses bring so much misery upon the earth. Scripture's testimony about God's character, my experience of God's love and goodness (often translated through beautiful souls) amid what I've suffered, and the testimony of others anchor me in him.
The problem of evil is a mystery. But here's the premise of my book. I've observed two things about our spiritual formation: God can use our various experiences of suffering and being loved well by others to form us into the image of Jesus.
I was struck by your descriptions of yourself as a very young child, leading worship services with your younger siblings in a wooded grove with rocks as pews, and crawling into your closet to read scripture. Why do you think you were so inclined to seek meaning and comfort in God at such a young age? 
My early experiences served as a monastic cell. I was forced to stay put. Due to our rural upbringing, I was mostly physically isolated from other people. Neighbors and friends weren't too close by and our phone number was long distance from my friends. (Remember long distance?) We were poor and didn't have gas money to freely travel to and fro. We didn't have whatever gadgets there were, or the money to be involved in lots of recreational and leisurely activities (our school was over 10 miles away). I had few toys and for the most part didn't enjoy watching television. We had a few children's books and there were no libraries close by, though I'd check out books from the school library. My family never once went on vacation. In a nutshell, I was what people call "underprivileged" and "at-risk." I received free school lunches. So, I had my family and nature.
The chaos I experienced as a child left me longing to know how to live. I knew there had to be more to life than what I was experiencing. I observed my abuelita, a devout Roman Catholic, and one who was like another mother to me, struggle to read the Scriptures daily. She had been a businesswoman but only had a third grade education. Her example, along with my experiences at church, listening to preachers on the local Christian radio station, and a program during lunch and recess held once a week, called Release Time, run by the Methodists, are what led me to the Scriptures.
I turned to the Scriptures for comfort because I had precious little in my life that offered me comfort. I was searching for answers, longing to be cradled in the arms of God. From about the age of ten to fourteen, I spent two or more hours a day reading the Scriptures after finishing whatever chores I had to do. In the Scriptures, I learned of God's compassion, care, and love for me. God was God to the exiles, of which I was one.
Despite your early tendency to seek God, you write that it wasn't until you were about 20 years old that, in your words, "God spectacularly rescued me from myself." Can you tell us a little more about what happened at that time? And how do you see the intervening years—between being a child who loved the Bible and a 20-year-old who experienced a rebirth in faith? What went on in those years that kept you from fully embracing the life of faith that you seemed to crave from a very early age?
I had a good grasp on the Scriptures but not a good grasp on how to apply and integrate them within the daily disorientation I experienced. I was a child with few healthy role models.  And so, I made some bad and regrettable decisions when it came to romantic relationships. I was in quite a hole between my sixteenth and twentieth years because I was dealing with my own sin, the fallout from my decisions, and anger toward certain family members. Through much prayer and reading (including the Scriptures), combined with the observance of healthy people in college, and guidance from healthy Christian adults I met in college, I became healthy. At twenty years old I felt free. It's when I learned to forgive others and myself. I became healthy in the wilderness by being honest about who I was and learning more about God through his good people.
I also think I was going through the natural maturation process between childhood and adulthood.
I simply cannot praise enough those healthy souls who show hospitality to kids, teenagers, college students, and others searching for the meaning of life. They may never know how much of a good influence they are to those they welcome into their lives and into their homes that they may partake of life together. Christ's community saved my life by loving me into resurrection. I owe much of what is good in me to those about me who lived/live the love of God. Our lives and presence to others speak louder than our words.
I really loved the chapter titled "Children in the Kingdom of God," in which you wrote about activities that come naturally to many children, such as play and attention to the "little" things, and how we can draw closer to God by engaging in such activities even as adults. As a serious child who carried the weight of your family dysfunction on your shoulders, you didn't get much chance to be childlike yourself. Now that you have two daughters—and another expected later this year!—how are your children helping you to discover new things about God? On the other hand, has becoming a parent brought new challenges to your faith because of the particular kinds of "wilderness" experiences that come with being a parent of young children (isolation, exhaustion, fear for our children's futures, etc.)?
As I said above, after about the age of twenty, I felt freedom. I was full of wonder—noticing every little thing. I even had my first stuffed animals who were alive, the way the Velveteen Rabbit was alive. I sensed the wonder of childhood for the first time. Since then I've grown even younger—full of wonder and trust in God and his ways (even amid difficulty) and loving those about me with abandon. I've learned to be more present to my life and to my children. Through my girls and husband, I see some of what I missed. I am a child with them, which is quite different from being childish. In our household, there is much laughter and joy in the simple things—in spotting a bird in our front bushes, a cloud formation, the moon, or a cat crawling through the fields. There is climbing of trees and much reading of children stories. My children help me to see reality. Because of them I am even more attuned to wonder and mystery.
I'm a contemplative. For some reason in seminary, my friends dubbed me a modern-day mystic. Perhaps because of those contemplative propensities and because I am a parent to young children, I am continually exhausted (not unlike other parents and guardians). To function well, I need a good amount of solitude and silence, so being "on" constantly is hard.
And yes, at times, I worry about my children's futures. I worry about how I am screwing them up and about whether or not some sort of mental illness will manifest itself in them when they are older. People who've lived life together with us say we are good parents, but we are still figuring out how to parent our particular children. I hope our girls will forgive me for my sins and shortcomings when they are older.
Having children has made me even more profoundly sorry for the pain I caused my own parents. They did the best with what they had. At the time, I couldn't see that. Really, they came through much harder circumstances than I ever experienced. I think we grew together.
When you were writing "A Beautiful Disaster," did you have an ideal reader in mind? Or, to put it another way, how would you finish the following sentence? "A Beautiful Disaster" would be a great book to give to a person in your life who is _______________________.
…seeking God in the midst of disorientation, whether the disorientation manifests itself as sound and fury or as daily moments of quiet desperation.