TIME Magazine online picked up my post from earlier this week on whether a parent might regret bearing a child who inherits a difficult, painful genetic disorder. (TIME.com has a cooperative agreement with Patheos that allows them to select several Patheos posts every week for publication on their site.) The post is being shared widely, by those living with genetic conditions and many others. It has been fun to see its reach multiply via social media, especially as most of the reactions I've seen seem to appreciate my nuanced take on the topic.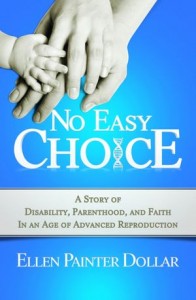 If you read and appreciated that post, either here or on TIME.com, my book No Easy Choice: A Story of Disability, Parenthood, and Faith in an Age of Advanced Reproduction would make for great follow-up reading. No Easy Choice tells the story of me, my daughter, and the genetic legacy we share in much more depth. The book also includes discussion of significant ethical, emotional, and financial questions raised by technologies, such as preimplantation genetic diagnosis or PGD (in vitro fertilization with the added step of genetic testing of fertilized eggs), that offer parents the possibility of choosing (to an extent) their potential child's genetic make-up. Publishers Weekly favorably reviewed No Easy Choice, saying, "Part memoir, part theological treatise, this book offers a refreshingly candid and nuanced grappling with assisted reproduction…This well-written, insightful account should serve as a resource to anyone who ponders the intersection of medicine, ethics, and parenthood." The book has also been enthusiastically supported by Stanley Hauerwas, Amy Julia Becker, Phyllis Tickle, and many others.
I offer my story and related discussion as tools for reflecting on the hard choices faced by parents dealing with complex reproductive choices. In the book and my other writing on this topic, I never argue absolutely for or against the use of PGD and related technologies. In my own journey, I made some decisions in favor of PGD, and some decisions in favor of natural conception. No Easy Choice is not an argument. It is only a story. I invite you, if you haven't already, to read it, reflect on it, share it, and let me know what you think.