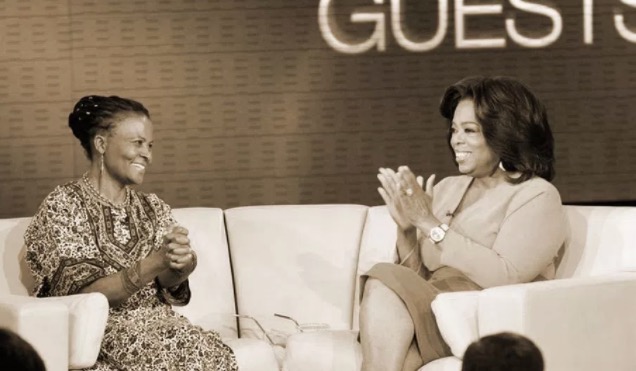 It's hard to believe Oprah could narrow down a FAVORITE guest of all time, but a few years ago she did. The guest? Dr. Tererai Trent, a woman from Zimbabwe who was married as a pre-teen, had 3 children by the age of 18 and a dream of going to America and getting a Ph.D.
Considering Oprah's passion for education girls around the world, specifically in Africa, it really makes a lot of sense. I was lucky enough to get to see Dr. Trent in person last week at a conference and wanted to share her story here, along with a video I took at the bottom of this post.
Here she is on Oprah:
A woman from Heifer, International visited Trent's village when she was 18 and told her she could pursue her dream if she really wanted to. It seemed impossible, with an abusive husband, no money and three children with more on the way.
Hearing directly from Dr. Trent was an incredible experience and quite obvious why Oprah was smitten. She speaks in a powerful, sing-songy African chant kind of way, almost like preaching when she's getting passionate.
Trent told us how she held onto the woman's words about pursuing her dreams. The woman had told her, "It is achievable." This is a phrase Trent continues to use today as she describes how she eventually succeeded at getting her Ph.D.
Without even a high school education, she began studying and taking the tests to obtain her high school diploma, sending tests to and from Britain. She failed many times but after 8 YEARS, she finally got that high school graduation certificate. Over this time, she had more children but began working on the side and earning, saving every penny.
Long story short, eventually she was able to save enough to leave her husband and get a plane with her children to the United States. She explained that at the time the pound was stronger than the dollar her money was able to go a lot further than it would have directly.
She pursued her Bachelors, Masters and Ph.D. eventually getting each of them and later forming Tererai Trent International, "to empower rural communities in Africa where all children have universal access to quality education, regardless of their gender or socio-economic backgrounds."
She has spoken at the United Nations multiple times, has an extremely successful Ted Talk, a new book — among other incredible accomplishments. Her daughter was in the audience of the talk, and is pursuing something scientific at the University of Michigan. It sounded like all of her children were doing well and she was extremely inspiring.
If a woman married at 11, sold into marriage for the price of a cow, who had 5 children by her early 20s in a village in Zimbabwe can make her dream of a Ph.D. in America come true, we should all be able to latch on to an impossible dream we have.
As the woman from Heifer, International told Tererai, "It is achievable." And it is! Here's the video I took: