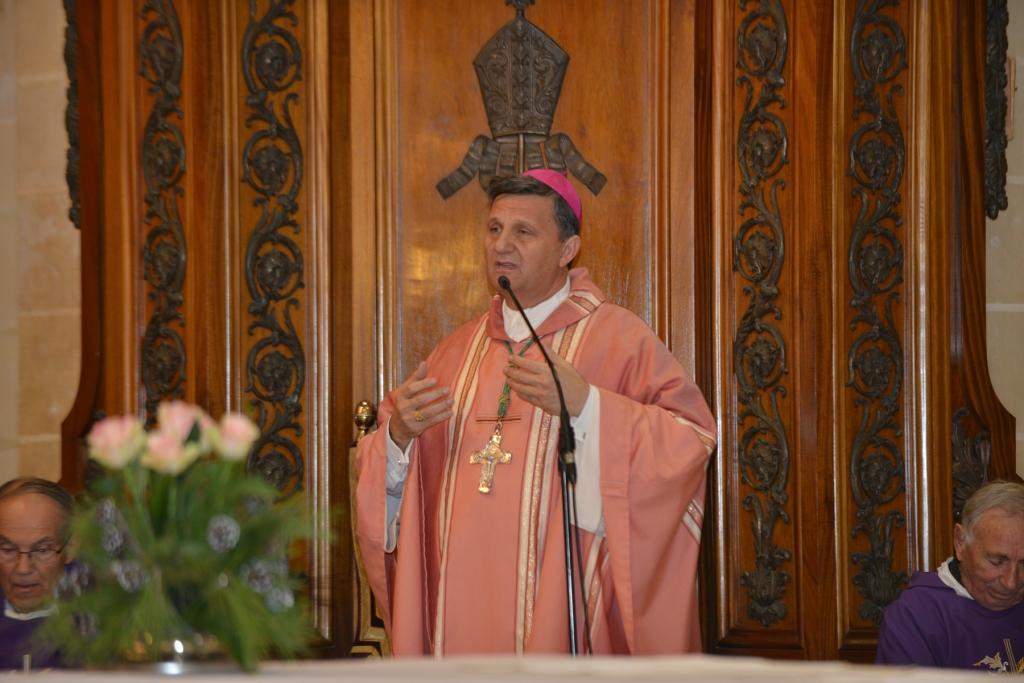 "I wish that a certain category of Christians, in particular those in the inner circles of the Church, would change their way of seeing their faith". This is the startling confession that the Maltese bishop Mario Grech has made in a newspaper column in which he also laments that too many Christians are "suffering from exhaustion, falsification and banalisation of our faith in Christ".
"Several of the baptized young and the not so young are abandoning religion", Grech, the Bishop of Gozo, lamented in an opinion piece published in the Malta Independent April 15. Many people are turning away from Catholicism because "they have simply lost interest or feel pushed away because they view us as 'playing at Church'", the prelate noted, before advancing the opinion that "it is the way we are presenting the Gospel, celebrating our liturgy and our blatant incoherence that is causing people to feel spiritually deluded".
Though it is the Church's first and foremost responsibility, noted Grech, "to ensure that we are not in any way hindering those who are searching for the truth", obstacles to the encounter of the postmodern person with Jesus Christ still remain. Obstacles such as "our nostalgic passions for the past, our uncertainties and inner fears" that mean that the Catholic Church of today has come to be hemmed in on all sides by a "deformed Christianity". "Modern man has a fresh view of the world and yet we, as a Church, still hang on to a stale and bygone vision of the world", wrote the Bishop of Gozo in this sense: but what elements of Catholicism today, precisely, could be regarded as "stale and bygone", or as manifestations of what Grech also called a "schizophrenic religiosity"?
"The brutal adversary of our faith is our current religiosity"
"We declare that we are following Christ, but in truth we are pursuing our own hobbies dressed up in Christian garb", decried Grech in his column. "We need to help man discover the original authenticity of the Christian faith": to move "from a religion spurred by laws to a religion which gives us a taste of true freedom, from a religion of void rituals to a religion which opens us to the mystery, from a religion exhilarating in the sacristy to a religion which finds its place in the town square or in the digital social world".
What the Bishop of Gozo means by a religion of freedom, mystery and worldliness is evident not only in an interview he gave over Easter – in which he argued, among other things, that "there is no clear demarcation between spiritual and everyday life" and encouraged non-Catholics "to come close to God, not necessarily the Church". Grech's intentions are also clear from the pioneering guidelines on the implementation of Amoris laetitia he published with the Archbishop of Malta, Charles Scicluna, in January 2017, in which both prelates argued that divorced and remarried Catholics "cannot be precluded from participating in the sacraments of Reconciliation and the Eucharist". Yet another example of a mere "tradition" this lack of eucharistic hospitality for the faithful in "irregular" marital situations that the Church can hardly afford to waste its energy on, especially since rules like this "may have blurred our vision of what Christ [proposed]".
Whether nostalgia, uncertainties, fears or outdated traditions, then, "the brutal adversary of our Christian faith is not atheism, secularism or anti-clericalism, but our current Christian religiosity", concluded Bishop Grech, lamenting that Catholics today "are so full of our own spirituality and ourselves that we leave little or no space for the novelty of Christ". A sickness that the Bishop of Gozo proposed can only be remedied by a "religionless Christianity" like that proposed by Dietrich Bonhoeffer: a Christianity faithful only to the ideals of its founder Jesus Christ.