I've often wondered about the time of year that we choose to celebrate the advent of the One who came to redeem the world, and make all things new. There it is backed right up against the New Year. The irony is that Evil hates Christmas; it also hates All Things New: new years, new beginnings, new (or second) chances. Evil works desperately to destroy all things new in the same way it devilishly labored to kill the new King after his birth.
Since Evil could not kill the Christ-child, it now toils tirelessly to kill those he came to make new. As believers, we watch Revelation 12 unfold again each Christmas season in Evil's frantic attempt to prevent the Advent and the hope found in the new beginnings of each year. In our Western lives, Evil's attempt might be so cleverly linked to our lifestyle that it works to snuff out the joy and wonder by mocking the glory of Advent. It turns our gaze toward man-made tinsel — something akin to gift obsession, party favors, and checking off church attendance in rote manner. Sudanese and South Sudanese have none of this tinsel. Evil comes at them in other ways: government-sanctioned rape, bombs, and slavery. With the coming of each Christmas, we see all three of these horrors escalate at an alarming rate.
Recently, Salva Kiir, President of South Sudan, committed to travel to Khartoum, Sudan for another round of Peace Talks with Sudan's President, al-Bashir. As Kiir made his preparations, so did al-Bashir. Al-Bashir sent a Russian Atnonov plane to bomb the region where Make Way Partners' New Life Ministry (NLM) school and orphanage is, killing thirty-five people and injuring seventeen. While none of the orphans was injured, hearing the thunder of the bomber flying over, watching the bomb falling from the plane's yawping belly, and experiencing the subsequent death of their friends and fellow clansman left the children sorrowful, terrorized, and traumatized. Evil is not satisfied leaving them as orphans; it wants them stripped of the Father of Hope and the expectant joy of a new way ever coming.
Just days before the bombing near NLM, al-Bashir sent his troops to Tabit, Darfur. At eight o'clock p.m. the troops invaded Tabit, beating the men with the butts of their guns and chasing them from the small village. Then they stormed a boarding school, where they forced more than two hundred schoolgirls from their rooms and publicly gang-raped all of them until four o'clock the next morning. When they were finished, they barred the survivors from going to the nearest clinic at a UNAMID base in El Fasher.
In a seemingly unrelated event, fifteen Darfur schoolgirls were taken to prison in Khartoum, while the Khartoum government admits that Saudi Arabia provides funds to Sudan, aiding in their genocide and making these assaults against humanity — specifically young, fragile females — financially feasible. Meanwhile, UN reports that South Sudan is using sex as a weapon of warin their own civil war.
Man and woman, he created them — made in his image. What in God's name is a believer to do in the face of such blatant assaults on the distinct glory of God?
Recently, a woman replied to a blog I wrote. She expressed deep anger and despair over the condition of the world and its leaders, both clergy and governmental. She said she'd lost all hope and, therefore, a sense of purpose or personal calling. "What's the point?" she pondered. She asked how I stayed in the battle.
Here's basically how I responded:
"Truth is, if I focus for too long on the vast evil working in this world, I not only despair but also go a bit crazy. Instead, what I try to do is accept. Oh yes. This world is broken; it's maddening. I know all the things that don't work so I can either lament about those problems, too, or I can stop wasting all my energy on what is wrong and figure out what I can do to make a difference. On a sane day, that is where I choose to focus — on what I need to do — because that is the only real power I have, my personal choices.
"And, yes, I do cry out to God a lot. I know all this pains him deeply. The Psalmist cried out, 'How long, O, Lord?' I know he will hear me when I do the same. I can't answer why he doesn't come back and make everything right today… but I do know he will and, in the meantime, he trusts me (and you) to be his skin to share in the suffering."
The whole struggle reminds me of 1 Corinthians 13: "These things remain: Faith, Hope, and Love. And the greatest of these is love."
While the greatest of these is love, we shouldn't lose sight of the fact that faith comes first. Where is our focus? If it runs straight to love, then that love is probably of the "self" sort, the kind we can muster — not the kind that calms all fears in the face of death and darkness and will ultimately destroy both. So, we must start with faith in God, the Creator, Sustainer, and Redeemer of All Things.
From that solid foundation of knowing Who is in charge — and where all that we are meant to be springs from — hope naturally follows. If we skip fixing our faith on the Right Spot, our vision skews and our hope will be in what we or another (a spouse, a friend, our children, the government…) will do. Boundless, redeeming hope springs from faith in a boundless, redeeming God.
Once our faith is firmly fixed, hope calms and abides, and then love will flow into personal action that is God inspired, directed, and powered. This does not ensure earthly success. It does, however, remind us that we are not gods. It brings us full circle to our position in him and reminds us that our faith cannot rest on the results of our labor, but squarely upon the One who makes all things new.
---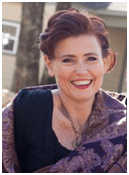 Kimberly L. Smith is the president and co-founder of Make Way Partners, the only indigenously operated relief organization in [North] Sudan and South Sudan providing anti-trafficking efforts to the most vulnerable orphans and former slaves. Smith is also the author of the award-winning book Passport through Darkness, which chronicles much of her experience in Sudan. For more information on Kimberly L. Smith and Make Way Partners, please visit http://www.makewaypartners.org.