I was looking at one of the nativities in our house today, and thinking about how different it is from what Mary and Joseph actually experienced. As I did, I thought about the song Away in a Manger, and the unbelievable lyric The little Lord Jesus, no crying he makes…
I'm pretty sure the baby Jesus cried. A lot.
The glass figurines in our little manger scene look so calm and peaceful as the light catches them. A lot of nativities look like that. But that's not how the Bible describes the birth of Jesus. It was not a tranquil scene.
It was a hectic one.
First of all, a dictator named Caesar forced Mary and Joseph to pack up and travel 70 miles on foot from Nazareth to Bethlehem (Luke 2:1-5). This happened right before Mary was due to give birth. It was a long, arduous, and dirty trek – to say nothing of the constant danger of being robbed.
I'm sure Joseph loved having to tell Mary about their upcoming road trip. "Hi honey, I know you're in your 9th month of pregnancy, but how about a nice long bumpy ride on the back of a donkey?"
On the heels of all the social controversy over Mary's mysterious pregnancy, I'm sure that little piece of news was the icing on the cake.
Mary and Joseph would have been completely worn out when they finally stumbled into Bethlehem. After they did, Mary went into labor and they had the incredibly stressful (and time-sensitive) task of finding a place to deliver God's Son. As the Bible records in Luke 2, there was no room for them in the inn, so they had to improvise. That meant that they would be meeting their son in the ancient equivalent of a barn. What about the manger itself? Well, it was not some cozy little bassinet for Jesus to rest in, that's for sure. It was a feed trough for animals. It was dirty, and smelled, and probably had half-eaten food in it. Joseph would have had to swat flies out of his face as he delivered his adopted son.
If that wasn't enough, some strangers wandered up in the middle of all of this, asking to meet the baby. They happened to be shepherds – people at the bottom of the totem pole in that society. Shepherds were not well-respected people at the time, and probably lived their lives just barely above destitution. They worked outside, alone, for long stretches of time. They probably smelled too.
Not exactly the kind of regal guests you would expect at the birth of God's Son. You see, the real manger scene was a stressful one. A smelly one. A humble one. An unexpected one.
No one would have expected the Savior of the world to be born into a poor, relatively unknown family from a backwater town like Nazareth. No one would have expected God's own Son to make his first appearance surrounded by the smell of animals.
No one would have expected God's angelic heralds to make the glorious, earthshattering announcement of his Son's arrival to a bunch of lowly shepherds. But as they were watching their flocks like they did every night, the majestic angels appeared with this spine-tingling announcement:
Do not be afraid. I bring you good news of great joy that will be for all the people. Today in the town of David a Savior has been born to you; he is Christ the Lord. This will be a sign to you: You will find a baby wrapped in cloths and lying in a manger." Suddenly a great company of the heavenly host appeared with the angel, praising God and saying, "Glory to God in the highest, and on earth peace to men on whom his favor rests. (Luke 2:10-14)
Those are the circumstances in which the Son of God made his appearance. As the Apostle Paul wrote to the Philippians, Jesus did not consider equality with God something to be grasped, but made himself nothing, taking the very nature of a servant, being made in human likeness. (Philippians 2:6-7) Jesus being born in that manger was our first, real glimpse at what God "making himself nothing" actually looks like. Jesus made himself lower than we would ever expect, and through his death and resurrection three decades later, rose higher than we could ever imagine.
But it all started with Mary and Joseph's difficult journey from Nazareth to Bethlehem, and the stinky, stressful little manger scene that awaited them.
---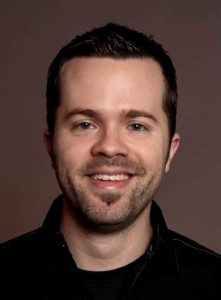 Ryan Lokkesmoe is the Small Groups Pastor at Parkway Fellowship in Katy,TX, one of the fastest-growing churches in the nation. He is a PhD candidate in biblical studies, and the author of Blurry: Bringing Clarity to the Bible (CLC Publications, 2014). You can follow him on Twitter at @RyLokk.