Throughout the lifetime of a typical human being there will be many joyous times. Those events that make everything worthwhile—the times we share with family, one's first child, a religious experience, a graduation, a first kiss, and the list goes on. These are but a few of the events people look to when they seek to share a wonderful piece of their delight with others. There are times and events, however, that tend to be left in the deep recesses of one's heart and mind. These are the times marked, and even tainted, by pain and suffering. These are the events that one may rarely speak of, and when they do, tears flow over their cheeks with every bitter word. Truth be told, if you are a Christian, then these times, although bitter, are meant for so much more than a few tears of agony.
When I first came back from Afghanistan I dealt with a bout of anger issues and depression that lasted for about a year. Before anyone thinks I am some great war hero or saw many people die and killed a bunch of people, I didn't. I wasn't even in direct combat—other than the fact that we took mortar fire and our base was attacked once. So my issues don't stem from the combat side of my deployment. What I did do was sit in a tower for twelve hours a day waiting for some "action" that never came. After that I was a prison guard at the detainee facility in Bagram, Afghanistan. This is where my PTSD came from.
You might think I sound nuts for insisting being a prison guard was difficult! I assure you the mind games are tormenting. I had all of this time to think—what are people doing back home; only 300 days left; my grandfather just died, what am I going to do; these detainees are treated better than we are; I really hope I can fall asleep when I get back to the tent; and so on and so forth. Towards the end of my deployment I wasn't able to sleep and developed insomnia to the point that I just hoped I could fall asleep. The anxiety this caused was literally almost unbearable. This is when my depression crept up on me for the first time.
Coming home was supposed to fix everything, but it didn't. The only thing that was different was me. I wasn't the same person; I left as an 18-year-old boy, but retuned as a 20-year-old man. I was angry and I was depressed. I couldn't tell you why, but I was. The one person who had to deal with this more than anyone was my girlfriend at the time (now my wife) Chelsi. The emotional abuse I put her through was ghastly. I would always end with, "Chelsi, this isn't me—this is not who I know I am!" I had become someone different that I didn't even recognize.
After a year, and simply reading through the Bible cover to cover—my depression and anger issues seemed to calm down. Things were normal! I didn't get upset over petty things and there was very little that got me down. Things were "back to normal!"
It had been four years since I returned from Afghanistan and I was in my fall semester of senior year. I had just been accepted into the Southern Baptist Theological Seminary to pursue my Masters of Divinity in Biblical and Theological Studies. Things were really looking up and Chelsi and I were excited about moving to Louisville, Kentucky. Then I received a phone call. My unit had been activated to go to Guantanamo Bay, Cuba. After serving 6 years in the Army I was supposed to be finished in July of 2014. Instead I am going to Gitmo in October 2014.
The news was surreal and I thought there may be a way out. After all, my Reserve time is supposed to be fulfilled in July! To no avail. No way out. When the year was still 2013 I didn't feel that I needed to worry about something so far away. But as soon as the ball dropped and 2014 was brought in, so was my anxiety and depression.
I have always been too big of a person to admit to many people that I have suffered and currently suffer from depression. "I am going into ministry—moreover, to be a pastor! I can't have depression!!" But I do. With the upcoming deployment, I had things to consider that weren't issues on my first deployment. I have a wife, a son, and my pursuit for vocational ministry would be postponed. "God, can this really be your plan?"
You must understand that I am not one to "skip go" and get medicated. I understand there are cases where this is the medically appropriate means to help depression. But I don't believe that is where I am. I truly believe my faith in God is the cure. Instead of asking God why I have to go through something so "horrible," I tried to meditate on His truths:
"The LORD himself goes before you and will be with you; he will never leave you nor forsake you. Do not be afraid; do not be discouraged." (Deuteronomy 31:8)
"Have I not commanded you? Be strong and courageous. Do not be afraid; do not be discouraged, for the LORD your God will be with you wherever you go." (Joshua 1:9)
"The LORD is close to the brokenhearted and saves those who are crushed in spirit." (Psalm 34:18)
"So do not fear, for I am with you; do not be dismayed, for I am your God. I will strengthen you and help you; I will uphold you with my righteous right hand." (Isaiah 41:10)
"For I know the plans I have for you," declares the LORD, "plans to prosper you and not to harm you, plans to give you hope and a future. Then you will call on me and come and pray to me, and I will listen to you." (Jeremiah 29:11-12)
"And I will pray the Father, and he shall give you another Comforter, that he may abide with you forever." (John 14:16)
(Jesus said) "And surely I am with you always, to the very end of the age." (Matthew 28:20)
The question I was left with is "whom will I look to for help?" I could have writhed in my depression or I could realize God's plans are always better than the plans I would have for myself. The choice I made was to trust God. I do understand that this is not an instant cure, and this doesn't remove feelings of sorrow. But one thing I do know, when I allow God to be in control, things become much easier. When the Lord is your refuge, you're eternally safe.
My desire in sharing my struggle is that others may feel compelled to tell someone of their dealings with depression, instead of feeling that they must keep it to themselves. That is what community among Christians is for! We should be helping one another in our times of sorrow.
Remember, depression is real—it affects one's daily life—but it can be overcome. Just because I have struggles and hardships on the way doesn't mean that God isn't growing me in the faith; in fact I can be assured this is the intended outcome.
Consider some insights from the book of Job:
Our hope does not come from living in this world; it comes from knowing God will one day reveal His world to us; where everything is perfect. The question remains, "how will my faith look at the end?" For Job, he remained faithful and was blessed with more than ever before. Job wasn't about putting God on trial and making Him answer the question of suffering. It was a trial of Job's faith. Not whether he would question God or struggle or weep, it was whether or not he would keep the faith. God has revealed in scripture many reasons for suffering, all of which are beneficial, whether we believe it or not.
One thing the Bible never says is that we must not feel sad or wonder what God is doing! At the end of the day, the best counsel is that God has a plan and it is good. But I can question God, wonder why, and I can even weep; but I can't lose my faith. God doesn't expect us to figure out His ways nor would He even expect us to fully understand them. But He wants us to know He has suffered, He feels our hurt, He knows life is unfair; but He is using us for His glory and He has promised that we will eternally benefit if our faith prevails.
The day I wrote this, this was my prayer and my plea before God:
Lord, accept my little faith. Deliver me from my depression and let my heart, my mind, and my soul be flooded by your grace and love—may you receive glory in my life. Amen
And It has been my prayer ever since. Take courage my friend the Lord is your refuge. Seek others to build you up; you needn't go it alone.
---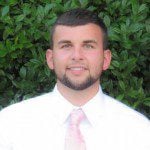 Tyler Kirkpatrick studied Pastoral Ministry and Greek at Cedarville University and is currently pursuing his M. Div at The Southern Baptist Theological Seminary. He lives with his wife and son in Louisville, Ky and is a writer/ policy analyst at the Commonwealth Policy Center. You can find him on Facebook and Twitter