by Jon Macklem
When it finally dawned on me that Facebook can serve as a place in which answered prayers could be celebrated and where support and strength could be extended to those in need, the question dawned on me – what is the faith belief system of the person who created Facebook? Since I did not have Mark Zuckerberg's phone number plugged into my cell phone, I did what any rational person would do to find this answer – I asked Siri on my I-phone. Disappointedly, Siri did not have an immediate answer, so I was forced to search the internet. The general consensus on the internet (which is by no means consistent or an infallible source of information) was that Zuckerburg was raised in a Jewish household but that he later proclaimed himself as an atheist. Now, let me stop here and be clear. The purpose of this article is to not cast judgment on an atheist. I am the last person to be in a position to judge someone from a religious perspective, and at times, am guilty of being the first to nail Jesus to the cross. I am certainly not going to judge a man whose philanthropic efforts and generosity have had more of a positive impact on this world than what I could accomplish in twenty lifetimes. Besides, the internet could be wrong (shocker). He could be a man who believes in a higher power. Yet, despite this uncertainty, the hypothetical question still burned in my mind – why would God allow an atheist to accomplish such monumental things in his/her lifetime?
At first blush, I was frustrated at the thought that God would lead an atheist to create such a profound communication and information sharing tool. Why not have a devout Christian be the one who sends the religion into the 21st Century? As a believer, I pray on a daily basis for God to allow me the courage and wisdom to follow His will. I ask Him consistently, often in an impatient tone, to use my life to accomplish great things in His name. I try to listen, and I continue to pray, but there are moments, sometimes with great frequency, where I feel that I fail to hear God's word and not following in His direction. No one will accuse me of being a good listener (I'm male after all), and I feel that this is no truer than when God is in front of me, waving His hands, and talking directly to me using a bullhorn. However, I continue to pray, and yet, an atheist can be lead to do great things. My vanity causes confusion and disappointment at the thought that God would bless those who do not acknowledge him, but perhaps I should worry more so about my relationship with God, rather than be jealous of others.
Once I set aside my delusions of human entitlement and my lip-biting bitterness, if you think about it, it's truly remarkable to think that God would lead an atheist to create something that would have such a profound effect on connecting believers. It is extraordinary to think that a platform that ignites new sparks in those whose spiritual flame was becoming extinguished could have been created by a nonbeliever. I was astonished by this realization, but then I reminded myself – this is a God who truly moves in mysterious ways. It's the same God that sent a slave to liberate a people from the pharaoh, and the same God who sent a carpenter's son to liberate a world from itself.
So I stand before my two boys at the edge of their cribs with a grin on my face. After spending almost as much time in the NICU as they did in the womb, they are home. Growing. Thriving. Acting as a constant reminder of God's power and ever present grace. I find it only right to suppress the jealousy and instead embrace the awe of God's grace that prompted individuals to create a forum that lead to so many prayers for my boys. Because I can honestly say that without the prayers, I don't know that I would be watching them both sleep in our home right now. We truly have an awesome God, and while we might not always understand him, shouldn't we all be thankful that God moves us to do great things even when we are not listening?
---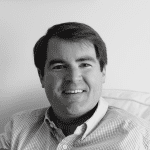 I live in Birmingham, Alabama with my wife, our two twin baby boys, a morbidly-obese chocolate Labrador, and a Shih-Tzu puppy that rules us all. By profession, I'm a business litigation attorney. By passion, I enjoy writing and traveling.