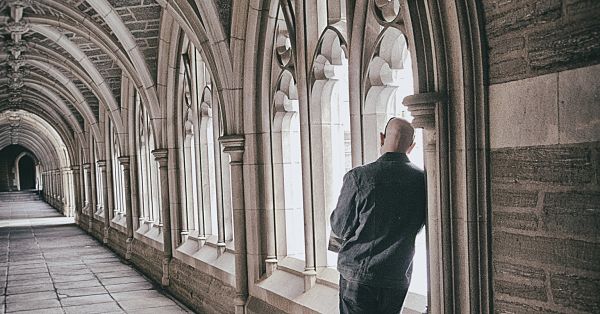 Soccer keeps time in a unique way. Rather than stopping the clock for each substitution, foul or injury, a referee keeps a running total of minutes to be added in an extra session. This "bonus time" follows the 90-minute regulation period.
For some of us, the metaphor of bonus time is quite literal. As a survivor of a bone marrow transplant, I can point to a specific date – August 15, 2015 – when regulation time ended and bonus time began. The same is true for accident survivors, ex-prisoners and former addicts.
But the metaphor is not limited to just a few. It applies to all Christians via the sacrament of baptism. As our bodies enter the water, our old selves symbolically die. Regulation time – our time – ends. As we arise, we enter into new life – and a new sense of time – in Christ.
If we were to lean more fully into the concept of bonus time, how would it impact the way we live? Our priorities? Our attitudes? Three characteristics stand out.
Identity
The apostle Paul grasped the essence of bonus time when he declared: "It is no longer I who live but Christ who lives in me (Gal. 2:20)." Looking back on the drastic change that occurred after his conversion, he regarded his identity in a radical new way and encouraged others to do likewise: "You are no longer your own; you were bought at a price (1 Cor 6:19-20)."
As college students, Tom and Libby Little attended the 1967 Urbana Missions Conference. On the final day, a call was given to serve in global missions. Libby's hand shot up quickly, but Tom – counting the cost deeply – deliberated before finally committing. After studying optometry, the couple headed to Afghanistan where they raised three daughters and endured three wars.
In 2011, while traveling with an unarmed medical team in a remote valley, Tom and his compatriots were murdered by the Taliban. Because of his decades of service, Tom was awarded the Presidential Medal of Freedom, America's highest civilian award. When Libby spoke to a new generation of students at Urbana 2012, she said: "Tom didn't die in Afghanistan in 2011. He died at Urbana 1967."
Living in bonus time is about changed identity, about ceding control to another. Lordship involves surrender, allowing Jesus to use our talents and resources for his purposes. As our identity changes, we move from independence to subordinated solidarity with him.  We yield our ambitions, priorities and agendas to him.
Paul employed the phrase "union with Christ" 165 times in his writings. It formed the core of his teachings. As believers, we seek to do Jesus' will.
Consequently, we submit our calendars to him, asking what we should do more and less of. We submit our finances to him, asking how to spend, give and incur debt. We submit our personal ethics to him, asking how he wants us to behave. We submit our attitudes to him, asking to be joyful and gracious rather than holding grudges or allowing irritants to derail us.
Boldness
People living in bonus time take more risks. A prime example is Lazarus, who a month after his resurrection, courageously invited Jesus – who had a bounty on his head – to a very public party in his home (John 11:57-12:2).
My personal hero is Helen Dunsford, a 66-year old diagnosed with stage four cancer. Standing in line at a bank near Miami, a 32-year old robber appeared with a gun. When opportunity presented itself, Helen ran, jumped and bear-hugged the thief to the ground, yelling, "I've got cancer. You can kill me if you want." Later, when police asked why she did it, she responded, "I've got nothing to lose."
As Christians, we echo Helen's sentiments: "So we say with boldness, 'The Lord is my helper; I will not be afraid. What can anyone do to me (Heb. 13:6)?'"
Martin Luther King Jr. is another example of bonus time boldness. At the age of 26, as his leadership of the Birmingham bus boycott began to succeed, he received a midnight call at home. The anonymous caller told him that he had three days to leave town or his family would die. As he thought of his wife and infant daughter sleeping nearby, he nearly lost his nerve.
But something life-changing occurred that evening. Now known to historians simply as the "kitchen prayer," he earnestly asked the Lord for deeper faith and greater courage. As he sat alone in that existential moment, his life pivoted. Thereafter, he displayed boldness he hadn't possessed before. Dr. King died to himself that evening and fully entered bonus time.
As believers, we should stretch ourselves to take more risks. While our actions may be less dramatic than those of Helen Dunsford and Dr. King, we ought to continually seek to push our limits. For some, this means being less self-protective in interpersonal conflicts. For others, it means being bolder in sharing our faith or more intrepid in launching new ventures.
Relationships
Finally, living in bonus time increases our focus upon people. In his best-selling book, Being Mortal, Dr. Atul Gawande cites research describing survivors of near fatal illnesses whose priorities radically shift from personal achievement to loving more.
This has certainly been my post-transplant experience. Moving from a fast-paced senior leadership role, I now mentor younger leaders. For a Type A personality, becoming deeply enmeshed in their successes and sorrows has been an unexpected transformation.
In the film, The Bucket List, Jack Nicholson and Morgan Freeman are cancer patients thrust together as hospital roommates. When their symptoms go into remission, they draft a list of things they want to do before they die. Since Jack is filthy rich, they go on an African safari, ride motorcycles on China's Great Wall and visit the Taj Mahal.
But, while at the Egyptian pyramids, Morgan realizes that he wants to be with his wife, sons and grandchildren before he dies. Upset that his grand tour has been prematurely terminated, Jack gets angry. In doing so, he discloses the existence of an estranged daughter. The film ends with Morgan's glorious reunion with his family, Jack being embraced at Morgan's funeral and then finding his daughter and (heretofore unknown) granddaughter.
What about us? Living in bonus time, are relationships our highest priority? Or do we remain too tightly wed to achievement, adventure, recognition or projects? Do we say, "I love you" often enough? Are we patient with others? Do we initiate difficult conversations? Do we fix broken relationships?
In his song, "Live Like You're Dying," Tim McGraw talks about going skydiving, mountain climbing and bull riding after receiving a dire diagnosis. But the heart of the lyrics is directed towards relationships: "And I loved deeper and I spoke sweeter and I gave forgiveness I'd been denying. I finally became the husband that most of the time I wasn't and I became a friend a friend would like to have."
With our remaining time on earth, we are called to make others – family, friends, fellow workers, neighbors, strangers and the disenfranchised – our central focus.
Liberation
Paradoxically, bonus time is liberating. Wrapped in the metaphor of death, it facilitates our unexpected emergence – phoenix-like – into freedom. Jesus said: "whoever loses his life for my sake will find it." While people who live in gated self-protection wither, those who die to self and live in union with the Lord experience true emancipation.
Bonus time unshackles us from chains that bind. If perfectionistic, we are freed from the shame of failure. If people-pleasing, we are unleashed to be more direct. If chronic worriers, we learn to trust God more and let small stuff fly by. If risk averse, we are freed to attempt the unexpected.
In bonus time, life is clearer, bolder and more gracious.
---
Alec Hill is President Emeritus of InterVarsity Christian Fellowship. In 2015, he was diagnosed with myelodysplastic syndrome and received a successful bone marrow transplant from his brother, Grant.