by Jon Macklem
Early in the time when our boys were in the NICU, we discovered that the boys' Facebook page had other unintended consequences. Throughout this process, my wife is the one who posted almost all the content on the Facebook page. Through her posts, she opened her heart and exposed an authentic sense of vulnerability. The result was that she created wretchedly beautiful posts that so perfectly encapsulated the rollercoaster of emotions and events that our family was enduring. Through the rawness and genuineness of her updates, people connected with her. She has a gift of prose, and I for one am thankful for that. In terms of writing, she is Mr. Miyagi, and I am Daniel Son (pre-crane kick).
She also openly expressed her faith. Almost all the Facebook posts included a perfectly selected bible verse. She was able to articulate her trust and faith in God, even in the midst of very frightful and confusing situations. People have told us that my wife's posts, and her unwavering faith in moments of adversity, helped them regain faith in God. Some have told us that the posts and the boys' journey have increased their faith, while others have told us that it has helped re-focus and reprioritize their lives.
My wife and I have been touched by such statements. Surprised no doubt, but touched. We certainly did not set out to minister to anyone or write with the purpose of spreading the faith. Our purpose was not to proceed with a religious crusade, but rather it was a selfish one. We wanted to share information about our boys and externalize the struggles of our journey. We wanted our boys to make it home.
It is amazing to think about the utility that Facebook has and that it can serve in strengthening people's relationship with God. In its mission to connect people to one another, Facebook has created a platform to connect people to God and to create communities of faith. At a luncheon, contemporary religious author Rachel Held Evans said that nothing will replace the authentic experience of going to a physical place to worship with other people. She also said that technology can certainly help bring individuals to those places of worship. I agree with Rachel in both regards. At a time when churches are complaining about decreased attendance in worship services, it is important to embrace new mediums of communication as a way of doing the church's work and tending to God's flock. I have seen firsthand how social media can increase the reach of God's grace. I am the benefactor of such use.
---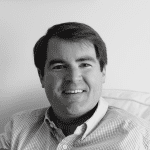 I live in Birmingham, Alabama with my wife, our two twin baby boys, a morbidly-obese chocolate Labrador, and a Shih-Tzu puppy that rules us all. By profession, I'm a business litigation attorney. By passion, I enjoy writing and traveling.