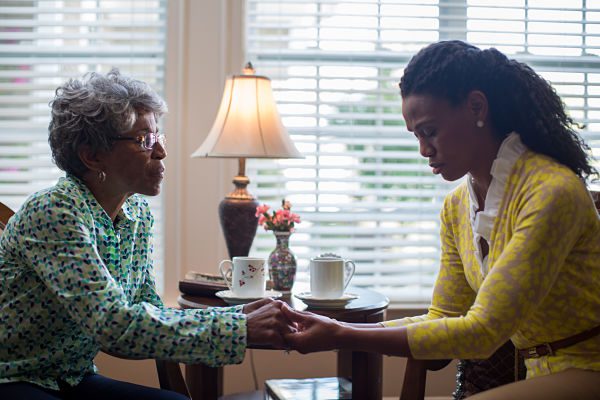 by Priscilla Shirer
I had the blessing of being raised in a home where natural mentoring occurred. The kind of passing on of wisdom that happens in the kitchen, in the car, in the yard and around the table. I've also had women outside my family who have poured into my life and let me learn from them. Sadly, I've noticed that it's becoming more and more difficult to connect with others on this kind of deeper level that results in transformational learning.  Everyone is busy – and not many are willing to make time to deliberately invest in a younger woman – or carve out the time to find a more seasoned woman who can invest in them.
One of the things I loved about playing Elizabeth Jordan in the Kendrick brothers' new film WAR ROOM is the vibrant relationship my character develops with Miss Clara, an older woman who is willing to look Elizabeth in the eye and tell her the truth. This cross-generational relationship plays out over the course of the film and shows the transformation that can take place when one person with more life experience invests in another with less.
Here are a few takeaways from the fictional relationship between Elizabeth and Clara and also from my personal experience:
Find a Mentor
Look for a woman who can invest in your life. Don't discount someone who may not come from a background that screams "success."  Take note of the older women whom you find to be content. At peace. Vibrant in their relationship with Christ. Faithful to their families and invested in others. Then, ask one of them if you can sit at her feet and learn.
Open Your Ears
Be willing to hear the hard stuff. In WAR ROOM, Miss Clara didn't minimize the struggles that Elizabeth was having but she also made it clear that Elizabeth's heart was wrong. She was quick to point out that Elizabeth needed to take a different approach to her marriage and needed to focus on her own relationship with Christ instead of her husband's shortcomings. When a wise person is willing to invest in you, open your ears and heart to consider where you need to be transformed. Have a tender, open heart. Understand that you can be easily deceived by yourself and if you're resistant to change, you may be your own worst enemy.
Invite and Invest
Invite your mentor to tell you what others may not. Ask her "If my friends were able to be honest with me without fear of hurting me, what would they say I need to work on?"  Open the door for your mentor to help remove the speck or log out of your eye. Trust her to be your loving companion on your journey to become more like Christ.
Transformation takes time, and trust is built over seasons. Carve out the time to consistently hear from your mentor and share your life with her. The investment you make in this time will help you grow and will give you the courage to see and hear the truth God may want to reveal in your life.
Embrace the Positive
Sometimes we think a mentor's only job is to point out our faults. A great mentor will also help identify strengths. They will help you to see your unique gifts and talents. As she helps you unearth these God-given and time-cultivated positives, look for ways to enhance them, to use them for the Kingdom, to help reproduce them in others.
An older, wiser friend may be one of the greatest gifts you give yourself.  The relationship may see you through some of the roughest spots in life and help you live with more contentment, wisdom and humility.
---
Priscilla Shirer stars in the upcoming family drama WAR ROOM (Aug. 28), and is author of Fervent: A Woman's Guide to Serious, Specific and Strategic Prayer. She is a New York Times bestselling author, frequent speaker and founder of Going Beyond Ministries.