by Andrew Voigt
It's 2016 (for those of you who aren't keeping track). New years bring change, renewal, cultural shifts, and another election full of completely incompetent presidential candidates.
In America and the community of followers of Jesus, change is always taking place, whether for the better or the worse.
One of the changes within modern Christianity has been a popular trend of abandoning the American "church", resorting to an almost hipster-ish mentality that says "The church is full of hypocrisy and out-dated teaching, so I'm gonna do this Jesus thing on my own." The ironic part of this whole trend is that we are ALL hypocrites…We somehow miss that one, ever single time.
Now, before we get too carried away, let me share a few beliefs that I hold which completely resonate with this new millennial, postmodern Christian revolt:
The church can be ridiculously self-righteous, hypocritical, judgmental, hateful, discriminatory, segregated, and boring. Yes, I said boring. Fact: Jesus wasn't boring. More like "baffling", but not boring.
The church must understand the current generation without watering down the teachings of Scripture. This is difficult, but not impossible.
Legalism in the church must die. It's time for Christians to rid themselves of rules we made up, making it unbearable for souls to wrestle with the tough questions in life. Doubt must be welcomed and brainwashing must be eradicated.
The grace of Jesus must be preached, but more importantly, lived out in the church.
Christians must begin holding themselves accountable for ALL sins, not just the ones that we consider "more evil" than the others. If the Scriptures teach against something, including lust, greed, violence, and gluttony, we must hold those to the same standard as all other sins we condemn.
Church isn't just about being an entertainment spectacle, but neither is it meant to be a traditional museum full of relics that don't resonate with today's generation. Whatever the worship style, the church must contain substance, not feel-good fluff that tickles everyone's ears. Worship style has very little to do with this; doctrine and teaching have everything to do with it. The way of Jesus. Love. Grace. Truth. Hope.
Celebrity pastors within the church can be very destructive, as they are becoming more of a focal point than…well…Jesus. There's nothing inherently wrong with a pastor being acknowledged in the world of pop culture, but if you would leave your church when the pastor resigns/moves, maybe you should check your motives. I'm all for Christians being a voice in creating culture and influencing millions, but not at the expense of our allegiance to Jesus.
There are many other issues that I will agree with the modern Christian movement against the American church, so don't get me wrong, I'm no traditionalist holding tight to my KJV and the "good old days" (somehow, this always looks like people who never left the mid 20th century). That's not me.
However, if we're going to hold the fundamentalist, legalistic church accountable for their glaring lack of consistency (which we should), how can we not hold the new emergence of progressive Christianity to the same accountability? Are we not all subject to standards of logic, reason, and the adherence to truth?
Have you ever been on Facebook or Twitter, only to run across "that person" who posts controversial statements about politics, religion, or social matters? For some reason, I like to read the comments in those posts…Maybe it's because I like arguments; I could just be mental. But if you, like myself, read these comments, haven't you seen the one person (there's always at least one) who goes OFF on someone during the debate? I recently saw a comment under a political post where the guy said, "Tom, you're my dude, but *%@! you!" Close friends, I'm guessing?
Why do we all despise these trolls who hover throughout the social media hemisphere, waiting to punch someone in the virtual face? I have a theory:
These people think they're more enlightened than everyone else and that arrogance bugs us.
I can't judge the hearts of many Christian leaders who are leading the new wave of abandoning the American church, but I can speak to their actions and their teachings. Disagree with me all you want, which is totally cool, but please hear me out.
Recently, a fairly prominent pastor in North Carolina wrote an article completely thrashing what he knew to be "American Christianity". Basically, he said, "Christians are so hypocritical and old-fashioned, holding to teachings of Scripture that are out-dated and irrelevant to the 21st century. The American church sickens me due to their hypocrisy. I'm leaving this group of imbeciles because I've found a better way of following Jesus."
Problem: that is what we call "elitism" – people believing they are more enlightened than the rest, therefore parading their righteous convictions to the world to be acknowledged as wise.
Let's be clear: it is one thing to look at a church community, to see their contradictions to Scripture, and then to say, "I want no part of it." That is using wisdom. We are not called to blindly go along with every popular (and unpopular) teaching. If we disagree, we can agree to disagree. However, looking at the entire body of Christ in America and proclaiming yourself more enlightened than an extremely complex Kingdom of believers is not wisdom; that is simply ignorance and pride hiding behind an insecure mask of false knowledge.
What's the difference between a fundamentalist Christian who is self-righteous in their performance and a progressive Christian who believes they are enlightened beyond following all the teachings of Scripture, regardless if it's popular within our post-modern culture? In my opinion, both individuals fall into the "self-righteous" category, proclaiming that they are better than "those other people".
A very popular teaching in emerging faith communities is that we should abandon the "us vs. them" views of the church, loving everyone as Christ did. I couldn't agree more. What's hilarious is that these same individuals go on to condemn the fundamentalist, old-school, conservative Christian church…Us vs. them – the same viewpoint they condemn.
This is a subject that I could discuss for a million years and still not calm down, so I'm gonna put my coffee down and finish up here. But to summarize (if that's possible):
Maybe we're all completely missing the point of Jesus, the body of Christ, and what it means to be disciples. Maybe it's about the redemption and the unification of a bunch of losers, imbeciles, knuckleheads, failures, self-serving jerks, and prideful divas. Maybe we're all lost. Maybe that's why Jesus said so…He may not have been kidding about that one…
What if all this debate and arguing is just a big twisted game we're playing, trying to distract ourselves from looking in the mirror at the imposter staring us in the face? We love pointing out the failures and self-righteousness of others, rather than the flaws within ourselves.
As for me, I'm tired of thinking I'm awesome, theologically brilliant, and enlightened beyond the other "weak Christians". I think I'm ready to say that I don't have it all figured out, that I'm in desperate need of grace, that we're all in this together, and that Jesus is OK with us following Him without all the answers. I'm OK with that. We must search for truth with all of our hearts, but we cannot claim to know all truth…It's simply impossible.
I will continue to pray and fight for the heart of the church in America, because it is just one small part of the Kingdom to which I pledge allegiance. I don't agree with half of what I see in our churches, but I still must be about my Father's business (the Kingdom), rather than my own self-serving business. At the end of this life, I believe I will be held accountable for what I did with Jesus, how I lived in love (or without), and how I shared light with a world drowning in darkness.
The Kingdom was never about our petty little camps of "me versus you"; it has always been much, much bigger than we could ever imagine. If we desire change within the American church, we must bring about that change ourselves.
With that, I'll leave you with the teaching of a prominent Hindu, which I thought was fitting for this discussion:
"Be the change that you wish to see in the world." – Mahatma Gandhi
On. Point.
---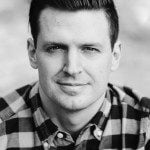 Andrew Voigt is a writer currently living in Charlotte with his wife Beth and their orange cat, Pumpkin. After spending two years in Los Angeles pursuing a career as an actor, he returned with unmet expectations and broken dreams. Prompted by a close friend, he began writing about his journey – one that is filled with dreams, anxiety, depression, faith, doubt, hope, and the constant struggle with grace. He holds a B.S. in Communication Studies from Liberty University in Virginia and has studied acting at the Film Actors' Studio of Charlotte.