By Rob Dalrymple
I received the following note and thought it was necessary to respond:
Throughout Biblical history God has chosen very flawed men and women to lead:

Moses was a murderer, stuttered and didn't want the job
Noah was a drunk
Job went bankrupt
Gideon was afraid
Rahab was a prostitute
Jacob was a cheater
David was a murderer and adulterer
Jonah ran from God
Peter denied Christ three times
Mathew was a tax collector who took a percentage of the taxes
And the wor[s]t of all of them was Paul who persecuted or killed Christians before becoming one

Stop looking for a Saint to be our President. We are all very flawed people living in a very flawed world. I see God's hand in the founding documents of this Country…Life, Liberty and the Pursuit of Happiness. Maybe he sent a flawed man to get us back on track.
[Note: In writing this I am making no assertions as to whether Donald Trump is a good president or not. Frankly, that is very far from my concern. My concern has always focused on the people of God. Are they growing in Christ and fulfilling their mission of making God known to the nations? Is the Church doing so effectively? That is, are we demonstrating love and grace, showing compassion and advocating for justice, etc.? I am writing this because I believe that the evangelical right's unapologetic support for Donald Trump as president is downright shameful and often extremely hypocritical; not because he is a bad president, but because he is exemplifying a seriously flawed character that in no way should be affirmed by the Christian community. Again, let me reiterate, my focus is on the Church being the church that Christ called us to be in whatever country we might live and under whatever laws that country may wish to impose.]
At the outset, I'll note that the letter writer's basic premise is seriously in error. I am constantly bewildered by how Western evangelical Christianity looks to a secular state and its political leaders as though they will be the salvation of the Church. One reading of the Book of Revelation indicates that the state is decidedly not the means of salvation for the people of God. Thinking it is so seriously confuses a secular office with a religious person and the kingdoms of the world with the kingdom of God. I am not looking for a saint to be our president; nor, am I expecting the President to be our savior.  Thus, I have a pastoral concern for those who dismiss Trump's sin and behavior—that in minimizing sin, they diminish what Christ has done for us, as well as our witness to a hostile world. We are to put our trust in Christ as our king and not in any politician, nation or government.
Yes, All Persons Are Flawed, but …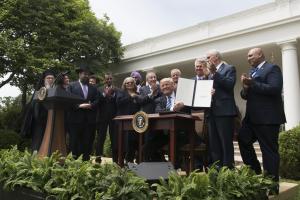 Note this letter concedes that Donald Trump is "very flawed." It says many biblical men and women were too, as is all of humanity, yet God used them, so God can use Trump. The implication that Trump is no more flawed that the biblical persons is seriously suspect. The use of "very" seems a little loose here. Shallwe suggest that Stalin, Hitler and Pol Pot could "get us back on track"? After all, they were "very flawed" men too! I suggest applying "very flawed" to all people is inappropriate. We need some means of distinguishing Hitler from Mother Teresa. We may absolutely affirm that all persons are flawed, with varying degrees of flawedness.
Neither does it seem valid to equate the sins and character flaws of these biblical persons to Trump. The assertion that Noah was a drunk is simply unfounded. Noah got drunk. But, that doesn't make him a drunk. In fact, Scripture says, "Noah was a righteous man, blameless in his time; Noah walked with God" (Gen 6:9). The author of Hebrews speaks of Noah in the following terms: he "in reverence prepared an ark for the salvation of his household, by which he condemned the world, and became an heir of the righteousness which is according to faith" (Heb 11:7). Sure, Noah had flaws. We all do. But I dare say that comparing the flaws of "a righteous man" to Trump, or most any other person, is quite dubious.
Yes, Moses committed murder, but as Luke records Stephen saying: "And when he saw one of them being treated unjustly, he defended him and took vengeance for the oppressed by striking down the Egyptian. And he supposed that his brethren understood that God was granting them deliverance through him, but they did not understand" (Acts 7:24-25). Moses, in anger, struck the rock twice in anger (Num. 20). Sure, he got angry. We all do. This is hardly enough to constitute him as "very flawed."
Finally, I am not sure how anyone can say Paul is "worst of all." For one, the listed "character flaw" is that he persecuted Christians. Paul describes his actions prior to his conversion to Christ as religious zeal (Phil. 3:6). He likely held the conviction, derived from the Old Testament law, that "one who blasphemes the name of the LORD shall surely be put to death; all the congregation shall certainly stone him. The alien as well as the native, when he blasphemes the Name, shall be put to death" (Lev. 24:16). There is no doubt that Paul had flaws—as we all do—but in terms of Christian character, I think we are safe to say that Paul was one of the most exemplary persons in history. I don't think many Christians in history would dare make Paul's assertion: "Be imitators of me, just as I also am of Christ" (1 Cor 11:1).
Should We Accept Such Behavior?
We could do the same exercise with each of the persons listed in the letter. "Very flawed" is not an appropriate designation (with the possible exception of Gideon—though that brings into the discussion the purpose of the book of Judges, which will take us too far afield.)
Now, at this point, those promoting the letter writer's argument may attempt to backtrack and contend that perhaps, then, Trump is not "very flawed." It is not necessary, of course, to get into a semantic war. I dare suggest that any effort to equate Trump and the listed biblical characters fails.
Moreover, there are other significant differences. Most notably, and this really is the bottom line, the biblical characters above and others not listed all repented. They recognized God's sovereignty in their lives. Indeed, they were flawed, but they sought God. Trump has shown no genuine indication that he is seeking after God. Nor, has he shown any sign of repentance for groping women, demeaning foreigners and the less fortunate, mocking handicapped persons, belittling others, etc.
What is most significant from my perspective, is that the argument appears to be employed in order to justify Trump's flaws. It is sort of a, "Yeah, well so did Noah, Moses and Paul." But should we so quickly accept such ill behavior? Should we laud a leader who has displayed blatant disrespect for so many? I dare suggest that if this behavior were to come from a leader who is not Republican, then these very same evangelicals would cry out: "How can someone lead our country and be so unChristlike and irreverent?" But since the offender is of the same political persuasion, somehow the offenses are acceptable—after all, God used Moses!
My question is: Why are evangelical Christians endorsing this man and his character? Why are they not speaking out about his harsh attitudes towards women, minorities (inside and outside our country), and the handicapped? Let me note again: you may like him as a President. You may consider him the greatest president of all time if you'd like. You may endorse his foreign policies. You may support his judicial appointments. But we cannot endorse this man as a champion of the Christian values and convictions. To suggest that God uses flawed persons cannot be used to endorse this man's moral failings. And he is not—nor can any secular leader ever be—the savior of the Church.
Our Task Is Not Ensuring National Security
The task for the people of God is to be God's witnesses— to make Christ known. It is not to ensure peace and security. If our nation allows us such, then so be it. But we are called to live for Christ. Endorsing a person for their political abilities is one thing; but excusing away serious character defects and lauding the person is deplorable.
Tragically, the evangelical church's endorsement of this man's many moral failings and character flaws has had a significant impact on the church's witness in the world. This alone suggests that this is not the hand of God, but the hand of the enemy.
(One final note: The Scriptures do not exhort God's people to pursue life, liberty, and the pursuit of happiness in accord with the kingdoms of this world. Instead, we are to forgo the pursuit of such things and take up our crosses and follow the one true King. In doing so, Scripture warns us, we will be persecuted and often killed. So much for life, liberty, and the pursuit of happiness.)
—
Rob Dalrymple (Ph.D., Westminster Seminary) is currently serving as the Senior Pastor at Northminster Presbyterian Church in Bakersfield, CA, and overseeing the planting of a new church, Grove Community Church in Shafter, CA.He has written Follow the Lamb: a Guide to Reading, Understanding, and Applying the Book of Revelation, Understanding the New Testament and the End Times and Revelation and the Two Witnesses. He has served as an adjunct professor at Westminster Theological Seminary, Fuller Theological Seminary and Biblical Seminary. He is the co-chairman for the book of Revelation study group at ETS (Evangelical Theological Society). You can follow Rob's blog at determinetruth.com and his podcasts at determinetruth.podbean.com; or on Twitter, @RobDalrymple, and Facebook, @DetermineTruth.