I have an exciting way to help Haiti this Christmas season & a chance to WIN A GORGEOUS HEART PENDANT made by a Haitian Artisan!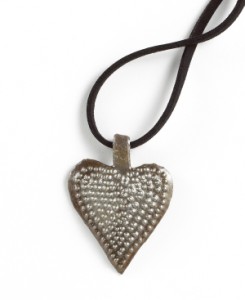 My 5 yr. old, Ransom really loves Haiti.  We explained to him the earthquakes when they happened and we prayed for a few weeks.  For whatever reason, Ransom hasn't forgot to pray for Haiti each night SINCE!  It's the one constant in his prayers without reminder.
A few months ago, I showed Ran some Haiti updates online and he decided he wanted to keep a 5 yr. old named Schneily in his nightly prayers.  Schneily lost his leg and is now learning to walk on crutches.  His family is poor, homeless, etc.  Ransom's very sweet caring, demeanor towards Haiti has kept the world's poorest nation in the forefront of my mind which is why I want to share this with you…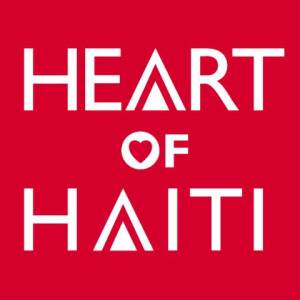 Heart of Haiti is helping to rebuild Haiti through "Trade, Not Aid." In other words, Heart of Haiti is using commerce and culture to create social change.  Which is pretty sweet!
Instead of providing one-time funding through charity, Heart of Haiti is creating opportunities for Haitian artisans to earn income with dignity by creating jobs and income for the people of Haiti.  Awesome!
Through the sale of Heart of Haiti products, artisans are able to earn life-changing income for themselves, their families, and their communities.
The initiative is enabling artisans to repair homes, pay school fees, and feed and clothe their families. The income also allows them to have access to better nutrition, improved education and health-care.  Isn't this the best?
The Heart of Haiti collection is an array of handmade products for the home — quilts, metalwork, ceramics, and paintings — created by Haitian artisans. Each item is designed by a Haitian master artisan and produced by hand in Haiti from recycled materials.  (Go Green!)
The collection is truly helping the people of Haiti rebuild their lives and communities!  I'm really thankful for great org.'s like this.
The Heart of Haiti collection has already led to employment of 350 artists in Haiti and has provided some financial benefits for an estimated 4,000 to 5,000 people in the country!!!!
Each item is designed by a master Haitian artist and made by hand in Haiti, made from recycled materials (GO GREEN!) & includes 40 different home decor & accessories.
You can find the Heart of Haiti Collection at Macys.com.
~
***I am writing this post to spread the word about Heart of Haiti through a Mom Bloggers Club member program and  will receive a Heart of Haiti pendant as a thank you which I will then PASS ON TO ONE OF YOU!***
Just leave me a comment! For an extra entry you can also tweet about my giveaway, leave me your tweet unique URL as an additional comment.  The winner will be randomly selected using random.com.  The lucky winner wins the pendant! Giveaway ends Midnight December 14, 2010.