I'm writing today over at Raising Mothers in honor of the 4th annual Black Breastfeeding Week. Breastfeeding is such an important everyday matter in the lives of my people & one that did not come easily for me & my beautiful babies. If you didn't catch my post on miscarriage & infant loss this is a bit of a follow up…Lost & Found.
Found: To Nurture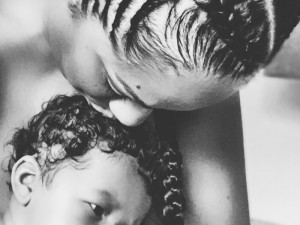 I've wanted to breastfeed just as long as I've dreamed of being a mama. In a box somewhere there is a photo of little girl me: I'm wearing my denim overalls, flap down, smiling big as I held my favorite doll up to a flat little girl chest. As the last born, I never got to see Ma breastfeed my older siblings; in fact I don't know that she did. I'm not sure where my desire to breastfeed came from. I certainly didn't see it modeled responsibly in the media— if it all. I didn't know any breastfeeding families, let alone any Black families taking part in a larger conversation regarding breastfeeding.
My firstborn son, Ransom was the worst nursling. Laziest latch ever. After a week, I was very discouraged. Wait, record scratch. Let's go back to the hospital. When Ransom was just a few hours old, I was already very discouraged with breastfeeding. Prior to giving birth, I had done a great deal of reading about pregnancy, labor & childbirth as well as breastfeeding, pumping, infant sleep training and the challenges of returning to work in 8 weeks. I was prepared dammit! Being as prepared as I was, nothing could go wrong. Obviously. So when after a few hours I noticed a pattern between excessive cramping and putting the baby to my breast I asked the nurse why. She explained that the breastfeeding triggers the uterus to begin shrinking, which results in period-like cramping. Somehow in my nearly obsessive thirst for information to welcome my first child into the world I missed that detail. Like most things that catch me off guard, I was frustrated, overly sad & throwing pity parties of epic proportions. I wasn't emotionally ready for for something I hadn't thought through. So I considered giving up breastfeeding. After about 5 hours.
Join me at Raising Mothers to read the rest?