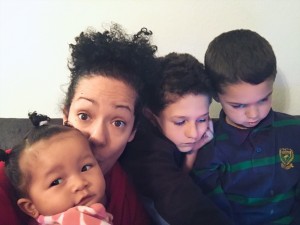 When I was a kid my Ma often told me how things were 'going to get better.'  She was never one to keep the hardships of life for me. I was the 4th, the unexpected later-in-life baby due to a bad hook-up after a tumultuous marriage to an alcoholic, years of single motherhood, crushing life disappointments, exhaustion from years on the Detroit police force, the beginnings of mental illness & of course the ever threatening presence of poverty.  Then me. At almost 40? Sista girl was tired.
When I wanted a new toy or new clothes, she didn't mince words. We couldn't afford it. When our lights or heat wasn't running. Sorry, not enough money to go around. When we couldn't get to places because we didn't have gas, I knew money for the month ran out. She let me in on all of it. The weight of financial worries sat like an elephant on my chest for much of my childhood.
She often promised things would get better. Next year, she'd say. Next month, she'd say. When this happens, things will be better, she'd say. After that happens, you can bet things will be better for us, she'd say. For many years, I smiled back with all of the hope and longing I could muster. She would take me to apartments & into the Master bedroom. This bedroom will be yours, she'd say. When presented with Master bathrooms in suburbia a part of me longed to move out of our urban ghetto where our house had been broken into three times at least before I was 12. It was until I was in college that her promises for a better life finally fell on deaf ears.
Yesterday, I told my 7 yr. old we didn't have enough money for a $7 jar of clay he'd like to buy from Amazon. I thought about it later & wondered on the wisdom of that explanation. We could buy the clay, but it would come out of money designated for groceries. Things are tight.  And that's okay. I want my kids to know & understand it's okay not to have everything with immediacy. Due to my childhood poverty, I understood that. To an extent, my kids understand this because their Dad & I have rarely, if ever bent over backwards to respond to their every whim. We teach them to save their own money for what they want. It's pretty rare they ask us to buy them anything. Ever. With the exception of gum & candy, of course. We let them in on the realities & consequences -good & bad- of budgeting and such. One of them is like their father, a saver with thoughtful purchases. The other is like me, an impulse shopper who loathes saving. (Don't judge, I'm coming along on this journey).
I wonder if there was a better way to handle the jars of clay situation. The way Ma communicated to me about money often left me emotionally haggard: full of anxiety, fear & worry when the bottom would fall out. I worried about when we'd get kicked out of our house. I worried about the next time our car would break down and I wouldn't have a way to school. I worried about the next time we'd run out of food. A few times, I worried about being taken away from my Mom, my sole caregiver. I'd watch her spend on superfluous items and worry we'd not recover for the next few weeks. Most times, we didn't.  Those are worries I wish no child had to bear. Life.
I don't think my 7 yr. old is all that pressed about this $7 jar of clay. I don't think my explanation of being in a tighter financial spot is keeping him up at night. (To be fair, he's never lived a day of his life in the poverty I grew up in. He's never missed a meal or slept a single night in a home without running utilities). But I worry, of course. It feels important to me not to make the same mistakes as my Ma. God bless her. I love her. I forgive her. I choose her. But I do not wish to repeat her.
Awash in my fears about this, I spoke frankly to the 11 yr. old yesterday. I told him that even though things were tough financially, I plan to work very hard to make life different so that $7 jars of clay won't present an issue in the future. He was quiet & thoughtful as usual. I could be reading into it, but he seemed to have a look on his face that said, "what's the big deal Mama, things aren't that bad?" His demeanor suggested things are A-O-K, though he seemed excited about the prospect of a trip to Disney World or his beloved Legoland.
I wanted to communicate hope, vision and the desire to make a better life financially while also keeping me accountable to the promises I gave my son. But no sooner than 5 minutes after the conversation did I begin to worry if I am simply repeating the often empty phrases Ma would utter to me? Even though I've not been in the habit of making empty promises to them, I shudder at the thought of growing indifferent to my hope for a better life.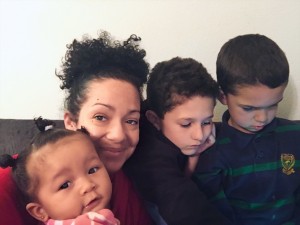 Thoughtful parenting is worrisome. I have realized in the past couple of years that being a good & loving mother is one of the only things I want more than anything in life. My life doesn't revolve around my kids and never has, but through introspection I have wondered if there's been a level of unhealthy pride around. Perhaps I need to allow my life to revolve around them in increasingly healthy ways? I'm asking myself, what that looks like and how to honor their individual journeys. Every day, doing something or other that challenges myself towards being a better Mommy is a great place to start.
||||
If you like what I do, please consider a $1/month donation to my Patreon account.
Checkout & SUBSCRIBE to my shiny new YoutTube Channel where I'll be covering lifestyle, inspiration, self-development, all things beauty & hope for survivors like myself!
Follow me on Facebook, Twitter & Instagram
#AlwaysHope