I was particularly struck a few years ago when Heavy D unexpectedly passed away.  Call me morbid, but I generally head straight to Twitter after the death of a celeb to check out their last tweet.  Heavy's last tweet was simple, "BE INSPIRED!"  If you follow me on Instagram you know I often write #StayInspired as the last of many hashtags.  I use it as a small token of recognition for someone who was a part of my childhood and to honor his very last tweetable idea and what an inspiring one it was.  Inspiration for me often leads to hope which leads to love for myself and others.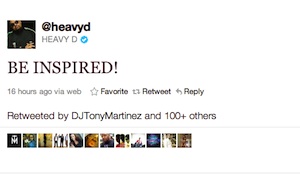 A few weeks ago Lee Thompson Young, an actor suffering from depression committed suicide.  I went straight to his twitter to find his last tweet on December 25, 2011, "Merry Christmas everyone! Wishing you all peace and happiness" going out to his 8,000-ish followers.  I left the page open, went out to lunch and on with my day.  When I came back I noticed his followers again, 8,000.  Not many for a Hollywood actor but didn't think much of it until I refreshed the page.  About 3-4 hrs. since his suicide went viral, he now had 11,000-ish followers.
About 3,000 people decided to follow his Twitter account after his death. What were they were hoping to gain?  A connection to the late actor?  News? It hits me hard sometimes, how often I find myself seeking, pandering after the unattainable.  Lee is gone.  Pretty soon his Twitter account will be suspended, just as Heavy D's is.
So far I have 8,146 tweets.  8,147 if you count the one I'll use to tweet out this very post.  I wonder what my last tweet will be?  Let's just say, I'm thankful I woke up on the morning of August 23…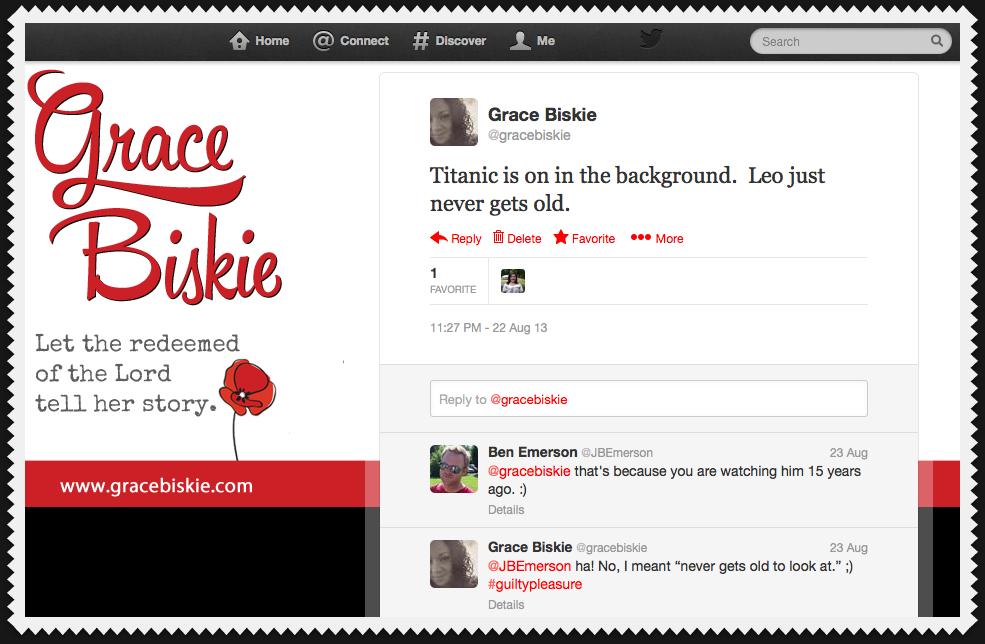 …at least Leonardo DiCaprio would know he is appreciated.
I haven't fully thought this through -this is a "Five Minute Friday" post after all- but I do want to "take care" of my words online, a bit more.  They are important.  I hope you will too.
////

"On Fridays around these parts we like to write. Not for comments or traffic or anyone else's agenda. But for pure love of the written word. For joy at the sound of syllables, sentences and paragraphs all strung together by the voice of the speaker.

We love to just write without worrying if it's just right or not. For five minutes flat.

Here's how we do it:

1. Write for 5 minutes flat with no editing, tweaking or self critiquing.

2. Link back here and invite others to join in {you can grab the button code in my blog's footer}.

3. Go and tell the person who linked up before you what their words meant to you. Every writer longs to feel heard.

OK, are you ready? Give me your best five minutes for the prompt: Last."