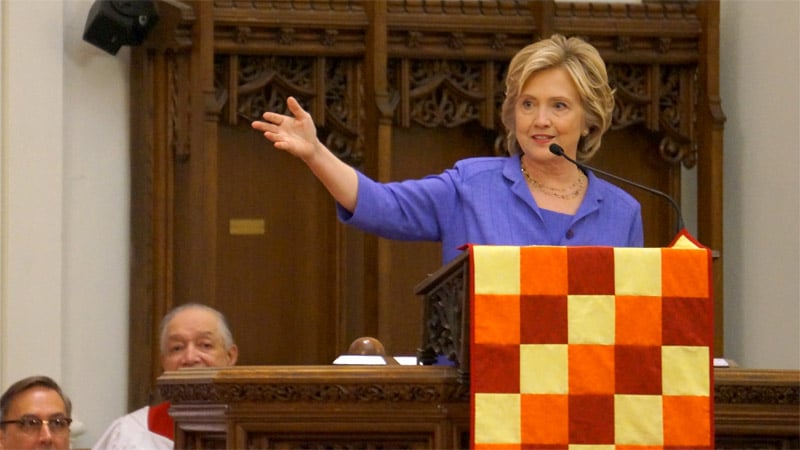 Today, Donald Trump met with a group of evangelicals in New York City to  answer their questions and discuss how his campaign allegedly champions the values of people of faith. At the end of the meeting, Trump remarked that "we don't know anything about Hillary in terms of religion."
That statement couldn't be any further from the truth.
Perhaps the reason Trump doesn't know anything about Hillary in terms of religion is because he doesn't know much about religion in the first place. First off, religion should never be used as political currency in exchange for votes; rather, it is an intimate expression of one's personal relationship with God. If you really want to know something about Hillary's religious views, then the best place to learn is by worshiping with her in church, as I was fortunate to have been able to do last September.
It was one of those early autumn mornings, the kind with a cool, dense air hovering like faint fog over the thick dew-covered grass.  It was a morning of deep anticipation and celebration.  The nervous energy and excitement were palpable; something special was on the horizon.  It was a day that had been long anticipated: the final event of an extended bicentennial celebration for my church, Foundry United Methodist in Washington, D.C.  And for many months, we had reveled in the excitement that we would be welcoming Secretary Clinton, her husband President Clinton, and their daughter Chelsea, back to their church home in the nation's capital.
Once we got inside the doors and through security, I was able to find a seat in my usual pew and began to pray in order to ground myself before this momentous church service. Then came the moment when you could feel her arrival.  No one said anything; the entire church became filled with this powerful silence.  And as the choir's voices joined in unison to lead us in singing the opening hymn, I could not resist turning around to catch a glimpse of the woman I've supported for public office for almost a decade.
But when I turned around, I did not see a candidate for President of the United States, a former Secretary of State, a former Senator, or even a former First Lady.  I saw a woman, a mother, and a wife.  I saw a child of God, a fellow member of my church, wearing a simple purse on her shoulder as she processed down the aisle with her family and our pastors.
And at that moment in time, I was not overcome with enthrallment for her celebrity status, but rather with a deep sense of care for and commitment to this trailblazing woman.  Hillary was returning to her DC church home in order to be with God and to help her faith community celebrate its bicentennial. At that moment, she became one of us and one with us, surrendering all her prestigious earthly "titles" before the throne of grace.
Moments later, Hillary preached a sermon in which she demonstrated full command of Romans 12. The influential role of religion in her outlook on life was evident as she related the wisdom of Paul's letter to addressing the real life challenges that affect our world, empowering each and every American to live up to their "God-given potential" — a common phrase she repeats frequently in her debates and speeches.
She even offered a story about how the church of her childhood changed the course of her life. She told us about her beloved youth minister taking her youth group to hear Martin Luther King, Jr. speak in downtown Chicago. She recalled the impact of hearing him deliver his sermon, Remaining Awake Through A Great Revolution: "I left that hall a different person thanks to my church."
What struck me the most — what was most revealing of her character and the influence religion has had on her life — was the fact that she recounted waiting in line for several hours afterward to shake King's hand. The simple act of waiting says something about Hillary's humility and determination as a young, impressionable girl to meet one of the world's most influential moral leaders.
And while I think it is noteworthy that Hillary has met King, her response to this encounter is what matters most. Hearing King speak at such an impressionable young age no doubt shaped her future desire after graduating law school to empower other people to realize their full God-given potential, just as she herself had been empowered to do.
When I was living and working in rural Arkansas, I met many people whose lives were touched, in some way, by Hillary. One of my friends attributes his socioeconomic status to Hillary. His mother, once employed as an hourly office assistant by a law firm that Hillary was working at decades ago, told the firm that she would need to reduce her hours in order to pursue a college degree. Discouraged by the men in the office to pursue her education, it was Hillary's lone voice of encouragement that empowered my friend's mother to go to school and obtain a better future for herself and in turn, my friend who is now in college.
Actions speak louder than words. If you want to know about Hillary's religion, pray with her, worship with her, read her sermon, listen to her address her fellow United Methodist Women, and ask the people in Arkansas whose lives she touched how she made the difference. And then, listen carefully to her speeches. You won't often hear her citing scripture directly, but if you are remotely familiar with the Bible, you will know where she is quoting from.
Donald Trump would be wise to know these words from Matthew's Gospel attributed to Jesus: "Whenever you pray, go into your room and shut the door and pray to your Father who is in secret; and your Father who sees in secret will reward you." (Matthew 6:6)
The ultimate measure of faith is not what you say or do publicly, but your quiet, humble response to the transforming, sanctifying, and renewing grace of God … one day at a time.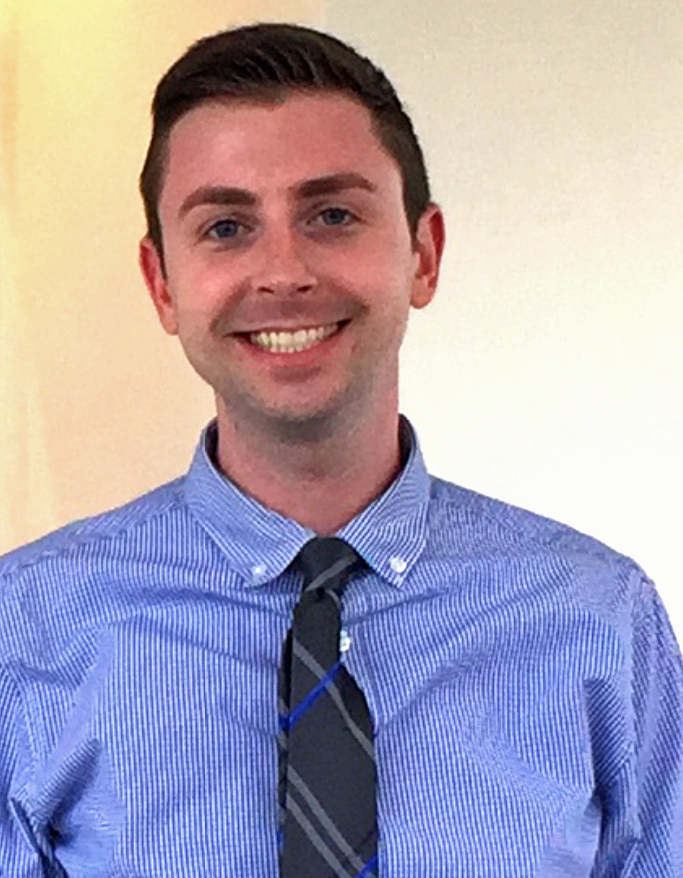 Chet Jechura is Director of Digital Communications and Data at Eleison Group, a faith-based political, governmental, and non-profit consulting firm; holds a master's degree in theological studies from Boston College and a bachelor's degree in political science and philosophy from Loyola University Chicago; worships at historic Foundry United Methodist Church and lives in Washington, D.C.