February 8 is the Feast Day of Josephine Bakhita, former Sudanese slave, canonized as St. Josephine Bakhita on October 1, 2000. Yes, I realize that this blog is in the Evangelical channel, but the life and testimony of this saint is truly Ευαγγέλιο, the Good News of the Gospel. It is also a reminder of how God can use for good the most evil and despicable actions of men. And it is a demonstration of Jesus' love for the daughters of Darfur.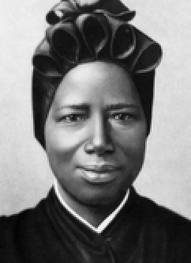 The patron saint of Sudan, (whether the National Islamic Front government of that nation likes it or not!) Bakhita is also the patron saint of victims of slavery and trafficking. She is the first person from Sudan ever to be canonized or beatified.
Bakhita was born in Darfur — the area of western Sudan now in its 14th year of genocide perpetrated by a government working to push out, kill, or dilute through births resulting from rape, all of the black African people groups. The Khartoum regime is changing Darfur's demography, giving the land to the militias and Sudanese armed forces that have "cleared" the land of its people, and like ISIS, are building up the Caliphate.
But conditions were not much better for black African Sudanese in Bakhita's time. The Catholic Online biography reveals that Bakhita was born in 1869, of the Daju people group. Daju once ruled the region and called it Dardaju (land of the Daju). Although her family was well-respected and prosperous, and her father was the brother of the chief of their village of Olgossa, they were nothing more than "slaves" to the Arab Muslim slave traders who preyed cowardly upon black Africans.
When she was seven or so, Bakhita was kidnapped. According to Catholic Online, she was forced to walk barefooted some 600 miles to the slave market in El Obeid. The horrors, pain, and loneliness of being enslaved for eight years were still to come, but already trauma caused to forget her own African name. So she was given the name bakhita, the Arab word for "lucky." She was also forced to become a Muslim.
Bakhita was sold into slavery multiple times in the markets in both El Obeid and Khartoum. Pope Benedict XVI wrote of Bakhita in his Encyclical on Hope (Spe Salvi #3) that when she was the slave of a Turkish general's wife and mother, "she was flogged every day till she bled; as a result of this she bore 144 scars throughout her life." The experiences of this little girl, being treated like an animal, beaten by those who enslaved her, never again feeling the loving touch of her parents or even a gentle touch from a kind human being, foreshadow the experiences of hundreds of thousands of black African Sudanese people, enslaved not just in the 19th century, but in the 20th and 21st centuries.
Bakhita also bore scars from an even more terrifying and inhuman experience at the hands of the same Turkish general. The South African Catholic Bishops' Conference's biography of African saints says that the Ottoman "marked her as 'his' by a process resembling both scarification and tattooing." Quoting from Bakhita's own memoir, the biography continues "that a dish of white flour, a dish of salt and a blade were brought by a woman, who drew patterns on her skin and then cut deeply along the lines before filling the wounds with salt and flour to ensure permanent scarring." This source says that more than sixty patterns were cut into her breasts, belly, and arms, but others, including African Online News, say that 114 marks were cut into her body and rubbed with salt for a month. "I felt I was going to die any moment, especially when they rubbed me in with the salt," Bakhita wrote in her memoir.
The Turkish general brutally scarred Bakhita to show his "ownership," of the little girl. Today in Darfur, the Janjaweed, the Rapid Support Forces, and more recently, Khartoum's regular troops brand or cut scars into the tens of thousands of Darfuri girls and women they have raped. According to Sudan expert Dr. Eric Reeves, the Arab rapists brand or scar these daughters of Darfur in order to continue the humiliation and ensure that the rape cannot be hidden.
Bakhita's nightmare began to end in 1883 when she was bought for the Italian consul to Khartoum, Callisto Legnani. Legnani treated her with kindness and dignity, as did the family of Augusto Michieli, to whom she was given in 1885 by Legnani, and for whom she worked as a nanny. But it was not until the Michielis had to return to Sudan in November 1888, and she and Michieli's daughter were sent to the Canossian Sisters of the Institute of the Catechumens in Venice, that Bakhita experienced true freedom.
According to the Vatican News Service, it was at the convent that Bakhita came to know the God she had experienced in her heart without knowing who he was, ever since she was a child. "Seeing the sun, the moon, and the stars, I said to myself: Who could be the Master of these beautiful things? And I felt a great desire to see him, to know him, and to pay Him homage," she recorded in her memoir.
After some months of learning about God, and knowing through the sacrifice of Jesus Christ for her on the Cross how much she was loved, Bakhita was spiritually free. Then, knowing her worth as a daughter of Christ gave her the faith and courage to be free to choose her own path in life. So when Signora Michieli returned to take her back to Sudan, she refused to leave the convent. According to Catholic Online, the superior of the Institute complained on her behalf to the Italian authorities. On November 29, 1889, the Italian court ruled that because Sudan had outlawed slavery officially before Bakhita was even born,  and because Italian law did not recognize slavery, Bakhita had never legally been a slave.
Bakhita was baptized, given her first Holy Communion, and confirmed with the name Guiseppina, or "Josephine," Mary Margaret Bakhita. Says Vatican News Service, "From then on, she was often seen kissing the baptismal font and saying: "Here, I became a daughter of God!" It continues, "With each new day, she became more aware of who this God was, whom she now knew and loved, who had led her to Him through mysterious ways, holding her by the hand." Now His ways led her to entering the novitiate on December 7, 1893, and taking her vows on December 8, 1896, welcomed by the Cardinal Patriarch of Venice, the future Pope Pius X.
For the rest of her life Sister Josephine Bakhita served her Lord and the people in the northern Italian province of Vicenza at the Canossian convent in the town of Schio. She often attended to the convent door where Vatican News Service relates that she would  lay her hands on the heads of the little children as they came into school, blessing them. She brought comfort to the poor and suffering, and also helped to train the young sisters going out as missionaries to Africa. Says Catholic Online, "her mind was always on God, and her heart in Africa." Remarkably, she declared not just forgiveness towards those who had enslaved and tortured her, but gratitude that those experiences had brought her to knowing God and His love for her.
Bakhita lived through two World Wars. Catholic Online says "During the Second World War (1939–1945) she shared the fears and hopes of the town people, who considered her a saint and felt protected by her mere presence." It adds that although the bombs fell in Schio, "the war passed without one single casualty." The people loved her, and Catholic News Agency says that she was "known for her smile, gentleness, and holiness." She would tell the people, "Be good, love the Lord, pray for those who not know him. What a great grace it is to know God!"
All of Italy mourned her death, but as her last years were full of sickness and pain (probably caused at least in part by the beatings and torture she had endured) and in her last hours the memories of slavery came back full force, it was a blessing when God took His beloved daughter Home on February 8, 1947.
In February 1993, Pope John Paul II visited Khartoum. Disregarding the danger from angry Islamist supremacists who had banned the news of Bakhita's beatification some months before, the Pope gave his homily in the famous Green Square in which he told the people, "In her new life in Christ this sister of ours returns to Africa today. This daughter of the Christian community of the Sudan returns to you today. You too are being tried in many ways, and yet life is your heritage, that life which the Risen Christ has brought for all." His Holiness announced:
Rejoice, all of Africa! Bakhita has come back to you: the daughter of the Sudan sold into slavery as a living piece of merchandise and yet still free. Free with the freedom of the saints. Blessed Josephine comes back to you with the message of God the Father's infinite mercy.
Pope John Paul II also said of Bakhita in an earlier homily that in her body "she bore the signs of terrible injustice" yet "in her soul  there shone forth the light of an inner strength" Bakhita's "luminous example" he said, "speaks to her brothers and sisters of the Church in the Sudan about the courage of faith and the power of evangelical love in the face of intense distress."
The life of this daughter of Darfur, in the words of Pope John Paul II "points to the victory of God's love over the ravages of sin and evil." Now we wait, with great longing, to see the victory of God's love in deliverance and justice for the daughters of Darfur, and over all the ravages of sin and evil in Sudan and South Sudan today.