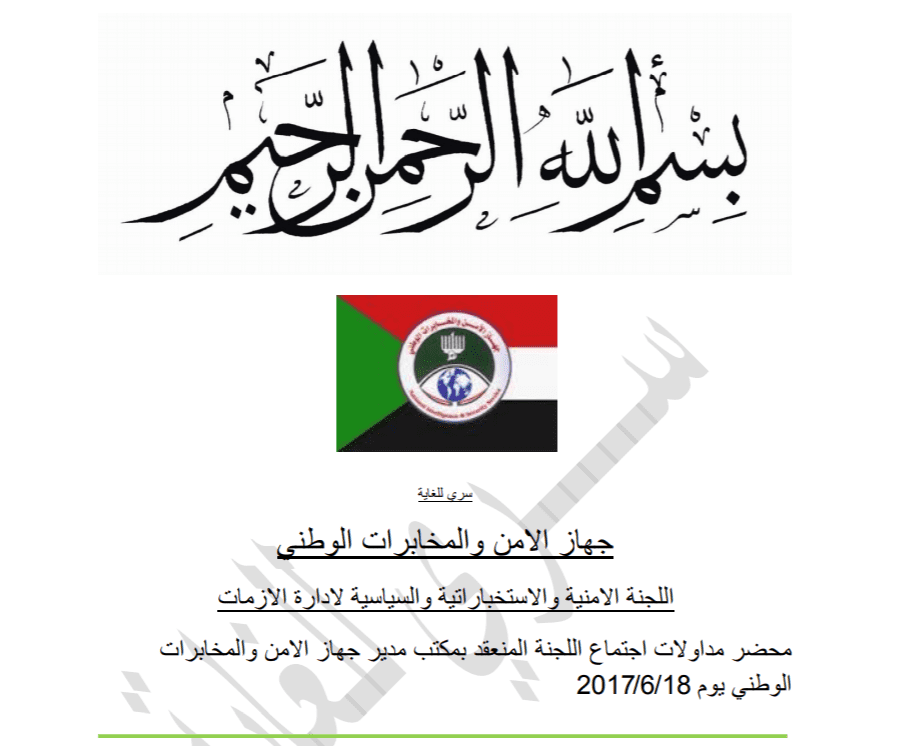 Sudan has a long way to go to not be a terrorist regime. Particularly since many of the plans that were hatched by the Khartoum regime in June 2017 are still being enacted today, Bashir or no Bashir. We are all in vapors because Bashir is gone! We think that this means a 180 degree change for Sudan. Seriously? At present it appears that the rest of the bad boys in Khartoum have been willing to make Comrade Omar their sacrificial lamb. They get lots of brownie points from useful idiots, dhimmis, and others with their heads in the sand, and create a great distraction from what they are doing in Darfur, Nuba Mountains, Blue Nile State, Beja Land, and, last but not least, South Sudan with their long-time buddy Riek Machar.
Some of the translated statements from the original leaked document which is attached above in the original Arabic. Couldn't get any of the so-called terrorism experts to give a rat's tushy about this document in 2017. They think that Sudan is small potatoes. That is why the Islamist regime in Khartoum has survived all these years. The terrorism experts underestimate Sudan (Africa? Racism? Arab-philia, even when it comes to terrorism? You tell me.)
Part One, from Bashir, (but don't be so foolish as to think that the rest of Ikwhan guys are not planning the same thing!).
Talking about how to deceive the U.S. into lifting terrorist sanctions. Keep in mind that the Obama Administration had already lifted a ton of sanctions on Sudan and then the Trump Administration made them permanent, thanks to the "good" work of Squire, Patton, Boggs, and The Atlantic Council.
As an Islamic movement, we have strong relationship with Muslim Brothers and Hamas leadership because we are originally come from Muslim Brotherhood organization. We have a strong attachment with Muslim brothers because they supported us to maintain our Islamic government in Sudan. Through their support, we have been able to overcome many regional and international conspiracies. What is happening to Qatar is the action of targeting Muslim Brothers and Islamic organizations in the world.

There is a dispute between Muslim Brothers and Abdel Fatah al Sisis and Emirates because the latter two support Khalifa Hafter to become president of Libya. This move will threaten our government in Sudan and will end our interest and place our Muslim Brothers in danger. We financed the Islamic movements, ended Gaddafi's government, assisted Morsi's election

campaign and enabled Muslim Brothers to come to power in Egypt. All these activities we realized through the help of Qatar and Iran. Later in the document he says:Our support will go to our brothers in Egypt and Libya to continue struggle until we are totally in control of the Libyan land. (At least the USG seems to have this one right, supporting Haftar!)

We recognize the big role Saudi Arabia played in the partial lifting of sanctions imposed on us by the US who
promised to lift all the sanctions on July 12 through Saudi Arabia.

. . . Hilu (commander of the SPLA-N) came up with two new requirements, which are self-determination and maintaining
SPLA-N army. These ideas, we reject. We will not negotiate with Hilu and some of the Nuba commanders. These are sons of the Nuba Mountains who support him to become the leadership of SPLM-N and should not be allowed to continue. They must be weakened, targeted and dismantled or we will carry out a diplomatic campaign at regional and international level to isolate their group politically (they sure do! see U.S. State Department). We will not accept a peace deal or negotiations with Hilu. We support Malik Agar's legitimacy and his group through the use of government institutions and the African Union (AU) to achieve this objective. If sanctions are lifted the defeat of Hilu is easy. . . .We support the movement of Agar and Yasir Arman through diplomatic and media coverage in the internal and external to absorb the shock caused by Hilu and use the crisis to benefit Agar because he has taken a strategy of calming the situation and preventing the escalation and they remained in a position of a victim and self-defense. . . The information possessed by the Agar and Arman group is

important to defeat Hilu. Our war with Hilu and his supporters and SPLA-N will be intelligence and security to disrupt internally and create political, military and tribal problems.

Lifting of economic sanctions and removal of Sudan from the list of 'states supporting of terrorism' does not mean that we cut our relations with the Muslim Brotherhood organization and other Islamic movements or expel its leaders from Sudan. There are no guarantees to international politics especially when the US President is facing legal problems in America. The Islamic movement is targeted by campaigns against its interests and existences in all the world countries and its connection to the terrorism has distorted its efforts of achieving stability. The reasons behind this are known because of our efforts in South Sudan, Libya, Central African Republic (CAR) and Somalia.

If sanctions are lifted, it is our right to reestablish relations with Iran because it is a regional force, which represents Islam, and it cannot be ignored. The mind cannot accept to cut our relationship with Iran because it's a super power that ensures the stability in the Middle East, and has interest in Africa and will not stand against us. Our security cooperation continues and
we have kept it for our stability. There is alliance between Turkey, Qatar and Iran.

And the worst for last:

Following the current expulsion of the IS organizations from Syria and Iraq and because there
are no suitable terrain to continue their struggle, some of them want to head to Asia and others
want to go to West Africa. PAY ATTENTION TO WHAT BASHIR SAYS NEXT:

We must find them sanctuary in South Sudan Areas of Bahr al Ghazal
and Western Equatoria in order to continue their struggle.
These areas will link them to Boko Haram through CAR and some of them we are going to use them in Libya.

(Do you recall that Boko Haram has now split into 2 groups, Boko Haram and ISWAP, Islamic State West Africa Province. Do you see who helped that to happen?) 
Next post we will hear from General Backri Hassan Salih, then Vice President of Sudan. And if you are tempted to say, "Oh that was 2017. Bashir is gone. Hassan Salih is gone."  . . So what? Turabi is gone, too. Burning in hell for Eternity. But all that the Khartoum regime does is Change the Face.