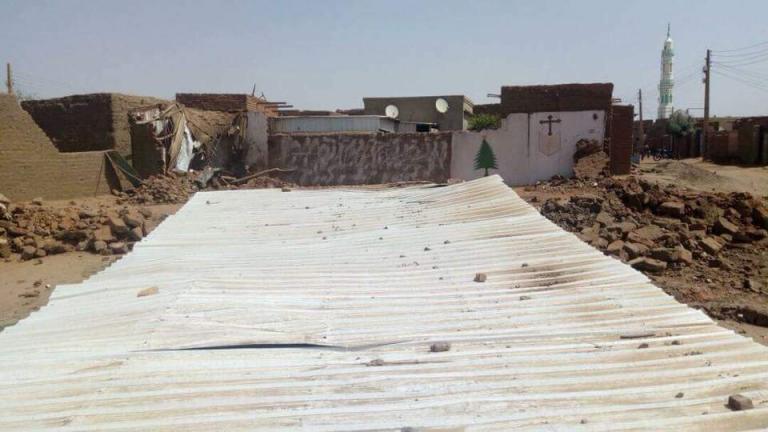 A new campaign to speak out for and raise the profile of persecuted Christians around the world began today – Valentine's Day/Ash Wednesday 2018. Save The Persecuted Christians (www.savethepersecutedchristians.org ) is an informal alliance of individuals, churches, and non-profit organizations urging our fellow Americans to become intimately familiar with the sorrow, oppression, and persecution suffered by most of the world's followers of Jesus Christ.
Save The Persecuted Church (STPC) is literally planting a flag (banner, as it were) and saying we will do all within our power, by the grace of God, to save persecuted Christians. We are modeling our campaign after the extraordinary and, I believe, God-inspired, work of the campaign to Save Soviet Jewry in the 1970's when banners and flags appeared on the lawns of synagogues and churches across the nation.
Today's launch included commitment from over 100 churches around the country to post a banner on the church lawn that reads "Save The Persecuted Christians." These banners and an accompanying information kit are available on the STPC website free of charge to any church that commits to use them. When these brothers and sisters are willing to die for their faith – can we do anything less?
Yesterday, February 13, I received a report about a church in Nigeria that had been attacked by the Fulani – formerly known as Fulani herdsmen, now that they have RPG's and other advanced weaponry, known as Fulani jihadists.
It doesn't seem at all fair (to put it mildly) that Nigerian Christians who have been oppressed and persecuted for decades – first in the northern and central belt states of the country that embraced Sharia as their law, then by the crazed murderers of Boko Haram – should now be targeted by the newly radicalized Fulani, as well. Some Christian villages have wiped out completely.
In one village the Fulani burned everything, including the church, the report said. But in the smoking ruins of the church, the altar and the Cross were still standing. They refused to burn, the Nigerian Christians said. "They cannot destroy the gospel . . .and we will go back!" they declared.
"We will go back!" As I read those words I immediately thought of a song called "If crosses come" with these words:
If crosses come, if it should cost me dearly,
To be the servant of my Servant Lord,
If darkness falls around the path of duty.
And men despise the Saviour I've adored. 

I'll not turn back, whatever it may cost,
I'm called to live, to love and save the lost,
I'll not turn back, whatever it may cost,
I'm called to live, to love and save the lost.
The day before the Nigeria report, I heard a similar story from distraught Sudanese friends. The Islamic Republic of Sudan government, for whom the U.S. government recently lifted sanctions, trying to improve relations, had just bulldozed another church. They have pledged to destroy 25 churches since the U.S. lifted sanctions.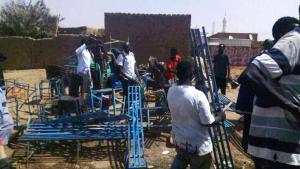 According to Morning Star News, the Evangelical Church in Al Haj Yousif, north Khartoum was destroyed by the authorities on Sunday, February 11, shortly after the church service ended. Officials told church leaders that it was destroyed because worship created a "public disturbance."
But in reality, the church was on land the government wished to seize for an Islamic business. All the church's property was confiscated before the demolition began.
If past experience is any indication, the people will continue, defiantly, to meet in the shambles where their church once stood. And if past experience is any indication, pastors may be arrested and imprisoned, even receive death sentences on trumped-up charges.
 

If doors should close then other doors will open,
The word of God can never be contained.
His love cannot be finally frustrated,
By narrow minds or prison bars restrained. 
These experiences of Christians in Nigeria and Sudan are not at all unique. According to statistics from Open Doors World Watch List, one in twelve Christians, for a total of 215 million worldwide, experiences severe persecution, including physical violence, torture, rape, forced marriage, imprisonment, and death. Nearly one million Christians were martyred between 2005 and 2015, simply because they believe in Jesus. In Iraq alone – the home of Abraham and Sarah, the place where Daniel went in captivity to Babylon, the site where the big fish projected Jonah onto the Nineveh shore from his belly – the population of Christians has plummeted from 1.5 million to some 250,000 beleaguered souls because of the brutality of the Islamic State (ISIS) and other jihadists.
If tears should fall, if I am called to suffer,
If all I love men should deface, defame,
I'll not deny the One that I have followed,
Nor be ashamed to bear my Master's name. 
Add to these statistics and incidences the experience of Christians in Pakistan, India, Egypt, Somalia, Iran, Syria, China, and many other places. We can't even begin to know what is happening to Christians in North Korea because it is so hard to get information. But in the words of the Book of Common Prayer, these are martyrs whose suffering and even their names are known to God alone.
I'll not turn back, whatever it may cost,
I'm called to live, to love and save the lost,
I'll not turn back, whatever it may cost,
I'm called to live, to love and save the lost.
Will you join our campaign to Save The Persecuted Christians? Will you encourage your pastor, your priest, your rabbi to send for the free kit and plant a flag in the ground for persecuted Christians? We hope to have photos of hundreds, if not thousands, of churches proudly displaying the banner that shows solidarity with the persecuted that we can send to our persecuted brothers and sisters. We want to signal to those who are suffering for their faith that they have not been forgotten. That they are prayed for. That they are loved. That we will do whatever it may cost to try to save them.
Here again, are the words to the song that I have been quoting throughout this article. It was written and composed by Generals John Gowans and John Larsson, two of the previous International Commanders of The Salvation Army. As you listen to it, see in your mind the cross and the altar in the smoldering Nigerian church. See the bloodsoaked sand on a beach in Libya. See the tiny but strong Pakistani Christian woman Asia Bibi, sentenced to death on fake charges of blasphemy against Islam. See the millions of Chinese Christians in the underground churches. And ask God what you should do.