Be careful how you joke about conservative evangelical women. Not all of us have sweet Southern accents and Instagram our coffee and "quiet time with the Lord." Some of us prefer to make noise.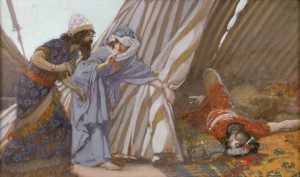 We are Faith McDonnell and Chelsen Vicari, conservative evangelical women who strive to put our hands and feet to Ephesians 6:10-18. Unlike the cookie-cutter Christian lady typecasts and liberals' concocted simple-minded stereotypes, our conservative "walk with the Lord" will interrupt your quiet time and, hopefully, rattle your conscience and challenge the status quo.
We are the women who cause trouble in our ladies' Bible studies. During discussion time, instead of moaning about our own doubts and questioning, we bring up the mutilation of 58 million unborn babies in America, the slaughter and torture of our Christian brothers and sisters in the Middle East and Africa, and the unorthodox choices leaders within the Church continue to make.
We are the women who are impatient with Women's Retreats that always focus on improving our self-image, building our self-esteem, and assuring us ad infinitum that we are worthy of love and God loves us. We believe Christian women (and men) can find fulfillment in following the Isaiah 58 advice to "loose the chains of injustice and untie the cords of the yoke," to "set the oppressed free," and "to share your food with the hungry."
Yeah, we're nothing like the beautiful, popular, and ever-respected Esther. That doesn't mean we don't admire and seek to emulate Esther's courage and boldness against injustice. And it certainly doesn't mean we weren't placed here "for such a time as this." We just resonate a lot more with Jael (Judges 4:17-22; 5:6, 24-27).
Jael isn't a very popular figure in Scripture. She was a "tent-dweller" who took out, in a rather crass way, an enemy of the Lord. Scriptures don't mention her beauty, grace, or elegance. Some people question her method of justice, while many more don't even know her story. The same is true of us.
We are women watchers on the wall, guarding against the Religious Left. As part of the Institute on Religion and Democracy (IRD) team, our mission is to "reaffirm the church's biblical and historical teachings, strengthen and reform its role in public life, protect religious freedom, and renew democracy at home and abroad" and our vision is to "lead the fight rallying Christians to champion biblical, historic Christianity and its role in democratic society, and to defeat revisionist challenges."
It's not an easy walk with the Lord, to be sure. At times, talking about ordained transgendered clergy or Episcopal priests who declare abortion a gift from God, or about church groups and refugee resettlement agencies – including evangelical ones – complicit in the State Department's disregard of visas for Christian refugees from Iraq and Syria leaves us disheartened and deflated. But we keep plugging away, advocating for the justice and welfare of others and the furtherance of God's kingdom.
Elisabeth Elliot said, "The fact that I am a woman does not make me a different kind of Christian, but the fact that I am a Christian makes me a different kind of woman." There is a lot of faith and courage wrapped up in that statement coming from a woman who shared the Gospel with the same people who killed her missionary husband. This is the kind of Christian woman we seek to emulate. Our opponents can mock and judge us all they want, but we will still spread God's costly truths in love without compromise.
So, if you too are the rebel in your ladies (or men's) self-deprecating Bible study, and prefer to tackle the tough topics in church, then welcome to our new blog. We're glad you're here. Grab your Bible, journal, (and, yes, grab your coffee mug) and buckle up. It's gonna be a wild, bumpy ride.