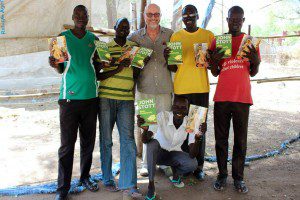 Every day, usually many times a day, I check with my friend Johann's Facebook page to see what is happening in Gambela.
Gambela is a city in western Ethiopia, near the South Sudan border. Because of the violent conflict that has been going on in that nation since the December 2013 coup attempt by former vice-president Riek Machar, (who, just today, has once again been restored into the bosom of the South Sudan government) close to 300,000 of mostly Nuer South Sudanese refugees have crammed into Gambela.
Johann Vanderbijl, who is the Dean and Principal at St. Frumentius' Anglican Theological College in Gambela, keeps his friends and prayer partners aware of the changing conditions in the region. A day of peace can be destroyed and the community descend into chaos by either accidental or intentional violence. The former was the case on Thursday, April 21, when a "highlander," a local term for an Ethiopian resident of Gambela who is not Nuer or Anuak, accidentally hit and killed two South Sudanese Nuer refugees while he was bringing water to the refugee camp.
"The driver and some innocent bystanders were immediately beaten to death," was Johann's tragic report. Later it was discovered that the driver had fled into the woods and escaped. But others were not so lucky.
Gambela media added that local witnesses said two women and eight men were killed by the refugees, but Voice of America reported fourteen killed. But this attack was considered "minor," when compared to one that took place in the region just days before.
On Friday, April 15, in what news reports called a "massive, coordinated attack" upwards of 200 Ethiopian Nuer people (not refugees from South Sudan) were killed, 75 wounded, and over 100 children abducted by Murle gunmen from South Sudan. The Murle and Nuer ethnic groups have a long history of conflict.
There has also been violent conflict between the Anuak and Nuer ethnic groups, such so that St. Frumentius, whose student body is comprised of Christians from both these tribes, is forced to have two separate campuses — one in Nuer land and one in Anuak land. Johann is swift to explain that it is not the students' desire. These young people consider themselves brothers and sisters in Christ. It is because of the larger community.
But there are witnesses of unity and peace in the larger community, as well. One heartening evidence of this was in a photo that Johann posted of a "highlander" and a Nuer having coffee together in Newland (the Nuer land). Such moments keep hope alive that all of the people groups of Gambela might one day be able to repent, forgive, reconcile, and restore.
Earlier this month I was at New Wineskins for Global Missions 2016, a triennial Anglican mission conference, where I had the opportunity to meet Johann and his wife Louise in person for the first time. Also there were my old friends the Rt. Rev. Dr. Grant LeMarquand and his wife, Dr. Wendy LeMarquand. Bishop Grant is the area bishop of the Horn of Africa. He and Wendy also live in Gambela where Wendy is working to improve the health, particularly the nutrition and sanitation, for the refugees and other residents.
At New Wineskins, Grant and Wendy were evening plenary speakers and spoke about the many amazing ways in which God is moving in Gambela, as well as about the heartaches and challenges they face every day. Because of this, the thousand or so people who attended New Wineskins have no excuse to not pray for that troubled region. Grant even gave me a great and simple memory device to put Ethiopia on my morning prayer list:
Morning coffee→Coffee beans→Ethiopia→Pray
And since more often than not my morning brew is Yiracheffee Ethiopian coffee from The Mission Cup, I have even more of a reminder to pray not only for Gambela, but for friends in the Oromia Region, where oppression and land-grabbing are taking place.
But the other day, even before morning coffee, I woke up thinking about Gambela and about the seemingly incongruous hymn of the 1904 Welsh Revival, "Here is Love Vast as the Ocean." It seemed to me that God was telling me to use that song to pray for Gambela. After all, Ethiopia was at the edges of the amazing East Africa Revival of the 1930's and beyond. Maybe it is time (past time) to pray for another East Africa Revival that will extend not only throughout East Africa and the Horn of Africa, but beyond. And who's to say it could not begin in Gambela?
Pray however God leads you, but please pray for Gambela. Pray for an end to the hunger and poverty and displacement. Pray for continued improvement in the nutritional health of the children and for continued improvement in the relationships in the community.
During this time of heartbreaking conflict, this is how I am praying:
I am praying that Gambela will be known as a place where the people, from every tribe and tongue, will be known and remembered for their love for each other and for Jesus Christ, rather than for tribal conflict and violence.
I am praying that the Christians there and throughout Ethiopia will never cease "to sing His praise."
I am praying that revival will come to East Africa and spread throughout Africa as "the floodgates of God's mercy" open up with a "vast and gracious tide" of grace and love flow out "like mighty rivers."
I am praying that "Heaven's peace and perfect justice" will kiss a guilty, angry, unforgiving, violent, hurt people with God's love, and transform them into redeemed, joyful, forgiving, peaceful, healed people who are a witness for the power of the Cross of Christ.
Here are the words of that beautiful hymn that became known as "the love-song of the Welsh Revival." Original Welsh lyrics by William Rees and translated to English by William Edwards:
Here is love, vast as the ocean,
Lovingkindness as the flood,
When the Prince of Life, our Ransom,
Shed for us His precious blood.
Who His love will not remember?
Who can cease to sing His praise?
He can never be forgotten,
Throughout Heav'n's eternal days.

On the mount of crucifixion,
Fountains opened deep and wide;
Through the floodgates of God's mercy
Flowed a vast and gracious tide.
Grace and love, like mighty rivers,
Poured incessant from above,
And Heav'n's peace and perfect justice
Kissed a guilty world in love.