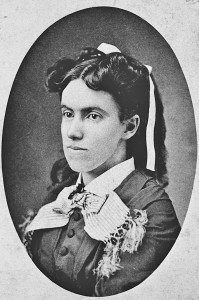 Lottie Moon is a household name for many Southern Baptists. Local church bodies within the Southern Baptist Convention pause each holiday season to collect donations for the International Mission Board's (IMB) Lottie Moon Christmas Offering for International Missions. Last year the IMB reached the unprecedented record amount of $165.8 million from the Lottie Moon Christmas Offering, the highest total in the 127 year history of the IMB.
An inspiring year-end-giving campaign to be sure, but who exactly was Lottie Moon?
I'm a relatively new Southern Baptist. It was only a few years ago I first heard the name Lottie Moon. When I asked fellow church members to tell me her story, I was usually given the same brief answer: she was a missionary to China and was very short.
Surely there was more to this four foot, three inch tall missionary we commemorate with donations to missions each year. Curious, I sought to learn more.
The New Lottie Moon Story was written by Catherine B. Allen in 1980. It is the only published biography of Moon that I could find in my local church library. In it, I discovered a small woman with a giant calling to testify of Christ in forsaken corners of the globe.
Here are at least seven things you should know about Lottie Moon:
1.) Lottie was one of the First Single Women Dispatched by the Foreign Mission Board
On July 7, 1873 Charlotte "Lottie" Moon was appointed a missionary by the Baptist Foreign Mission Board in Richmond, Virginia. She was 33 years old. A major feat as "the single woman issue" caused some hesitation. Lottie never married, but her qualifications to teach and serve the church were undeniable.
A lover of languages and the descendant of a prominent Virginia family, Moon was one of the best-educated women in the state. She was among the first women in the South to earn a Master's degree before establishing a girl's boarding school in Georgia. She loved her school, but discontentment grew within her as she felt God's calling abroad.
So you can imagine Moon's joy when she arrived in China on October 7, 1873 after a seasick 20-something day voyage across the Pacific Ocean. She traveled north to her new home in Tengchow, where she reunited with her sister Edmonia, who was working as a teacher under the direction of a Southern Baptist missionary couple.
2.) Her Mission Field was Riddled with Challenges
There was toleration of Christianity in China's northern province at the time Moon arrived in Tengchow. But that didn't mean Moon's ministry to the locals was without hardships.
Only five other Southern Baptist missionaries were working in Tengchow at the time. Lottie made six. Moon wrote openly in her reports back to Richmond of her struggle to break down barriers with her native neighbors hostile to foreigners. "My heart turns longingly to the city homes grimly closed against us, forbidding our entrance, and hating us with a hatred that would vent itself in blood if only they dared," she wrote. Her nicknames among the locals were "foreign devil" and "devil woman."
In addition to the hostility, Moon had difficulty mastering Mandarin Chinese. She worried over her sister's deteriorating health and her supervising missionary's worsening mental and emotional health. Moon also found herself in the middle of a bad feud between two local missionaries. On top of feelings of loneliness and despair, she struggled to cope with the loss of conveniences back home and the native cuisine often made her ill.
3.) She Excelled at Personal Evangelizing
Despite the hardships, Moon's heart broke for the lost souls around her and she was determined to share the Gospel. The missionaries she worked alongside had already established a church and Moon readily taught Sunday school. But no matter how many invitations were shared with local women to attend service, few showed up.
This reality motivated Moon to start evangelist work to women by going door-to-door. Her passion to witness to the people must have been evident and she eventually gained the trust and friendship of the local women. Moon eventually established a circuit of home visiting in the remote villages outside the city. On one occasion she went on an 11-day trip visiting more than 44 villages sharing the Gospel with local women.
"With a heart full of joy, it is no effort to speak to the people," she wrote of her evangelizing circuit. "You could not keep silent if you would. What does one care for comfortless inns, hard beds, hard fare, when all around is a world of glory, joy, and beauty?"
4.) Lottie Moon was an Advocate for Girl's Education
Five years after arriving in China, Moon established a boarding school for girls with only five pupils. Chinese families placed little value on girl's education. But she was determined. Even though Moon struggled to financially support her school, she assumed the girls' costs of medicine, food, lodging, and books. As a result, lower class girls were able to afford her boarding school and some even escaped prostitution and future sex slavery.
Moon's school taught girls catechism, reading, arithmetic, geography, and music. By 1883, her school was so successful that she had to turn away applicants.
5.) Her Reports Shaped Southern Baptists' Policies on Missionaries
It wasn't long after Moon arrived in China that she observed her fellow Southern Baptist missionary, Mr. Tarleton Perry Crawford, on the verge of utter burnout. Mr. Crawford was a pioneer for Southern Baptists in northern China, but the years of work and isolation were taking a toll on his and his wife's emotional and physical health.
Moon begged the Foreign Mission Board to give Mr. and Mrs. Crawford rest and to establish official policies on furloughs and vacations for veteran Southern Baptist missionaries like Mr. Crawford.
"Mission life takes the strength and energy out of us before we know it," she wrote in a letter back to Richmond. "We have to learn to be watchful and not overwork lest the time come too soon when we can work no more."
6.) Lottie Moon Helped Fuel Southern Baptist Women's Ministries
Moon's writings about life and ministry in China were often published in Baptist state newspapers. Women within the convention would read and share Moon's call for workers and financial support. Her writings helped shape the organization of Southern Baptist women's missionary societies, which helped raised funds to support Moon. For example, when Moon petitioned the ladies to help her raise support to buy a house in China, the ladies in Virginia raised over $2,500 for the Moon House Fund.
Moon hoped to see Southern Baptist women organize into an effective ministry. In a report published in the Foreign Mission Journal, Moon pointed out the effectiveness of Methodist women. "They give freely and cheerfully," she wrote. "Now the painful question arises, 'What is the matter, that we Baptists give so little? Whose is the fault? Is it a fact that our women are lacking in enthusiasm, the organizing power, and the executive ability that so conspicuously distinguishes our Methodist sisters?"
Sometime after publication, Moon learned that the woman's missionary societies organized into the Woman's Missionary Union, an official auxiliary to the Southern Baptist Convention. In 1888, the Woman's Missionary Union took up the first Baptist Christmas offering for missions to send to Lottie Moon.
7.) She was a Pioneer Missionary to Interior China
Lottie Moon and her fellow Southern Baptist Missionaries in China came up with the idea of mission stations all across the northern province. This meant venturing to a new frontier: China's interior.
In 1885, Moon visited P'ingtu, a village 120 miles inland from her home in Tengchow on China's northern coast. "Such eager drinking in of the truth, such teachableness, I have never seen before," she wrote of the people of P'ingtu. "They are groping ignorantly after God."
Moon's heart was burdened for lost souls in China's interior and so she moved to P'ingtu. Again she faced hostility from the locals. In a new strategy, Moon decided to adopt Chinese dress and some customs. As a result, she put her new neighbors at ease and was better able to demonstrate a Chinese-style Christian life. "We must go out and live among them, manifesting the gentle, loving spirit of the Lord," Moon explained. "We need to make friends before we can hope to make converts."
Lottie Moon was more than a tiny missionary to China. She was a giant evangelist for the Lord.