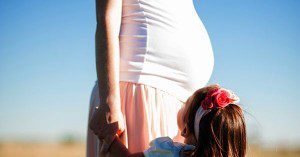 I have a quick word on my approaching maternity leave.
For the last four weeks I've been in hyper-nesting mode. You can look, but I doubt you find any dirt or grime around my house. Probably for the first time ever, the Tupperware cupboard and linen closet are organized and my work inbox is clear. It's amazing how the Creator designs women with a herculean stamina on the cusp of giving birth. No doubt He is preparing us for survival mode—seemingly superhuman labor, delivery, and little sleep.
My maternity leave—for which I am enormously grateful—officially starts Monday, the same day we head to the hospital for delivery (unless my daughter decides to arrive sooner, we pray). But I realized at one point while finishing a work project in the middle of washing baby clothes that I am dreading the moment I unplug from the Institute on Religion and Democracy and Patheos.
The approaching change and time away invites self-inflicted tension and unrest. Questions circling my mind included: Am I letting my colleagues down while I'm away? What if I miss opportunities? How will I manage motherhood and work when I return?
Why this internal conflict? Why, when women across the United States are leaving their full-time jobs because the math doesn't add up to childcare costs, is there still an internal feeling of guilt to take even a bit of maternity leave?
Perhaps one answer is that for Christian women our work is a sphere of our ministry. Whether we work for a church, para-church ministry, or for-profit company, the Almighty has entrusted us with a responsibility to be a witness and thereby bring glory to Him. Our cubicles and co-workers are a part of our mission fields. As Matthew 5:14-16 instructs:
You are the light of the world. A town built on a hill cannot be hidden. Neither do people light a lamp and put it under a bowl. Instead they put it on its stand, and it gives light to everyone in the house. In the same way, let your light shine before others, that they may see your good deeds and glorify your Father in heaven.
Christian women are servants of Christ and we don't want to let the Boss down. At the same time, He has blessed this first-time mother with a daughter and a lot to learn about motherhood as its own unique ministry, that I'm sure comes complete with its own challenges.
Over on Pastor Mark Dever's 9Marks website I discovered Jani Ortlund's article, "For the Young Mother: Ministry, Guilt, and Seasons of Life." In her article, Ortlund reminds young mothers that motherhood is a commission from God and writes, "Remember this: you have the privilege of passing on to young hearts a sense of God! Should you feel guilty for that?"
The key then is to focus on what maternity leave gains for a new mom, not what she lacks. Unplugging from work, email and social media means a period of time to, well, give birth, to heal, to learn, to grow, to bond, and to nurture our precious and helpless newborns.
What a gift maternity leave is and oh how I suspect it will fly by!
See you in September.
Ecclesiastes 3: 1-8
For everything there is a season, and a time for every matter under heaven:
a time to be born, and a time to die;
a time to plant, and a time to pluck up what is planted;
a time to kill, and a time to heal;
a time to break down, and a time to build up;
a time to weep, and a time to laugh;
a time to mourn, and a time to dance;
a time to cast away stones, and a time to gather stones together;
a time to embrace, and a time to refrain from embracing;
a time to seek, and a time to lose;
a time to keep, and a time to cast away;
a time to tear, and a time to sew;
a time to keep silence, and a time to speak;
a time to love, and a time to hate;
a time for war, and a time for peace.