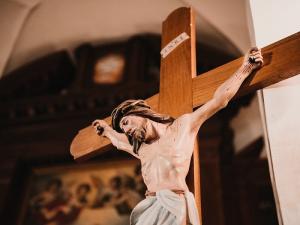 By Jason North
When I think of Jesus, my first thought isn't "Man, he really had so much to teach us about mental health"!
Prayer? Yep.
Love? Peace? Compassion for others? Standing against injustice and religious bigotry? Also, yes.
But mental health is more of a modern concept, created by psychology and therapy (both of which are healthy and necessary).
Yet we know that Jesus was one of the most mentally healthy people – probably ever. He was always centered, at peace, patient, and had an infinite love for others – The definition of mental health, in my opinion.
Any person that:
naps during a killer storm
is more annoyed with the storm than scared
and begrudgingly calms said storm because his disciples were the ones that were freaking out…
…is a pretty centered dude!
So, while Jesus probably never said, "Blessed are those that practice self-care, for you shall become mentally healthy", we know that's exactly what he practiced himself (using modern terms).
We also know to "love God and love people", that "God is love", and the "fruits of the spirit are love, joy, peace". That all sounds a lot like a deeper level of mental health to me. Jesus must have a lot to teach us about how to be mentally healthy.
Over the millennia, he also started a rich tradition of contemplatives that dissected and practiced the spirituality of Jesus. There is much ancient wisdom in the Christian contemplative tradition that is highly relevant to us in the 21st century.
After many years of trial-and-error, I feel that I've come to a decent understanding of how we can cultivate our own mental health.
So, let's begin.
Abide in God
One of the most important lessons I had to learn in my spiritual journey is simply to rest in God.
Jesus said in John 15, "Abide in me, and I in you. As the branch cannot bear fruit by itself, unless it abides in the vine, neither can you, unless you abide in me."
We cannot be truly fruitful in life, unless we rest in the presence of God.
This really is such a simple principle, but how many of us actually practice it? I didn't. And when I did, it wasn't nearly enough. I didn't even know what abide actually meant at first! Not a word we use a lot nowadays.
The Dude Abides
And so I kept making poor decisions in life, failing, getting behind, snapping at people, judging people, being impatient with people – The opposite of fruitful.
Then a friend showed me John 15. I read it many times before, but he helped me see it with new eyes.
We literally cannot do anything of consequence, without the presence of God.
Get Away to Pray
So how do you practice the presence of God, and abide in his presence? (Btw, I believe God is beyond gender, but I will use he/him for simplicity)
Jesus lived in a cultural context where Roman oppression and societal conflict was the norm. The Jews were expecting a Messiah to save them and expected Jesus to fulfill that role. Jewish culture at the time was at a boiling point, so Jesus must have felt immense pressure.
Jesus showed us the way to mental health when he "often withdrew to the wilderness to pray". His answer to life's turmoil was to rest in God's presence in silence and solitude. (Btw, he didn't bring scrolls of scripture to exegete, but that's a controversial topic for another time)
He made it clear that when we pray, to "go into your room and shut the door and pray to your Father". Whether we go into our room, on a retreat, or into the wilderness, the key to mental health is silently enjoying the presence of God.
"Silence is God's first language; everything else is a poor translation."
Love God + Love People
J.I. Packer said that "those who know God, have great thoughts about God". Many Christians have a dry relationship with God, and I believe that is because we often misunderstand who God is.
We know from scripture that God is infinite, abiding love. And we know that Jesus' greatest commandments were to "love God, and love people". So, to me, the key to a fruitful relationship with God, is to experience God's infinite love and give that love away.
We cannot be mentally healthy without experiencing God's transcendent love.
Now yes, there are other techniques for improving our mental health, including journaling, therapy, healthy relationships, sunlight, sleep, and more. And they work!
But I believe that love and gratitude must be at the center of our spiritual practice.
"If I speak in the tongues of men and of angels, but have not love, I am a noisy gong or a clanging cymbal."
So, when we pray to God, we must remember that God is infinite and always present ("an ever-present help in time of need").
If we think that God is distant, that's just not accurate. God's love and peace is here. Always and everywhere.
Thomas Keating again for the win:
"The chief thing that separates us from God is the thought that we are separated from God."
God is always within us, bursting forth, permeating all things. But it's often our own guilt, attachment, worry, stress, anxiety, or distractions, that cloud our view of the loving presence of God.
We don't have to go far at all to experience his love and peace.
If we let go of our mental clutter and let our awareness transcend past it, we will experience God and become more mentally healthy.
"All great spirituality teaches about letting go of what you don't need and who you are not."
Become One with God
Now I believe Jesus was a mystic, by the technical definition of the word.
The literal definition of a mystic is "a person who seeks by contemplation and self-surrender to obtain unity with or absorption into the Deity or the absolute".
Mysticism is not crystals, tarot, and witchcraft. Mysticism is becoming one with God, or the Divine.
Jesus said, "The Father and I are one". So, by the strictest sense of the word, Jesus was a mystic.
Two things here:
We need to de-stigmatize the word "mystic"
We need to de-stigmatize our ability to become one with God (Jesus is not the only one with that ability)
For what is the Christian faith, if we are not able to have an abiding, loving, united relationship with God? This relationship is the key to living with peace, joy, and wisdom in the 21st century.
What's cool is that Christianity has a long and rich tradition of mysticism, contemplation, and silent prayer.
I actually started to learn about Christian spirituality from Peter Scazzero (author of Emotionally Healthy Spirituality), Answering the Contemplative Call by Carl McColman, and The Mystic Heart by Wayne Teasdale.
Changed my life.
They opened my world to a whole slew of Christian contemplatives and monks, including:
Brother Lawrence
Ignatius
Benedict
Brother Lawrence
Augustine
Thomas Keating
Richard Rohr
Cynthia Bourgeault
John of the Cross
Teresa of Avila
Thomas Merton
…and more. Wayne Teasdale also solidified my question of whether the presence of God is experienced in all religions. (I found that the answer is yes, which I will touch on later)
The point is, not only did Jesus become one with God, but there is also a clear method of becoming one with God ourselves.
One of the best teachings I've read on how to accomplish this is by Thomas Keating in his book Open Mind, Open Heart. This is through the practice of centering prayer (a form of contemplative prayer).
Father Keating taught using a sacred word as preparation for experiencing God directly. This is done by gently repeating a sacred word, such as "God", "Love", or "Peace".
The word is not repeated quickly by force, as in chanting. It is simply repeated any time we get distracted by anything other than the presence of God. The sacred word is a way of centering ourselves, which positions us in a state of surrender to the presence of God.
From that place of surrender, our consciousness and awareness expand to contemplate the infiniteness of God. We let go of all edges, objects, thoughts, desires, and feelings, and surrender to the infinite peace of God. When we become grateful for this infinite peace, we begin to feel the infinite love of God as well.
When those attachments dissolve, we become one with God as Jesus did.
This oneness with God is also known as nondual awareness and is a spiritual state that exists in all religions. This worldview is known as the perennial philosophy; the belief that there is a Divine reality that "keeps recurring in different world religions with different metaphors and vocabulary". Neuroscience also confirms this.
This transcendent state has been called Source, the Divine, God, infinite presence, transcendent love, Brahman, Christ consciousness, and more. But from Buddhism to Christianity to Hinduism and everywhere in between, they all describe the same spiritual experience.
So, since we can only reach the pinnacle of human mental health by directly experiencing the presence of God, it is important to note that Christianity is not the only way of experiencing God.
It seems that God is too big to be boxed into orthodox theology. (And yes, I know that seems to contradict John 14:6, but that is a discussion for another time)
Be Present, Be Grateful
The last and simplest ingredient of Jesus-like mental health is being present. Call it mindfulness, faith, or just living in the moment, the principle is still the same. We cannot fully experience the presence of God and be mentally healthy, without being present.
Jesus outlined this so beautifully, that I must include the whole passage:
"Look at the birds of the air: they neither sow nor reap nor gather into barns, and yet your heavenly Father feeds them. Are you not of more value than they? And which of you by being anxious can add a single hour to his span of life?
And why are you anxious about clothing? Consider the lilies of the field, how they grow: they neither toil nor spin, yet I tell you, even Solomon in all his glory was not arrayed like one of these.
But if God so clothes the grass of the field, which today is alive and tomorrow is thrown into the oven, will he not much more clothe you, O you of little faith?
Therefore, do not be anxious, saying, 'What shall we eat?' or 'What shall we drink?' or 'What shall we wear?' For the Gentiles seek after all these things, and your heavenly Father knows that you need them all. But seek first the kingdom of God and his righteousness, and all these things will be added to you.
Therefore, do not be anxious about tomorrow, for tomorrow will be anxious for itself. Sufficient for the day is its own trouble."
When I think of Jesus, I see a man who wasn't worried about anything (for the most part – think sweating blood in the Garden of Gethsemane, etc – but hey who wouldn't?). He lived in the moment, and trusted that God would provide for all things.
Paul even said:
"Be anxious for nothing, but in everything by prayer and supplication, with thanksgiving, let your requests be made known to God; and the peace of God, which surpasses all understanding, will guard your hearts and minds through Christ Jesus."
And again:
"I have learned in whatever situation I am to be content. I know how to be brought low, and I know how to abound. In any and every circumstance, I have learned the secret of facing plenty and hunger, abundance and need."
We attain this level of mindfulness through detachment.
"Detachment is the great secret of interior peace."
By detaching ourselves from the worries of life, we can more fully surrender in faith to the peaceful presence of God. When we "cast our cares upon him", the worries of life stop clouding our view of the divine that exists everywhere.
When we become truly present, we feel like we hear birds singing, the wind rustling, and see the vibrant colors of a sunset, all for the first time. We start to see the divine in all things.
By being in the moment and practicing gratitude, we cultivate a deeper sense of peace, joy, and mental health.
Conclusion
I hope this gave you some practical steps on how to improve your mental health in a deep way. I also believe that the term "mental health" doesn't quite do true spirituality justice. Spirituality doesn't just make you mentally healthy, it provides a deep sense of love, joy, peace, and wisdom – something people desperately need in this world.
What do you think? What is your experience with mental health and spirituality? Connect with me on Instagram and let's chat!