Psalms for Black Lives started as devotionals for a churchwide fasting experience led by the Revs Wilkes during the summer of 2020 when America was burning with anger over the murders of George Floyd, Breonna Taylor, and numerous others.
The Wilkes think the Psalms' words discussed inspiration and truth to their community and the expanding number of people who work in the problematic areas of facing structural racism, pursuing justice, and creating a society that values Black lives fairly.
Psalms for Black Lives include thirty devotions, each containing a psalm, a reflection, and an invitation for the reader to develop a justice imagination through further engagement with the text. It also includes daily discussion questions to support small-group study and a guide for congregational and community groups who want to embody the words of the Psalms together.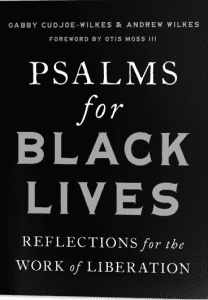 Rev. Dr. Gabby Cudjoe-Wilkes and Rev. Andrew Wilkes are the co-founding, co-lead pastors of The Double Love Experience Church in Brooklyn, New York. Gabby is a public theologian, strategist, and innovation coach with over fifteen years of experience working at the intersection of faith, culture, and leadership. Andrew is a political scientist and the author of Freedom Notes: Reflections on Faith, Justice, and the Possibility of Democracy. The couple has been featured together in outlets such as The New York Times and Essence Magazine.
To learn more about Psalms For Black Lives, click here.