As the delicious leftovers from Thursday's massive Thanksgiving meal digest in American bellies, it didn't allude my family that this annual holiday originating from a welcoming and caring for the stranger has been overwhelmed by a not-so-funny irony this year.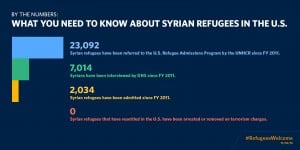 While we all give thanks for our many blessings, an ample bounty and tidings of joy this holiday season, a loud majority — including dozens of our nation's state governors — have declared Syrian families seeking freedom from violence and unspeakable evil to be unworthy of our great nation of immigrants.
But helping immigrants, refugees and those fleeing persecution is a value I'm proud to say is American. It's one of the freedoms the red, white and blue is known for around the world.
"Slamming the door in their face would be a betrayal of our values," Melissa Rogers, Executive Director of the White House Office of Faith-based and Neighborhood Partnerships said during a conference call with faith leaders Wednesday. "This is not about politics. It's about people and their moral duty to alleviate suffering."
I recognize this is easier said than done. Especially since fear is a powerful emotion. Watching violent attacks unleashed in Paris this month has frightened good people into thinking about walls and gates and no vacancy standoffs. As Washington and New York City were attacked on 9/11, Americans fear some Syrians are ISIS terrorists ready to destroy our great country. The faithful, however, must not allow this hate.
Serene Jones, President of Union Theological Seminary in New York City perhaps said it best when discussing the vitriol overtaking the megaphones.
"A mini-headed monster of hatred has been released. It's been about our all-too human fear that change and anxiety produces. That can cloud our thinking and it constricts our hearts," Jones said during the conference call.
The media debate about who are the thousands Syrians seeking to enter the the country is largely inaccurate, added John Bisognano, Associate Director of the White House Office of Public Engagement and Intergovernmental Affairs. The vetting and background checks conducted on refugees in an 18-to-24 month process. There is security involvement from the National Counterterrorism Center, the FBI's Terrorist Screening Center, the Department of Homeland Security, the Department of State, and the Department of Defense. This is not one check. In the last 40 years, the United States has safely admitted more than 3 million refugees. The President has called for 10,000 Syrian refugees to enter the United States.
"The number one priority of President (Barack) Obama is the safety and security of Americans," Bisognano said during the conference call. In the last four years, of the 2,000-plus Syrians resettled with the nation's borders, none, zero, nada, have been arrested or removed on terrorism charges. 
The White House and Union Seminary leaders coordinated the discussion to advocate for faith and religious congregations to become the wise and calming voice in this discussion. Many organizations and religious leaders have been offering resettlement assistance for decades, and these communities must continue to step into the conversation to alleviate the suffering and fear. It is a duty, said Rev. Derrick Harkins, Senior Vice President for Innovations in Public Programming at Union.
I hope you read this and have the courage to tell one person that their fear is understandable, but it takes a brave person to overcome that hatred and replace it with love. Only then will there be peace.
To get involved or help:
The Multifaith Alliance for Syrian Refugees: http://www.multifaithalliance.org/
White House's Aid Refugee's page: https://www.whitehouse.gov/campaign/aidrefugees
Joseph Gidjunis serves as the Editor of FaithfulDemocrats.com. He is the former director of the Young Democrats of America's Faith & Values Initiative. From 2001-2010, he served as a political, education and agricultural reporter at various weekly and daily newspapers throughout the Mid-Atlantic. In 2005, he founded JPG Photography, which has been named one of the best wedding and event photography studios in the world by multiple organizations. He is a graduate of The George Washington University, and lives with his partner and wife, Rebecca, and their two dogs, Gus and Trudy.