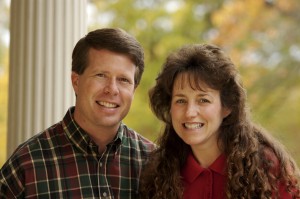 It looks like the name of the Duggar family's TLC reality show will have to change yet again – this time to 20 Kids and Counting. Jim Bob and Michelle Duggar announced on the Today Show this morning that they are expecting their twentieth child in 2012. The family's oldest son, Josh Duggar, is married and has two kids of his own, but the other children still live at home with their parents.
While the Duggars seemed elated at the news, not everyone thinks it's a great idea that the couple continue expanding their family. The Duggars' youngest child, Josie, was born premature and with several health problems. Despite Josie's health woes, the toddler was taken on a family trip to Israel and, as I reported, was
hospitalized there and flown home alongside her doctor
. The trip will be featured on upcoming episodes of the show, but it's not clear whether the Duggars – who have never spelled out precisely what is wrong with Josie or what her prognosis is – will include footage of Josie's illness.