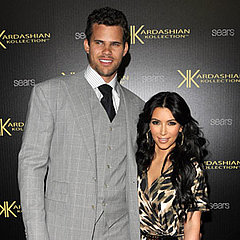 After news broke that Kim Kardashian was leaving husband of 72 days Kris Humphries, the press backlash was swift and furious. While Kim (and mostly her mom, Kris Jenner) were all over the media telling their side of the story, Humphries only released one statement, in which he said that he believed marriage was a covenant and he hoped that he and his wife could make it work.
Today, Kim flew to Kris' hometown in Minnesota, and the couple reportedly met with the pastor who performed their wedding. Joel Johnson, who has known Kris since childhood, is the pastor at Westwood Community Church in St. Cloud, Minnesota. Though Westwood Church's website doesn't specify what Christian denomination it belongs to, this does answer the question about whether Kris is Catholic – he definitely isn't, despite his use of the word "covenant" to refer to marriage.
In August, when the wedding took place, the
Chanhassen (MN) Villager
quoted Pastor Johnson as saying "As Pastor of Westwood Community Church, it is my privilege to officiate the marriages of families within our congregation including the Humphries/Kardashian wedding. The couple requested a God-honoring, Christ-centered ceremony and gave me the freedom to share a message that upholds God's perspective on love that leads to a great marriage. This is what I wish for Kim and Kris in their marriage, and for every marriage." There was also a note that longtime Kardashian family friend
Kathie Lee Gifford
(she is the godmother of youngest sisters
Kendall and Kylie Jenner
) praised Johnson's interpretation of the Gospel. It sounds like Pastor Johnson is a good guy, and I hope he doesn't get tarred with the brush that is this clusterfuck of a sham publicity wedding.