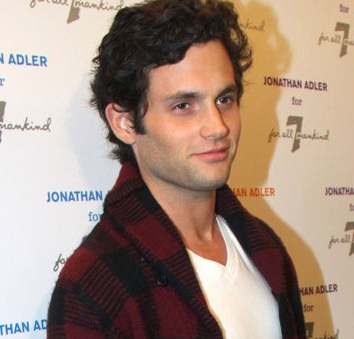 I'd wager that for the average dude, being surrounded by Catholic schoolgirls in their uniforms is a pretty hot concept. But Gossip Girl star Penn Badgley is evidently no average dude. At a party celebrating Gossip Girl's 100th episode, he said that one of the scariest things that ever happened to him was when he and his cast members were shooting a scene at the Met in New York and he couldn't get to them because a gaggle of schoolgirls trapped him like a poor pitiful animal.
I tried to come down and wasn't able to get to the Met because probably, like, 40 or 50 Catholic schoolgirls all swarmed me and pinned me up against a chain-link fence. At first, it was entertaining. And then they started pulling at my clothes and it was a little aggressive. Then I realized I couldn't get out, even though they're all [smaller]. This bodyguard came out of nowhere, reached out like I was holding on to a rock in raging rapids, and pulled me through it.
Penn is now dating actress Zoe Kravitz, who is not Catholic. (She's actually half-Jewish, since both her parents–Lenny Kravitz and Lisa Bonet–are half Jewish. Fun fact!) Or a schoolgirl. Penn will be playing late musician Jeff Buckley–who sang songs with spiritual motifs but wasn't a Catholic or a girl–in an upcoming biopic.