Jim Bob and Michelle Duggar already have two books under their belts – 20 and Counting! Raising One of America's Largest Families and A Love that Multiplies – and they're still finding ways to make money via publishing. Now, it's the four oldest Duggar daughters (Jana, Jill, Jessa, and Jinger) who will be working on a book.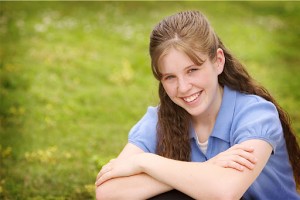 In an interview with a Duggar fan blog, Jill Duggar (pictured) said that she and her sisters are working with a ghostwriter on the project, which will be aimed at young women. That's about all we know so far, but I have a couple of guesses about what to expect.
It will be an advice/self-help book. Jill has mentioned that her favorite book is Waiting for Prince Charming: A Guide to Radiant Purity by Sarah Mally. The book is about the way that some fundamentalist Christians approach courtship and marriage. I'd bet on this book having similar advice for women, although none of the Duggar girls are married or betrothed yet.
It will be published by Howard Books. That imprint put out of both of Jim Bob and Michelle's books, so it's likely that the family has an existing relationship with the publisher.
It might be a while before we actually see the book. Jill said that the project was being completed on "Duggar time," which is the show's euphemism for "whenever we feel like." In other words, the girls have a lot of cooking and cleaning to do before they can get started on writing.
Cousin Amy Duggar was apparently not invited to the book party.
Does this mean the girls will get to do a book tour on their own without dragging their entire family along? Something tells me that's a no. If one of them wants to hijack the project and write a juicy tell-all, though, I will be first in line to buy it.