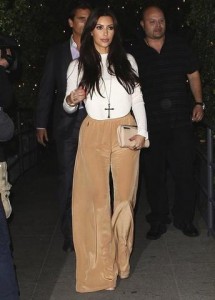 The Kardashian family (and, well, most of the Jenner family) will put their name on just about anything they can think of. There are Kardashian clothes, perfumes, nail polishes, weight-loss pills, and even female sexual lubricants. But could a Church of Kardashian be the next big move? Nope – they already have one, and it's possibly the only family venture they're secretive about.
Mom Kris Jenner has talked a lot about being a Christian and taking her kids to church. Talk show host Kathie Lee Gifford, once of Kris' best friends and the godmother of Kylie and Kendall Jenner, says that the two of them often talk about their faith. Whenever Kim needs an image boost or some good PR, she makes sure to get photographed coming out of a church (including that one time with LeAnn Rimes). The church in question is Life Change Community Church in Agoura Hills, CA. The church has two founders – a public one (Pastor Brad Johnson, who leads services there) and a private-ish one (Kris Jenner). Kris often shouts out Brad on social media, including linking to the Amazon page for his book on her blog for Celebuzz.com.
Lately, Kim is in a new relationship with Kanye West and is trying to give herself an image makeover. On a recent episode of Keeping Up with the Kardashians, Kanye threw out all of Kim's clothes and bought her new ones that better reflected the style he likes. But those clothes didn't go into the trash or Goodwill donation box. Instead, they're being auctioned off on eBay, with a portion of proceeds going to a charity. And that charity is none other than Life Change Community Church. In other words, it's pretty likely that Kris Jenner – and, by extension, Kim Kardashian – will be "donating" that money right back into their own coffers. I wonder what Pastor Brad thinks about the Prosperity Gospel.